First established 1905, it took Red Wing just ten years to start selling 200,000 pairs of boots per year.
Apparently, they now produce so many boots that they occasionally release some pairs under a different brand name; Irish Setter.
I recently decided to try a pair of Irish Setter boots. I was first drawn to their rustic appearance and when I found out that they were actually made by Red Wing, my mind was made up.
The question however is do they live up to the Red Wing name?
Irish Setter Logger Boots Reviews
Comfort
The first thing that you should know about these boots is that they are made in the logger style. Basically this means that they have a thick sole and an even thicker heel. And this in turn completely changes your stance.
If you've never worn boots like this before, which I hadn't, they can take a while to get used to. Once you get the hang of them however, the upward stance leads to significantly less stress on your feet.
And this makes them an ideal pair of boots if you work in a job that requires long periods of time on your feet. Personally, I couldn't really get used to them but I think that's more personal preference than anything else.
Another thing worth noting is that like Red Wing boots, they do they take a couple of days to break in. I've definitely worn worse but I'd still wear them around the house for a few days before trying to brave a day at work.
Safety Features
The Irish Setters come with two safety features, namely a steel toe and a steel shank. Combined you have a pair of boots that will protect your feet from both heavy objects above and sharp objects below. The soles do appear to have decent grip but I haven't been able to find out whether or not they are genuinely slip resistant. If you are looking for steel toe boots feel free to click here.
Waterproof
The leathers waterproof and thecut is high. Basically, they'll keep your socks dry in anything short of a river.
Style
Style was the reason I bought these boots and they looked even better out of the box. Personally, I think the logo is a little much but the dark tan leather and rustic appearance go well with just about everything. They're the kind of boots you can wear just as easily on the weekend as on the job.
Durability
Given the fact that I didn't really like the raised heel, I didn't wear these boots long enough to judge durability. I don't however expect any problems in this regard. First off, they're made by Red Wing who are well known for the longevity of their boots. And secondly, just holding them, you can see that they're very well made.
Pros
The thick sole and heel that provides the perfect grip on various surfaces
The boot has a steel toe that protects your feet from heavy objects
They also have a steel shank that provides extra arch support to your feet.
They are waterproof
The leather material is durable
Cons
They are not easy to break-in
The slip-resistant of the insoles is questionable

FAQs for Irish Setter Men's Steel Toe 6" 83601 Work Boot Buyers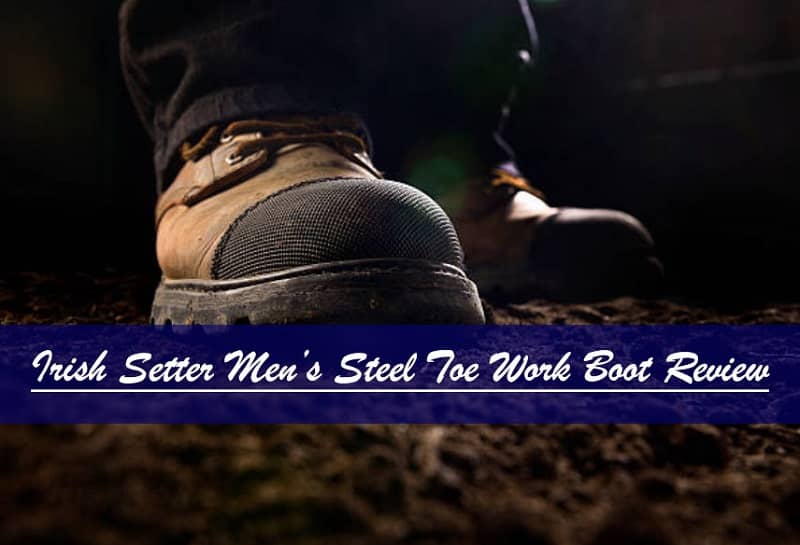 Are Irish setters good work boots?
Irish setters are one of the famous brands derived from Red Wing Brands, a brand known for its excellent craftsmanship that incorporates comfort and durability in work boots. So, Irish boots can be the best work boot, and it is also a stylish boot that can provide a nice look in your office.
Does Redwing make Irish Setter boots?
The Irish setter is a branch of a red wing shoe company that makes high-quality boots used in casual outdoor work and hunting boots. Irish boots continue to use high-tech materials in making quality boots that meet the needs of their customers.
Do Irish Setter boots run big or small?
Irish boots have a typical sizing in many types of work boots. The work boot does not run narrow beyond the standard boots. They also provide wide sizes to those with wide feet. The good thing about their wide size is that they make you feel that you are wearing a standard size.
How long do Irish Setter boots last?
Your Irish boot period depends on the model you are using and the care you accord the boot. However, the boot can be used within 2 to 10 years or even more. For constant use of the boot, it will last for more than 18 months. So, it is good to take care of your boot to last longer.
Are Irish setters hard to train?
The Irish setters are intelligent dogs that are easy to train, but they require fitness and consistency to make it perfect. Training the Irish setters is easy; you only need to be patient and carry out the training consistently.
Verdict on Irish Setter Men's Steel Toe

If you're a fan of logger boots, the Irish Setter is difficult to fault. If not, however, it's important to know what you are buying. I've tried a lot of different work boots and these are literally unlike any other pair that I've ever worn. Being a Red Wing boot, they are also pretty expensive but given the quality craftsmanship and casual style, I think they're well worth the extra cash