Carpentry and woodwork are challenging tasks. They require you to work with your hands fully protected all day. On the other hand, the feet are also required to be protected from any accident or harm that might be caused by the fall of carpentry tools that are a bit heavy.
Most of these carpentry surfaces tend to be dripping and are a bit slippery, and therefore there is a need to protect your feet. The best carpentry boot is that with excellent protection against any injury and lets you concentrate on your job.
There are a few carpentry boots that are best in the market. We decided to check on each of the few, and we came up with the following five best boots. Our research was based on the features they have used, material and durability, and we also checked on the reviews of various users.
Editors' Picks for Top Shoes for Carpenters
Top 5 Best Shoes For Carpenters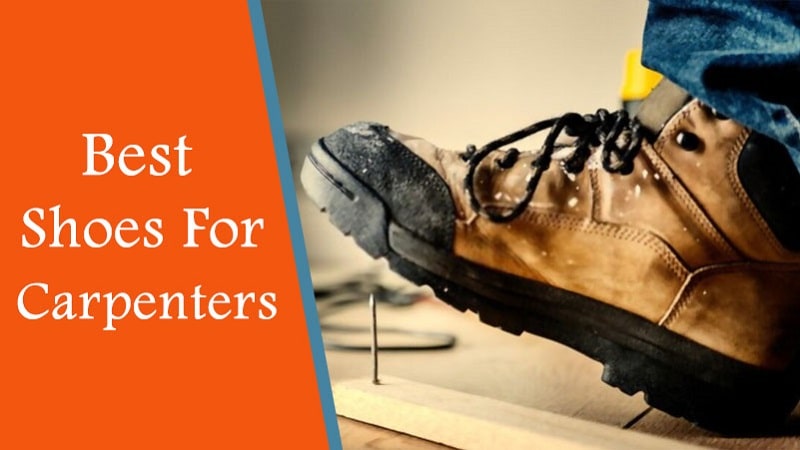 1. Timberland pro men's Pit Boss Steel Toe Industrial Work Boot
Why stress yourself searching for a carpentry boot again? Timberland PRO Men's Pit Boss Steel Toe is an excellent boot with everything that a steel toe boot should have. It is not only tough but also safe and comfortable. The safety features have met ANSI standards as it is oil-, slip-, and abrasion-resistant outsoles for traction and a comfortable pad-top collar.
Features
It features a 100% leather upper with super insulation. This is vital in keeping the feet comfortable and warm during cold conditions. It also makes it ideal for outdoor carpentry works.
There is a PRO 24/7 Comfort Suspension technology system that is uniquely designed to meet tough work conditions that carpenters are exposed to. The system is good in helping you reduce fatigue, cushion your step, and support the arch.
The boot has a strong steel safety toe cap that is steady and ready to protect your feet from any heavy fall instrument and objects to your feet. The toe is strong enough in that it can't bend or is crushed easily.
There is also a snug padded collar that provides support to the ankle and ensures it is comfortable. The boot is also oil, abrasion, and slip-resistant. Its outsole slips firmly to the surfaces, and it is durable.
The inner quality of the material is unquestionable. This rugged nubuck leather is moisture-wicking lining and breathable, and it uses Goodyear welt construction to improve its durable mechanical bond.
What we like
It comes with superior insulation that enhances the warmth of the boot
It has a better stability
Its insoles are shock absorbing
The steel toe is stylish and strong enough
Has an excellent ankle support
It is water, slip, and oil resistant
What we don't like
It is somehow narrow
The outsole durability is questionable

2. Merrell Men's Moab 2 Vent Hiking Shoe
Merrell Men's boot is less popular, but that comes with an excellent and high-quality working feature. Most people like to wear big brand boots but let me tell you that this is a boot that you can regret if you are a true carpenter that needs a secure boot.
Starting from Vibram TC5+ soles, suede leather, and mesh upper, you get the highest performance. If you are tired of wearing a long boot, then Merrell is the answer for you.
Features
It features a High-quality suede leather and mesh upper which are solid and durable. They are well ventilated, making them have excellent breathability but durable. They can be used in your carpentry area comfortably.
The Merrell Men's Moab, 2 Vent Hiking Shoe features Vibram-made high-performance rubber soles with unmatched stability and durability. They are also slip-resistant hence providing the best comfort to your feet.
The heels of the boot are well-designed so that they are well cushioned and help improve overall comfortability. They achieve this by reducing the stress on your feet in each step you make.
The rubber toe cap is strong enough to protect you from falling objects. The closed-cell foam tongue is vital in keeping away debris out of your feet and moisture from entering. This keeps your feet dry all day.
The breathable mesh lining is made of a thin 5mm lug depth layer. This keeps the feet healthy as it allows easy air circulation into the boot.
What we like
High-performing suede leather material
Good protective rubber toe cap
Ideal closed foam tongue that protects the feet from debris and moisture
It is durable
Durable Vibram sole that is stable and slip-resistant
What we don't like
They aren't stylish; they look ugly to some people
It takes time to lace up

3. KEEN Utility Men's Atlanta Cool Low Steel Toe Work Shoe
Are you looking for a carpenter boot that has all the top-quality features? If yes, the solution is here with you today. KEEN Utility Men's Atlanta is an outstanding boot that is perfect for carpenters like you. The 100% leather upper, the rugged outsole that is slip and oil resistant, removable molded EVA footbed, and other features make the boot the top choice for me.
Features
This carpenter shoe has a heel lock vital in enhancing comfort as it keeps your feet in place when naturally stepping on various surfaces. This comfortability lasts throughout the day.
The boot also features a dual-density compression-molded EVA footbed that can be removed easily. This interior support design provides maximum arch support, which is"' from the arch. The torsional stability shank of the boot also ensures that there is an added support to the feet.
The boot is also fitted with a lacing eyelet and locking metal hooks essential in keeping the boot in place even when you are making frequent movements.
It also features a waterproof and breathable lining, and this prevents water from entering your feet. It also keeps the feet within the required conditions as you work.
The carpenter boot has asymmetrical steel toe reinforcement that is purely made to fit your right and left foot, providing excellent protection to the feet' toes.
What we like
It has a waterproof lining that keeps the feet dry all the day
It comes with the EVA sole cushioning on the heel to provide maximum comfort
Oil and slip-resistant soles with excellent traction
The rubber soles are suitable for electric protection
What we don't like
The laces they come with are loose

4. KEEN Utility Men's Sparta Low Alloy Toe Work Shoe
Are you tired of using steel toe boots, and you need an alternative boot? Then worry not, KEEN Utility Men's Sparta is a top-notch carpentry boot that is not only lightweight but also features quality features that ensures your feet are fully protected. Its shaft measures and an opening of 1″ around, making it easy to wear and take them off.
Features
This boot features a lightweight Keen Regen Technology, making it perfect for all the day wear. The toe is made of an alloy with the right and left asymmetrical aluminum safety toe that weighs around 35 percent less than a steel toe. These safety features have met the required safety standards.
The other good feature we noticed on the boot is the Underfoot Protection system. It is Electrical Hazard in nature, and it provides secondary protection against accidental contact with live electric circuits.
The upper is made of 100% Textile with a rubber sole. The rubber sole traction is slip- and oil-resistant. The outsoles have improved tractions that meet the required standards.
It also features a compression-resisting midsole that provides more support and energy. This ensures there is safety and comfort to your feet.
There is a breathable mesh lining on the upper side. This helps to keep your feet within the required temperatures.
What we like
· It is electrical circuit protected
Oil and slip-resistant soles that have excellent traction
Comfortable inner mesh lining
Lightweight
What we don't like
The alloy toe is not that strong

5. Carhartt Men's CMX4023 Lightweight Casual Wedge
In most cases, we prefer work boots that look rough and rugged. However, there are great boots that look casual but can do well in your work. One of such boots is Carhartt Men's CMX4023. This boot is stylish and strong enough to be used in your work area. With 100% leather on the upper, the boot provides you with excellent comfort and protection in a stylish way.
Features
The Carhartt Men's boot features a cushioned collar that protects your feet. This enhances your comfort and lets you concentrate on your carpentry work.
This pair comes with a unique lace-up closure which makes it easy to lace it up. The features make it easy to wear and remove your boot easily and in a quick way.
The boot has a reinforced steel toe that is good for keeping your feet protected from any injuries caused by accidental falls of objects.
The boot is also made with a Carhartt rubber outsole with an open-edge design for easy release of mud and maintenance. The sole has super traction, which protects you from accidental slips and falls when working on outdoor work.
The boot has a moisture-wick lining that keeps the boot cool when working in various weather conditions. The lining also fights odors to keep the feet fresh even when you wear them for an extended period.
What we like
The insoles are cushioned to provide super support and comfort
Moisture-wicking lining helps to keep the feet cool
The rubber outsole is oil and slip-resistant
What we don't like
The quality isn't that good

How to wash the leather shoe
Leather is one of the materials that are durable but also need great care. Despite that they are hard and strong, they need a regular wash to boost their durability. There are two washings that are required, outside cleaning and inside washing. To properly clean your leather, follow the following steps.
Remove the boot laces and run them in the washing machine if they are dirty or replace them.
Using a brush or soft cloth, wipe loose dirt and debris that may be stuck on the shoe leather surfaces.
Mix warm water and dish soap and dip a soft cloth into it and wring it out and wipe the eternal surfaces of the boot.
They are using a second dry piece of soft cloth, wipe off the soap foam. The dry, warm water and water will remove all the stuck stains.
Apply leather conditioner to the boot and add some shine to the leather. This is good in protecting the boot from stains.
Let your boot dry for around 30 minutes in the open air.
Interior cleaning
The interior cleaning of the boot is somehow tricky. You need to mix water and some detergent like vinegar and baking soda to form a paste. With the paste mixture, wipe it in the shoe's interior and let it dry for 15 minutes. Then wipe away the dry paste with a clean piece of cloth.
Tips of getting the best carpenter shoes
Choose a boot that has a safety toe. They will protect your metatarsal more, especially when working in an area that experiences the fall of an object.
If your work is based on working in a wet or slippery area, choose the boot with excellent traction, which is slip and oil-resistant.
Durable boots are a good investment. Check how durable is the material used to make the boot you are about to purchase.
It would be best if you also bought boots with natural comfort to enable you to do your carpentry work properly without having any problem.
Breathability and waterproof are also another essential factor you need to check. Is your preferred boot breathable enough to keep your feet cool and dry?
It would be helpful if you also had a flexible boot as much as you need a durable boot. The boot should allow you to do the various carpentry tasks like squatting, do some movements, etc.
Electrical protection is also vital. You might be working on wood, but you might be prone to electrical shocks on your work; it is good to buy a boot with good electrical protection.
Final thought
Carpenters who wisely invest in their work boots do get the value of their money. Pricey carpenter boots don't mean that you are going to get the best boot. There is nothing that beats a boot that is comfortable and protects your feet from any accident.
However, there are a good number of warm boots that are out there. With our reviews, we hope that you will get the best boot. The list of our boots is cost-friendly and has the best features that are ideal for all carpentry work.
Buy on Walmart
Thorogood American Heritage 6" Steel Toe Boots For Men - Breathable Moc Toe Leather Work - Walmart Link
Wolverine Men's Floorhand 6 Inch Waterproof Soft Toe Work Shoe - Walmart Link
EVER BOOTS"Tank" Men's Soft Toe Oil Full Grain Leather Work Boots Construction Rubber Sole - Walmart Link
KEEN Utility Men's San Jose 6" Soft Toe Waterproof Wedge - Walmart Link
Carhartt Men's Cmw6095 6" Casual Wedge Work Boot - Walmart Link
Irish Setter Men's 83606 6" Aluminum Toe Work Boot (Logo Design May Vary) - Walmart Link
Timberland PRO Men's 8 Inch Boondock Comp Toe Waterproof INS 1000 Work Boot, Brown - Walmart Link
KEEN Utility Men's Pittsburgh 6" Steel Toe Waterproof Work Boot, Bison/Bison, 7 Medium US - Walmart Link
Golden Fox Work Boots 6" Men's Moc Toe Wedge Comfortable Boot for Construction - Walmart Link
Buy on eBay
Thorogood American Heritage 6" Steel Toe Boots For Men - Breathable Moc Toe Leather Work - eBay Link
Wolverine Men's Floorhand 6 Inch Waterproof Soft Toe Work Shoe - eBay Link
EVER BOOTS"Tank" Men's Soft Toe Oil Full Grain Leather Work Boots Construction Rubber Sole - eBay Link
KEEN Utility Men's San Jose 6" Soft Toe Waterproof Wedge - eBay Link
Carhartt Men's Cmw6095 6" Casual Wedge Work Boot - eBay Link
Irish Setter Men's 83606 6" Aluminum Toe Work Boot (Logo Design May Vary) - eBay Link
Timberland PRO Men's 8 Inch Boondock Comp Toe Waterproof INS 1000 Work Boot, Brown - eBay Link
KEEN Utility Men's Pittsburgh 6" Steel Toe Waterproof Work Boot, Bison/Bison, 7 Medium US - eBay Link
Golden Fox Work Boots 6" Men's Moc Toe Wedge Comfortable Boot for Construction - eBay Link