When you think about work boots, the first thing that comes up in your mind is safety. Along with personal safety, reliability is also an essential factor while finding the perfect shielding equipment depending upon your job. There is much PPE in the market, including safety gloves, hard helmets, goggles, and garments that ensure your safety and work productivity. The question of proper safety toe working boots' remains unanswered for a lot of people.

You got two options to choose from Steel Toe or Alloy Toe. They are a cap at the toe that protects the foot from any compression and falling objects. Steel Toe and Alloy Toe have many approaches, but they do have some pros and cons. So this segment directs to clear the fog from the matter of what type of safety toe you should get for your job.
Safety Toe Working Boots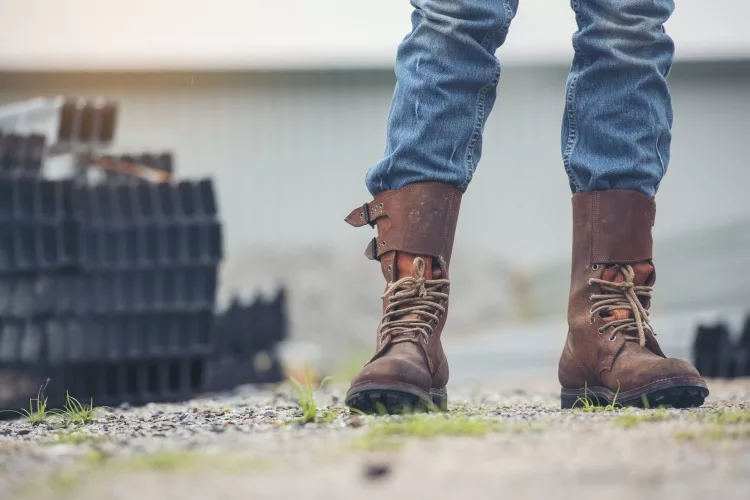 Before you go any further in choosing your safety toe boots, there is one thing you ought to know for sure. Whatever safety toe you iron out to choose, they must meet safety standards of ASTM, ANSI, and OSHA to assure that the safety toes fulfill the criterion. Before buying, make sure your pair of safety toe boots have undergone proper product testing as certified safety toe boots.
I will put light on both safety toes in a matter of their features like:
Protection aspect.
Comfort level.
Weight analysis, and
Other distinctive aspects.
Steel Toe
Steel Toe is a classic brought in almost 80 years ago. These are highly reliable and durable work boots.
Steel toe protection working boots are very famous among the people who have worked in heavy equipment environments, construction sites, material transport, and industrial work for decades.
Made from heavy-duty steel and glazed with rust-resistance material, Steel Toe has a shield over your toes that extends to your midsole to safeguard you from rupturing your midsole from below.
Steel Toe provides maximum shield to your toes from obstacles ahead, falling objects, and strain.
Steel toes are best because:
Steel Toe provides maximum protection.
Steel Toe is economical.
Steel Toe is well built and heavy-duty.
Alloy Toe
Alloy Toe is assembled from a much more lightweight and thinner material than a Steel Toe like aluminum or titanium or a blend of lighter substances.
That is why you feel much more at ease while standing the whole day working. You have enough space for your toes to be restful. So, you won't have tired muscles at the end of your day.
Alloy Toe eventually got a high following among plumbers, drivers, and warehouse workers because they are as intense as steel toes but light and comfortable on your feet. Alloy Toe came very late in the market, so they are not as famous as Steel Toe.
Alloy toes are becoming preferable now because:
Alloy Toe is very preventive.
Alloy Toe offers more toe space.
30%-50% lightweight compared to steel toes.
You must be wondering, as Steel Toe and Alloy Toe both have almost the same features, which one is the best.
So the comparison between the two will further delineate the question of which safety toe boots to buy.
Which Safety Toe Offer Best Protection?
The most important feature is protection while looking for safety toe boots. So the comparison among both safety toe will clear up your confusion. The protection level of safety boots is three (30, 50, 70). According to ASTM F-2413, Class 75 meets the protection needs ideally.
A test experiment was conducted for both Steel Toe and Alloy Toe to know which one offers more safety than the other.
In research, Steel Toe and Alloy Toe offer safety and protection under ASTM F-2413 Class 75 impact and compression standards.
But Steel Toe withstands more pressure and force, and it takes the position of a best-protecting safety toe.
Alloy toe also has safety features overall, but Steel Toe is much safer footwear than Alloy Toe.
Which Safety Toe Boots is more comfortable?
In terms of comfort and ease, steel toes lose the battle to alloy toes. Because steel toes have less toe space so wearing them all day might get uncomfortable for people. But Steel Toe boots are very durable and able to last up for 1.5 years or two years.

On the other hand, Alloy toes are very comfortable for people and give them no pain even if they walk miles. But they last up to 8-12 months, which could be a drawback for many people. Unfortunately, durability issues come with every safety toe, whether they are alloy toes or steel toes.
Alloy toe is the best comfortable option as the safety toe because it doesn't give any foot pains and has more toe space than a steel toe.
Which Safety Toe Boots Weigh The Less?
As mentioned earlier, Alloy Toe is 30% to 50% lighter than steel toes.
Steel Toe weighs up to 3.44 lbs, and Alloy Toe weighs 2.74 lbs. So, it is clear that an Alloy Toe is lighter on your feet than a Steel Toe. When no heavy machinery and equipment is involved, electricians, warehouse workers, and truck drivers find Alloy Toe very comfortable for long shifts because it is lighter and avoids pain.
So if you are looking to avoid any foot issues, Alloy Toe is a lighter and comfortable choice.
Which Safety Toe Is Better In Bad Weather?
Both Alloy Toe and Steel Toe acts contrastingly in bad weather, whether it is cold or hot.
Steel Toe becomes extremely cold in winters and hot in summers because, like any metal, steel is a thermal conductor.
The OSHA guide suggested wearing waterproof protection and insulation to avoid this problem.
Because of its titanium composition and other lighter substances, Alloy Toe does not conduct heat as much as Steel Toe. Titanium has minimum thermal conductivity, so Alloy Toe doest not get cold or hot in extreme weather.
An Alloy Toe is the better choice for beating the bad weather conditions than a Steel Toe. Although they both fulfill their purpose of protection, Alloy Toe does not conduct heat or cold; it is the winner.
Metal detectors detect metal through a magnetic field.

Steel Toe is composed of metal, so it always gets identified by the metal detectors. So it is better to avoid metal detectors if you work in the vicinity of them.
Alloy Toe has significantly less metal present in their composition, which is not strong enough to trigger metal detectors. The only way you can be sure is by going through a metal detector yourself.
So, both safety toes could trigger metal detectors, but the chances of Alloy Toe are less while Steel Toe will always make the metal detectors whistle. Alloy Toe is again the winner, this time in the case of metal detectors.
Better Value Safety Toe
Now I will answer the most awaited question of which safety toe boots are worth your money. Only your requirements will determine what safety toe will be best for you.
For instance, if you work more on your feet and have to walk a lot, then Alloy Toe will be ideal for you as they are lighter and comfortable on your feet. But if you work in the construction department that involves heavy lifting or bulky machinery, Steel Toe will be good for protecting you from sustaining compression.
The price range for Steel Toe is $30 to $300. You can get a good pair of boots for 50-80 dollars that will meet the standard of ASTM F-2413.
Alloy Toe is comparatively expensive than Steel Toe, ranging from $60 to $400 depending upon the needs. But you can find Alloy Toe boots having the essential features in the 80-120 dollars range.
Steel Toe is the better option for better value of money because they last more and cost less, while Allloy Toe costs more and lasts for less time.
Steel Toe Vs. Alloy Toe Which Is Better: Results
As you have figured out, Alloy Toe won in most of the departments.
Alloy Toe is more comfortable and provides ease than Steel Toe.
Alloy Toe is lightweight than Steel Toe.
Alloy Toe doesn't set off metal detectors in most cases.
Alloy Toe doesn't turn hot and cold in extreme weather.
So, for many people, Alloy Toe will be the best choice, but in the end, it is up to you to decide which safety toes will be ideal for you, depending upon your work requirements.
Warning: Steel Toe and Alloy Toe conduct electricity, so be careful to use them in an electrical endangerment environment.