First released in March of this year, the Men's Disruptor is the latest addition to Timberland's ever expanding line of PRO footwear.
In my experience, all PRO boots will keep your feet safe and most will keep them comfortable.
What's a little different about the Disruptor is that it's a lot more sporty and casual looking.
Timberland Men's Disruptor Industrial Shoe Review


Comfort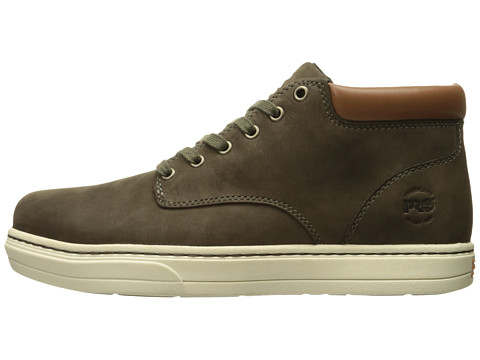 The uppers are made primarily from nubuck leather.
This is bad news if you're caught in the rain but good news when you open the box. They arrive soft and ready to wear, no break in period required.
Nubuck leather is also thinner than full grain. And this combined with a breathable textile lining on the inside means that the shoes are a good choice for working in warm weather.
Fit wise, they seem true to size. The safety toe is made from assymetrically cut alloy and as a result, it's barely noticeable.
Below your feet, foot fatigue is tackled in three ways.
There's the tried and tested Timberland footbed with shock absorbing cones. There's a shock diffusion plate and below that again, a thick PU midsole.
The PU midsole adds weight but the result is worth it. Despite being completely flat, the Men's Disrupter offer excellent shock absorption.
I tested them over the course of a week, and despite working on concrete, they kept foot fatigue at bay well past the ten hour mark.
My only complaint is that they offer zero arch support.
Safety Features
Despite their casual appearance, the Constructor has a wealth of features to keep your feet safe. There's an alloy toe at the front and the entire shoe has electrical hazard protection. Both of these features meet or exceed ASTM standards. The outsole is made from polythurene and I found that it offers decent traction against both oil and water. Finally, the cut of the shoe just about covers your ankle unlike many sneaker like safety shoes.
Insulation and Waterproofing
The nubuck leather uppers are nice to look at but they also make these shoes completely unsuitable for working in cold or wet conditions. The thin leather offers practically no insulation against the cold. And while a little bit of light rain won't hurt, anything more than that will result in wet feet. It's also worth noting that when nubuck leather gets really wet, it never really looks the same afterwords.
Style
Provided you can keep them out of the rain, the Disruptor will score highly in terms of style. Aside from a thicker than average sole, there's no indication of the safety and anti fatigue features previously mentioned. Instead, you have a shoe that looks both sporty and casual. I ordered the strangely named Donkey Chukka version and what you see above is basically what you get.
Customer Reviews
If you're looking for a well tested shoe, look elsewhere. At the time of writing, there's a grand total of 7 customer reviews on Amazon and while they're all positive, that obviously doesn't really mean anything. I'll update this review at a later date when more people have had their say.
Verdict for Timberland Men's Disruptor Industrial Shoe Buyers

There's two downsides to the Disrupter. One, while they do appear to be well made (cement construction in the sole tends to last), they haven't been out long enough to really judge longevity. And two, they're completely unsuitable for working in wet/cold conditions.
If you're happy with these facts, you'll be happy with the shoe. They'll keep your feet safe on the job. They have all the comfort and anti fatigue technology that Timberland is famous for. And yet unlike many members of the Timberland Pro line, they're ideal for casual wear.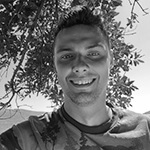 About James Miller
James Miller is a dedicated individual based in the vibrant city of San Francisco, CA, USA. His unwavering passion lies in the realm of construction, where he finds fulfillment in exploring and documenting various facets of construction equipment and processes. A graduate of the University of California Merced, James holds a dual degree in mechanical and electrical engineering, which has equipped him with a solid foundation in technical knowledge.
With a keen eye for detail and a knack for articulation, James has channeled his enthusiasm into writing about the intricacies of construction gear and methodologies. His insightful writings offer valuable insights to both industry professionals and curious enthusiasts, shedding light on the machinery and techniques that shape the built environment.
James Miller's educational background in mechanical and electrical engineering lends credibility to his work, allowing him to delve into the technical nuances of construction with precision. His passion for sharing knowledge and fostering understanding in the construction field is evident in his contributions, making him a respected voice in the industry.