Timberland are one of the biggest names in work boots and with very good reason.
Comfort levels are up there with the best. And provided you avoid their cheapest boots, they tend to stand the test of time too.
Today, I'll be reviewing the Men's Gridworks. First released in July of this year, they're one of the manufacturers newest work boot lines. And as you can see from the image to your right, they have a distinctly modern appearance to match.
Timberland PRO Men's Gridworks 8" Soft-Toe Waterproof Industrial and Construction Boot Review

Comfort
Unlike the brands more rugged boots, the Gridworks are good to go the day you get them. The leather is relatively soft right out of the box so you don't need to wait around breaking them in.
The toe box is generously sized for a safety toe boot. This is largely the result of the safety toe being cut assymetrically (along the line of your toes).
The eight inch cut is higher than average and personally, I don't like it. The boots still felt breathable however. I think this is because of the mesh lining which helps to keep sweat to a minimum.
Despite the modern appearance, the midsole is classic Timberland complete with the manufacturers patented anti fatigue technology. This consists of inverted cones that contract and expand every time your feet hit the ground.
Apparently these cones result in a lighter boot, I'm not sure that I'd agree with that. But in terms of shock absorption, they definitely get the job done. Regardless of what surface you're working on, or for how long, these boots will keep your feet pain free.
Safety Features
The Men's Gridworks are available with a choice of soft or safety toe. If you choose the latter, it's made from alloy and meets ASTM standards. They offer complete electrical hazard protection. Slip resistance is a little bit hit or miss.
The outsoles are made from TPU which generally works great but in this case, the ridges don't seem to be thick enough. They handle wet surfaces well enough but I wouldn't recommend them to anyone working around oil, ice, or small surface debris.
The lack of any kind of heel also means that they're not ideal for uneven terrain and completely unsuitable for climbing ladders.
Insulation/Waterproofing
In terms of insulation, the eight inch cut does add a little bit of warmth but they would best be described as year round boots i.e. don't expect them to keep your feet warm in freezing temperatures.
The Gridworks are completely waterproof thanks to a combination of waterproof leather and a waterproof membrane behind it. They kept my feet dry in heavy rain and passed the test of standing in a 3 inch puddle.
Style
I purchased the black Gridworks and the picture above is pretty accurate. The leather looks high end. The silver stitching, eyelets and laces offer a nice contrast against the black. I've always found Timberland boots to look a little old fashioned compared to the likes of Keen and Cat. The Gridworks are an exception to this and can easily double as weekend shoes. One downside is that the cream at the bottom stains just as easily as it looks.
Customer Reviews
Being a new boot, customer reviews are relatively scarce. At the time of writing, both the steel and soft toe version have been reviewed approximately 20 times each for an average rating of 4.3 and 4.5 stars out of 5 respectively. The most common compliment is general comfort. So far, there's been no common complaints but it's obviously still early on.

Verdict on Timberland PRO Men's Buyers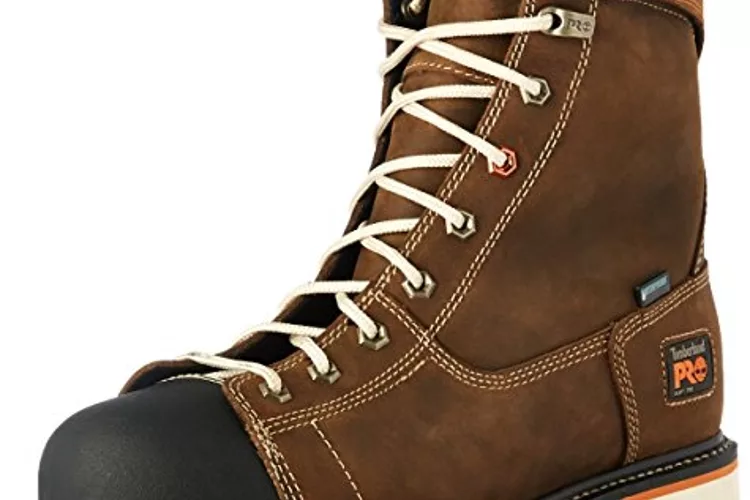 If these boots came with six inch uppers and better slip resistance, they'd be perfect. Even with these flaws, however, I'm happy with my purchase.
The combination of anti fatigue technology, absolute waterproofing, and modern style more than meets their slightly inflated price tag.
In other words, provided you don't work around oil or ice, I think these boots are an excellent choice.