Like most Danner work boots, the first thing that you should know about the Men's Vicious is that they are a little pricey. Prices vary depending on size but in most cases, you are probably looking at over $150.
The good news is that the company is well known for matching their high price tags with equally high quality craftsmanship. And as you can see from the image to your right, they certainly look the part. Do they live up to it?
Danner Men's Vicious NMT Work Boot Review

Comfort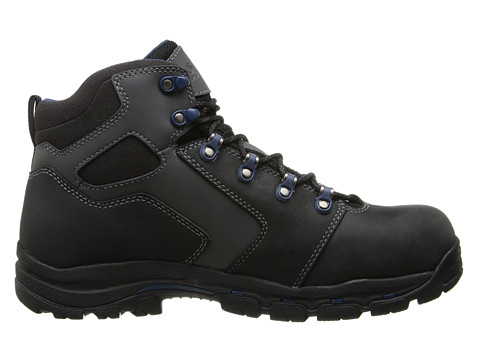 As always, I'll start with comfort, and more specifically the break in period. Personally, I found these comfortable right out of the box, wore them to work on day one and returned home with feet unpunished.
Two things immediately stand out about these boots, they're light for a safety toe boot and they have an extra roomy toe box.
More importantly, they also have high levels of both shock absorption and lateral stability.
I put them through their paces for roughly twelve hours on a variety of hard surfaces. And at no point did that familiar ache begin to emerge.
According to the manufacturer, all of these qualities are the result of something called a Trailguard platform.
The consists of:
an ergonomically designed footbed
a deep heel cup
an EVA midsole complete with a TPU shank at the center.
I'm not entirely sure how it all works, all I can say is that I was impressed with the results.
The uppers are made from a combination of nubuck leather and goretex. This results in a boot that feels snug against your feet and that while waterproof, remains breathable.
In other words, full marks for comfort.

Safety Features
Despite the distinct lack of weight, the Men's Vicious has all the usual safety features. Each pair is equipped with both a composite safety toe and electrical hazard protection, both of which meet ASTM standards. The outsole is slip resistant against both oil and water, tested and confirmed. My only complaint is that the heel is a little low. This makes them less than ideal for getting a firm grip on ladders.
Style
I'm pleased to report that the picture above is accurate. The leather looks high end. And they have a much more modern look than anything that the likes of Timberland have ever produced. The comp toe is practically invisible. And this makes them ideal for casual wear.
Waterproofing/Insulation
I tested these boots in puddles of up to 3 inches. They are indeed waterproof. It is worth noting, however, that they are cut a little low at the back. This means if you're working in the rain, you will need to wear pants that keep that area covered. Insulation levels are moderate. The goretex makes them completely unsuitable for working in sub zero temperatures.
Verdict for Danner Men's Vicious NMT Work Boot Buyers

I was going to recommend these boots outright. But given their price, customer reviews complaining about durability is obviously disappointing. Instead, I'll leave my verdict until I've worn them longer.
If you are willing to take the risk, everything else about these boots is spot on. The lack of weight, breathable uppers, and superior mid sole mean that they more than meet their price in terms of comfort. And despite providing all necessary safety features, they still manage to score major style points.