Women and high heels are soulmates, and you cannot separate one from the other. Higher the heels, the more women feel good, confident, and powerful. But the passion for high heels could be painful because high heels are far from being comfortable footwear. And if you have bunions, then the experience of wearing high heels could be terrible. High-heeled shoes are not a lead cause for bunions, but wearing them daily could aggravate the matter.

So what should a woman do in this situation? Obviously, you can't stop putting on high heels entirely, so knowing that high heels impact bunions are necessary if you face this issue because precaution is better than cure. So make some time to learn more about how to prevent and manage bunions.
What is a Bunion?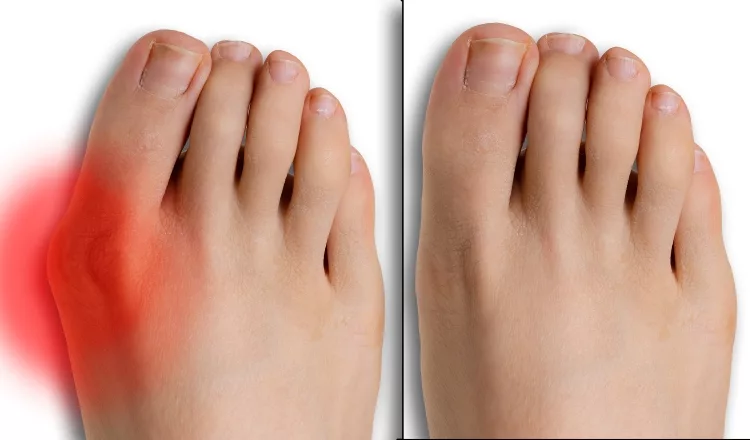 A bunion is an abnormal bony growth on the side of your foot, usually on the joint (metatarsophalangeal joint) that links with the foot's big toe. This irregularity squeezes the joint and shifts its shape.
A bunion could also grow on the base of your small toe, and it is known as a tailor's bunion or sometimes as a bunionette.
At first, it resembled a minute sore, but when you walk and stand for a more extended period, the condition worsens, and the sore becomes more prominent and swollen. The skin turns red and sensitive, and the inflammation initiates pain.
The bunions are quite a standard foot issue in women than men. The bump develops slowly and then changes the formation of the bone and the foot gradually, leaving a throbbing deformity.
Causes Of a Bunion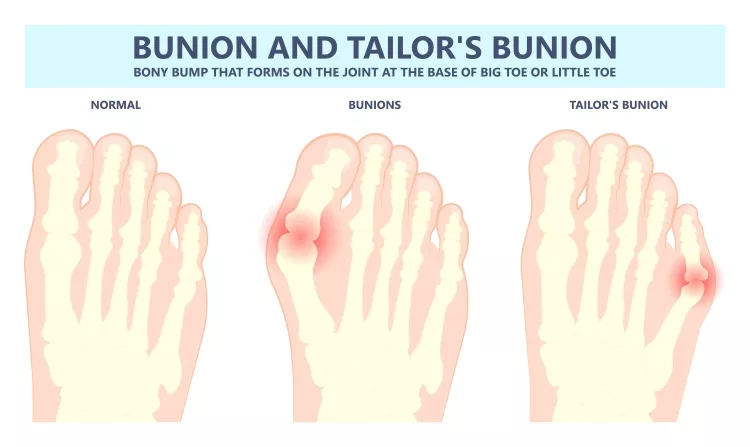 Genetic Cause:
Bunions could be hereditary, but the condition could be infuriated by unsuitable footwear. Family history enhances the chances of getting a bunion.
The inappropriate footwear is the high heels, and the activity time wearing them could encourage the cause.
High heels put pressure on your toes ultimately, that pressure affects the joints resulting in pain that may worsen in the shape of a bunion.
The unnatural and uncomfortable position of your foot, especially your toes, infuriates a bunion issue.
The jury is still deciding if wearing high heels is the leading cause of bunion because many women don't face this issue.
It is true that heels are not the leading cause but wearing them develops the bunion more readily and faster.
Activity Time Of Wearing High Heels:
Wearing high heels is not the problem; the time you spend wearing them could be the real issue here. If you are one of those women who wear high heel shoes daily for long hours, it could be possible that this could induce protrusion on your feet, referred to as the bunion.
Wearing high heels may also cause many other foot deformities.
Gait:
Your gait might have a hand in the growth of the bony bump on your foot. Your walking style is determined by many factors that could be inherited or developed.
Age:
Age could also be a leading factor in the formation of bunions. As women get older, they become more likely to have bunions.
An extremity of the bunion could become a reason for arthritis. Older people may get the extreme form of bunion linked with rheumatoid arthritis.
Other Factors:
· People with flat feet are more susceptible to having bunions.
· And people with flexible joints likely get bunions.
· Hypermobile feet are also one of the factors of bunions.
· Experiencing a foot injury might lead to the growth of a bunion.
· Repetitive stress on your sore joints is also an essential factor.
· Uncomfortable and unfitting shoes could also result in the formation of a bunion.
· Constricting shoe choices are prone to podiatry problems.
In some cases, bunion could be painless, but if someone notices a bunion, they should keep it under keen monitoring to evaluate the pain and know if it needs medical attention.
Bunion growth is inevitable, and nothing could stop it, but there are steps you could take to lessen the pain.
Can You Keep On Wearing High Heels With Bunions?
The direct answer is No.
No, you cannot keep on wearing high heels with a condition like a bunion because it can further deteriorate the issue into some severe malfunction.
But some of the bunion symptoms could be alleviated with easy things, for instance, wearing comfortable, fashionable footwear.
But no problem in this world is without a solution.
Here in this feature, I will highlight some necessary steps that could lighten the bunion atmosphere.
Some Insightful Ways To Avoid And Manage Bunion Pain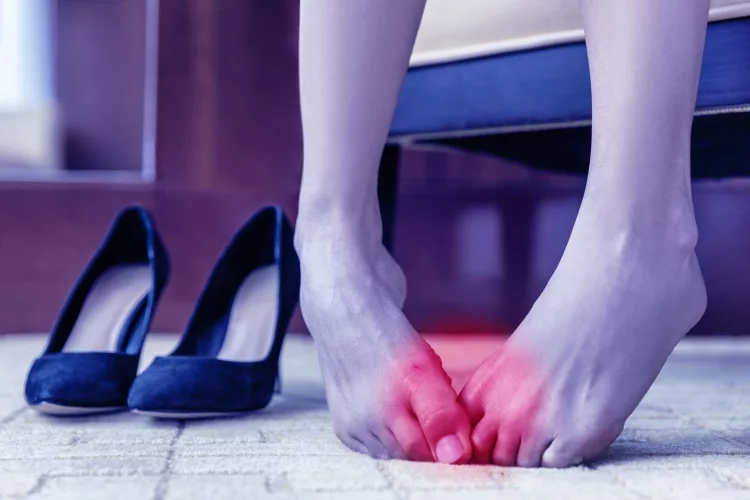 Bunions could be surgically improved, but there are some old fashion treatments you could try before a medical procedure.
I have aligned some smart courses of action that will help with the bunion symptoms and pain.
1. Exercise
Keep yourself fit and healthy by light and moderate exercises that include home exercises etc. Try to keep up with your exercise schedule daily.
Exercise will ensure your general health and weight, along with good circulation of blood throughout the body.
Blood circulation will help with improved strength and flexibility of your feet.
Exercise will also lessen the inflammation on your bunion.
You can also do some easy exercises while sitting, like flexing and pointing your feet and toes and rotating your ankles both ways.
2. Gel Toe Spreaders

You can halt overlapping of big with gel toe spreaders. They are handy, pretty affordable spreading tools that don't let your toes overlap, keep them separated, and offer them a nice stretch.
You can use these while reading, bathing, or watching TV, or simply when you are relaxing, for 15 or 20 minutes daily.
And when you are wearing one of those spreaders, don't walk around; that might hurt you bad.
3. Spreader Socks

These spreaders socks are the toe spreading socks you can wear while sleeping. These socks are a huge relief from bunion pain and help your toes to practice being straight.
Don't walk while wearing them; you can hurt yourself.
Vary in the choice of footwear you wear daily. Do not keep wearing the same high-heeled shoes all the time; keep changing them with different footwear.
Don't wear the same footwear daily when you have alternate shoe choices.
Keep changing your shoe style and height because it provides flexibility to your feet, and they are not squeezed all day in uncomfortable shoes.
Foot pressure can hurt your toes and ball of your heels if you wear the same shoes all day, so to lessen that pressure, wear slippers or low-heeled shoes or some other comfortable shoes to ease your feet.
5. Avoid Skinny Heels
Stiletto heels or other extreme heels should be saved only when not much standing or walking is involved.
The pencil heels put massive pressure on your toes, especially on your bunions that can worsen the condition.
Keep a comfortable pair of flats handy suppose you can't stand your fancy heels.
6. Stable Soles

Several shoes have some slick soles or leather soles; you should avoid those. Wear shoes with stable and comfortable soles that make moving easy and provide support and protection to your toes and bunions.
Cushioned or textured soles make it easy to slip in and out of the shoes because if not, this could aggravate the inflammation.
7. Soft Material Shoes

Always choose soft material footwear. Leather shoes are ideal for people having bunions because they stretch according to your foot and match up to its shape. And those shoes are oiled, cleaned, and polished.
Natural leather high to moderate heels is very soft to wear and breathable, which is a dream for bunion-infected feet.
Leather shoes are very comfortable footwear so you should avoid synthetic material or artificial leather altogether.
8. Change of Gait/Walking Style
It would help if you changed the way you walk. Try learning to walk in heel-to-toe fashion rather than toe-to-heal.
In this new way, you could avoid putting your entire weight on your hurting bunion instead of putting all the pressure on your heel when you step on the ground.
Practice hitting your heel on the ground first rather than your toe; this will alleviate the pressure on your bunion. Be mindful of keeping your weight on the forefoot. This will undoubtedly have a relieving effect on bunion pain and any backache you could be experiencing.
Start wearing open-toe shoes that don't have a strap right over your bunion that could compress it.
Sandals or other sort of open-toe shoes have a relaxing effect on your feet as long as they don't put any pressure on your bunion points.
10. Orthotics or Inserts

Start using orthotics or inserts that are distinct types of support pads that can ease the hurting bunion.
Bunion sleeves are also a fantastic invention to relieve bunion pain, and these sleeves have a soothing gel that soothes the bunion areas. Toe crest offers help to keep your toe straight to lessen the bunion pain. The proper arch support alleviates any foot problems and pain.
Wearing high heels while facing the issue of bunions is not a good decision and it is not recommended by a podiatrist. Unless you religiously follow the mentioned steps and protect your feet and keep switching between footwear during the day.
Moderate heels would be perfect for everyday shoes, and keep the dramatically daring high heels for special occasions and get rid of the worst offensive shoes from your shoe rack.
Don't forget to keep a friendly, comfortable flat footwear handy with you always in case you want to get rid of your bold high heels.