If your most favorite leather bag is out of condition, it means that you used the wrong chemical for its care. You wonder why this happened. Then you remember that you used only olive oil for conditioning it. Is olive oil good for leather - a legit question that arises in your mind now?
Leather products get damaged or affected very quickly. Oils and lotions especially made for leather, are the only saviors of it. However, other options are also available for conditioning leather. Correct use of chemicals brings a soft, crack-free glowing shine to leather. The use of olive oil on leather has both positive and negative effects.
Measured application of it rejuvenates the glow and brings a long-lasting effect. Again, the wrong usage of olive oil affects the leather deeply.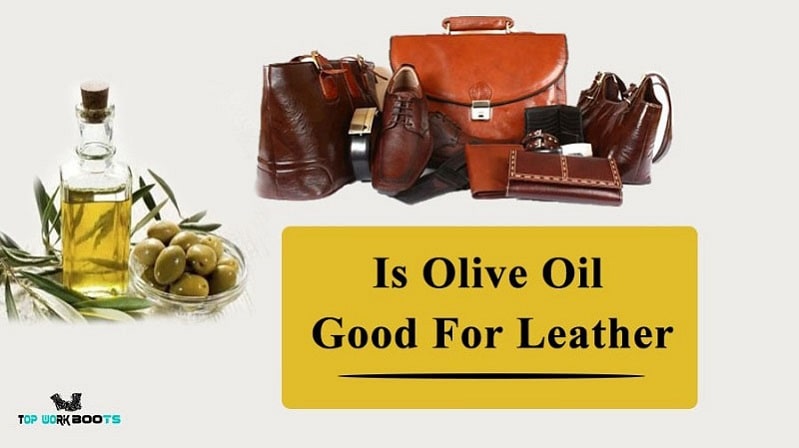 To know the actual worth of olive oil for leather, take a look at this article. Here you will find the effects and damages of olive oil on leather in a detailed yet precise way.
Olive Oil for Leather: How Effective Is It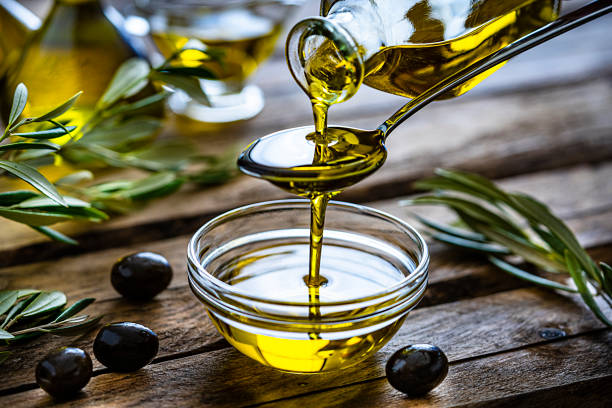 Pouring extra virgin olive oil from a spoon to a glass container. Olive branches comes from the left and right. Some olive oil bottles are out of focus at background. Black olives are on the table and complete the composition. The composition is on a rustic wooden kitchen table. Predominant colors are gold, green and brown. High resolution 42Mp studio digital capture taken with Sony A7rII and Sony FE 90mm f2.8 macro G OSS lens

There are mixed results regarding the effectiveness of olive oil for leather. In short, olive oil is not a good choice for leather. It rather stimulates the deterioration of leather. Yet olive oil is good, especially extra virgin olive oil, and only if you know to use it correctly.
To apply olive oil on the parts that need conditioning, you must go according to the process -
Take a limited amount of olive oil.
Gently rub it with the tips of your fingers on the dull part of the leather.
If the part that needs oil is large, use a big piece of cotton cloth instead of your fingers. In that case, dip that cloth into the oil first and rub it on the surface.
Cover the areas that do not need oil with tissues or rags.
After finishing rubbing, wait 45 minutes minimum to let the surface soak the oil properly.
After 45 minutes, take a clean piece of cloth and wipe off the excess oil very carefully.
Only the correct utilization of olive oil softens the leather.
5 Damages That Olive Oil Makes on Leather
You need to stay alert while using olive oil or extra virgin olive oil on leather. There is a common assumption about olive oil. That is, it is comparatively better and cheaper than neatsfoot oil. However, a cheaper option does not guarantee better results, and rather it causes heavy decay.
See what damages that olive oil create on your leather good -
If you do not clean the removable dust before applying oil, then oil will stick the dirt with it.
Olive oil penetrates the leather more quickly than other liquids. If you do not wipe off the excess oil, it will run deeper to catch the dry parts inside.
On the one hand, unwiped olive oil creates big, dark, irremovable spots on the surface. On the other hand, it also catches your cloth.
The wrong application of olive oil creates a bad odor.
Extra virgin olive oil not only improves the leather temporarily but also attracts rodents. Rats will enjoy chewing the leather.
So stop thinking of applying extra virgin olive oil for leather. If not, then be ready to say a sad goodbye to your precious leather product.
FAQs
Is Vaseline good for leather boots?
Vaseline is a blessing for leather boots. Not only on leather boots, but Vaseline also shows its magic on leather shoes, handbags, furniture, and even on baseball gloves. With a small amount of Vaseline, you can soften the surface, prevent cracking and rejuvenate the original shine. To make your normal leather boots waterproof temporarily, apply a coat of Vaseline on them.
What oil is good for leather bags?
Rub coconut oil gently on your leather bag to get back the original glow. Other things like natural baby shampoo, beeswax, and essential oils are the best alternatives to leather conditioners. You can use these alternatives only if your bag is made of the leather of grass-eating domestic animals. If you choose essential oil, then make sure the oil does not contain mint, rather only lemon.
What cleaner is safe for leather?
A mixture of warm water and soap with the right ratio works as a general cleaner for leather furniture. For leather seats, an all-purpose cleaner is not a bad option. To clean leather bags, make a solution of warm water and dish soap. As bleach or ammonia-based cleaners are the enemies of leather, keep your leather good a thousand miles away from them.
Can lotion be a leather conditioner?
Never think of using a body lotion as a leather conditioner. Fragrant body lotions have lots of chemicals or additives designed for our body only. Body lotion on a leather product is a disaster because we do not wash our usable leather products regularly like our body. You must use lotion to keep the leather soft, but only the leather lotion.
What can I use to condition leather?
Among all the oils for conditioning leather, mink oil is better. You better use extra virgin olive oil very moderately to condition leather. Baby soap is good for leather, undoubtedly. You can use essential lemon oil or beeswax, or leather honey oil too. If managing these seems hard to you, simply use coconut oil then. Be careful while using oil on leather.
Conclusion
Leather products are pretty much sensitive and need special care, time, and effort. You paid a hefty price to buy a thing made of leather, but do not remain inactive when it needs proper care. First, clean the dirt and debris from the surface. Next, apply the right oil or conditioner according to the type of product. Keep olive oil out of your mind.
A hasty cleaning process can be a funeral for the leather too.
Use the right homemade solutions if necessary. While using homemade solutions, do a proper check on the ingredients and their temperatures before applying them to the leather. Thus, your leather products will be able to live a long life.