Hunter boots are a classic must-have for any winter wardrobe. But which style is right for you? Hunter boots come in both short and tall versions, and both have their own unique benefits. So, which one should you choose? Here's a breakdown of the pros and cons of each style to help you decide.
The Style of Hunter Boots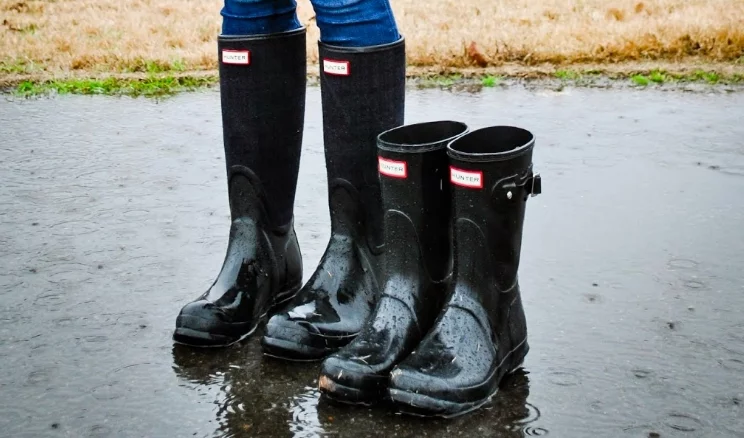 There are two kinds of styles for Hunter Boots, short and tall. The short boots have a shaft height of 10 inches and tall boots have 16 inches of shaft height. The style you choose is up to your preferences you could either choose short or tall. Some people buy both styles and wear them according to different fashion situations and needs.
Tall Hunter Boots
Tall Hunter Boots are ideal for those who want winter boots because then they can also add the fleece inserts. Tall Hunter boots are amazing in winter as they keep you warm and comfortable while walking. But in warmer weather tall boots can be uncomfortable because your feet get sweaty.
Tall Hunter Boots have 16 inches shaft height and it looks amazing on people who are taller than 5'3 because short people often complain about tall Hunter Boots pressing into the back of the calf or knee area. The buckles present on the boots may also cause some discomfort in short people.
A new Hunter Boots style is introduced known as Original Play Tall is an "in-between" tall style.
Short Hunter Boots
Short Hunter Boots have 10 inches of shaft height and they allow you more mobility in the legs than tall Hunter Boots. With short Hunter Boots, you can put on some boot socks when the weather is cold. It is totally up to your preferences to go for either short or tall.
Short people shorter than 5'3 love short Hunter Boots and they do not find any issues of buckles pressing into the knees and calves. Short Hunter Boots are very suitable if you live in a warm climate most of the time. You would not encounter any kind of problems with these boots and you can wear them with dresses and jeans.
Color Gloss or Matte Preferences
The Hunter Boots get a lot of scuff marks and if you have matte ones then cleaning them could be hard than the gloss ones. The gloss Hunter Boots look amazingly fresh all the time while the matte Hunter Boots seem dull.
The glossy Hunter Boots version looks ultra-sleek and polished, especially in red color. The glossy version does not "bloom" a lot as the matte ones. The white powdery film on the boots is called blooming and it is pretty normal. It is a way of defending of a top-notch rubber against some elements. And for that, you can use the buff spray, especially for rubber boots. The other technique is to rub your boots with a paper towel having some drops of olive oil.
Types of Hunter Boots
There are multiple types of Hunter Boots other than the tall and short ones. The other types range from original to pack-able. So let's take a look at all of them.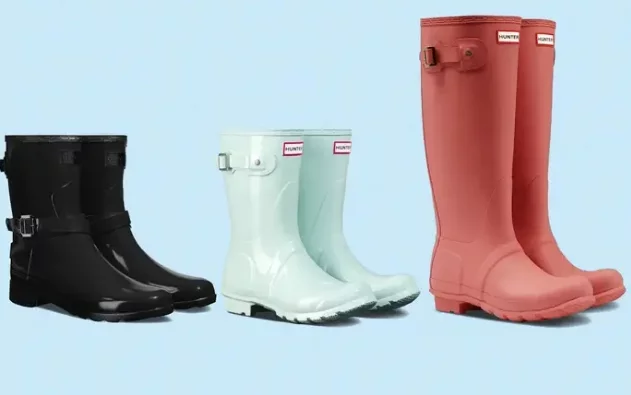 Original Small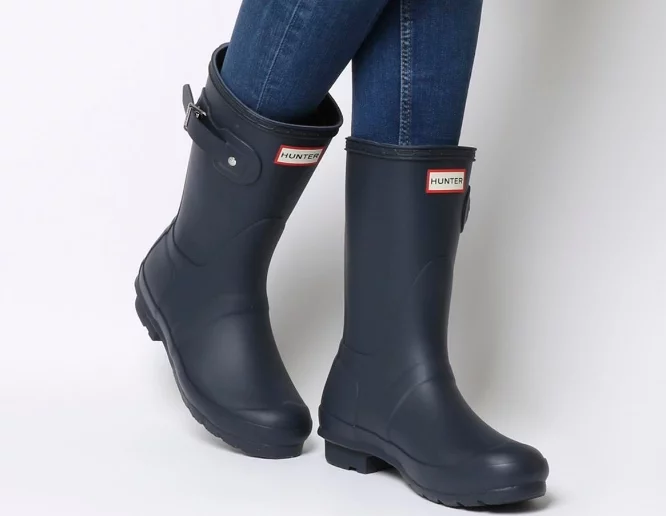 The short original Hunter Boots version has 10 inches shaft height and 14.5 inches of opening. These Hunter Boots are effortless to put on and off and they are the fantastic version of traditional rain boots with a new and fashionable look.
Original Tall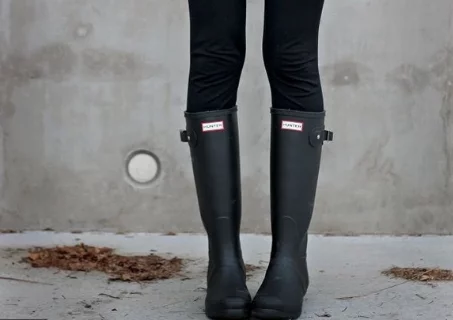 The original tall Hunter Boots have 15 inches of shaft height and 15.25 inches of opening. This version of Hunter Boots is suitable for most people. But if you have large calves then you need to check some other versions that have more wide openings.
Huntress
These versions of Hunter Boots are for those people who require more room for the calf area. This version would be perfect for someone who has to hit the stairs often. Huntress boots have 14 inches of shaft height and 16.5 inches of opening.
Pack-able Hunter Boots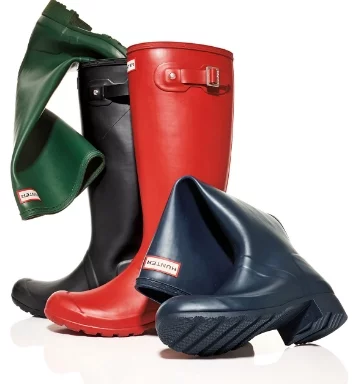 Hunter Boots fold suitably to fit inside a suitcase. It is a great feature if you are planning to travel with them. This feature is present in both short and tall Hunter Boots.
Adjustable Hunter Boots
The adjustable version of Hunter Boots has the same shaft height of 15 inches as the original boot. This version provides an adjustable opening that ranges from 15 to 20 inches. These boots are ideal for wearing with boot socks and layering up if the original tall Hunter Boots opening is not big enough for someone.
Chelsea Rain boots
Chelsea rain boots are a new take on the traditional and classical Hunter Boots. These boots are a stylish and shorter version of the classic Hunter boots. This version is perfect to wear on warm days when you do not want to confine your legs in tall boots. Chelsea rain boots are ideal to put on when the snow starts to melt and everything is extra slushy.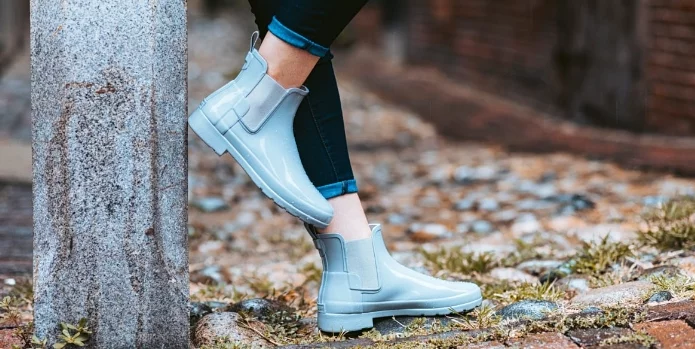 Hunter Boots Tall vs Short: Which are better ?
The debate over tall and short Hunter boots has been going on since at least 2011. Many boot lovers wish to know if their much-loved classic wellies would look better as a tall or a short, and the whole situation seems rather confusing...

...decide for yourself! Everyone has an opinion on their preferred Hunter style, and plenty of people want to know which is more popular. This article may be a matter of opinion, but there are a number of points to consider...

The Hunter short boot is the classic perhaps more practical style.
People often say that short boots are "chunkier" and they suit our cold weather better, but they aren't necessarily right. Short Hunters can be 'chunky' too, with many designs offering plenty of wiggle room for your feet.
Many tall styles are fashionable too, with plenty of designs that have broken into the mainstream in recent years. The most popular boot style is undoubtedly the Jadon design - which is available in both tall and petite variations.
Short boots are easier to wear casually, but tall ones tend to look better when paired with smart outfits.
The Hunter tall boot is It's a better overall design...
Few people doubt the quality of Hunter's original wellies, and we'd expect our boots to last years upon years. Tall boots often look more formal and stylish than their shorter counterparts - so it may be preferable to wear them in professional settings or when going to a social event.
Tall boots also have a much larger surface area underneath the knee - meaning they offer a much greater degree of protection in our unpredictable British weather conditions.
The Right Time to Wear Hunter Boots
The two real reasons to wear Hunter Boots are snow and rain. Originally Hunter Boots are rain boots that are designed to keep your feet comfortable and dry.
Hunter Boots are also winter boots although they do not have technical features of winter boots because if you stay outside for a long while then your feet get really cold. For that, you can wear boot socks in addition to a regular sock. It will keep your feet pretty warm and cozy.
Conclusion Hunter Boots Short Vs Tall
The short Hunter boots are perfect for days when you don't want your legs to be covered in mud or rain. The tall Hunter boots are great for days when you know it will be raining or muddy, and you need the extra height and coverage.

Also the shorter style is better. When it comes to Hunter Boot height, less really is more. The short boot provides a more polished and put-together look than the tall option. If you're looking for a stylish rainboot, go with the short style every time.