It isn't very comfortable when you have to pull your socks all the time. You are running your errands, and as you walk, your socks are falling. It becomes worse when you're wearing clothes that don't hide the socks line. The socks are out there giving your unnecessary headaches.
That happens many times, thus requires some attention and discussion. But let us brainstorm first. Have you ever thought about why your socks keep falling? Maybe there is something you are not doing right. Or you might be ignoring some basics.
We take our journey through this topic and get a clear indication of what to do to stop our socks from falling down in boots. The methods we will discuss are practical and doable. So let's take the journey together and discover some amazing tips.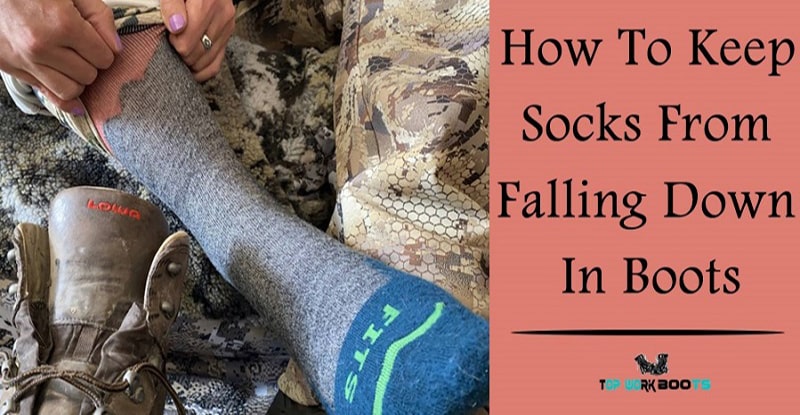 Factors That Cause Socks to Fall Down
A pair of socks that slides down can be an inconvenience and an embarrassment. You can experience even more difficulty if you hike a lot or run a lot because you may get blisters quickly. We will discuss preventing socks from falling in this section.
Here are some reasons that cause socks to fall down
1. Socks that are stretched out
After a while, socks can begin to misshape and lose their tightening properties. During wear, yarn relaxes and elastic material in the socks begins to lose its effectiveness.
The problem occurs more often with socks made of loose-knit material and also happens with socks made of cheap materials.
2. Oversize (or untight) socks
A sock that doesn't fit properly will not be able to sit close to your skin. We need to keep tension up, but it is too low. A loose sock fiber can cause this if it is purchased too large or if it is loose from the get go.
The sock doesn't fit properly in some cases, even when it's hand knit. It may be that the fibers in the sock are too loose, or that there is no elastic in the sock.
3. Socks get stuffed into shoes
When there isn't anything to grab onto, socks tend to stay inside your shoe. In loose socks as well as no show socks, there is usually extra material for your shoes to grab onto while walking. You may start to experience your sock sliding into your shoe if you run into this material.
Additionally, loose shoes can cause your socks to be pulled down by rubbing.
4. Bleach-washed socks
It was chlorine bleach that you used to clean your socks. Rubber and spandex are susceptible to being damaged by bleach. The elastic properties of socks are maintained with rubber and spandex.
I wear socks made of polyester regularly, and bleach can degrade that material as well. You shouldn't wash socks in bleach if you use it.
5. Dry Feet
You have dry skin on your feet, so they are slippery. If your feet are too dry, you should moisturize them. Too dry skin can make socks slide over your feet more easily.
How things turn out will depend on shoes, socks, and skin. It is possible that dry skin contributes to your socks falling into your shoes.
6. Socks of poor quality
It is a great deal to buy a multipack of socks, but it turns out that your socks aren't very durable. I have experienced this several times. In a short period of time the elasticity of my cheap socks nearly disappeared after multiple washings.
After that, I always double-check that they are made by a reputable brand and read reviews if I can.
Below Is What You Can Do to Avoid That Embarrassment
1. Stop buying low quality socks
Low quality is relevant. How do you know whether socks are of low quality? The making of the socks takes a little bit of time. One thing they consider is the material used. Most people would argue that the best socks are made of cotton. Others have had their worst nightmares while using cotton socks.
But for this case, anyway, we look at the quality of socks in a different direction. If the elastic band on the welt of the shoes is of low quality, then expect your socks to fall all the time. The best thing to do is to shop for socks that have a tight elastic band. By tight, I don't mean you go buying socks that are uncomfortable.
Do your due diligence and buy some that are not too tight or too loose. There are many types out there and if you ask the people who sell, they will tell you the truth. They will take you through a number of them and explain every detail you need to consider.
2. You are buying socks that don't fit you
It isn't strange for most of us. We buy socks using our eyes rather than taking the measurements. Ask around and you will be surprised that many people buy socks without thinking of their sizes. So when you wear those socks, you spell problems from the word go. They are either loose, tight or they are just messy.
When buying socks, you should consider the length and the size of the heel. In the case where you take socks with a small heel, they must fall because the heel will always pull them down. So whether the length is good and the heel doesn't fit well expect them to fall down. To measure the size of your socks, you can either stand on a ruler and measure, or just use your size shoes. Mostly socks sizes are determined by inches, observe that well.
3. The length of the calf
Mid-calf socks are notorious when it comes to falling. You might love them because that is your preference but you will keep pulling them up. The reason behind that is that they are below your ankle. So in real sense they don't have anywhere to hold up to.
But again, while choosing on this category you may need to consider the activities that you are doing while wearing the socks. If you are going to engage in intense walking, then you can take the full calf socks. They don't fall down easily.
4. Sock Garters
Now you don't want to get frustrated because your socks are falling. The next thing you can do is use sock garters. Most men use these garters and you will always see them looking at their best. So what are sock garters? They are piece of clothing with a narrow band. The band is used to hold the socks to avoid it from falling. It has a hook that grabs the socks and once you fasten it your socks will stay in place as long as you want.
5. Replace and dump your old socks
How many years have you used your socks, three, four, or five? You don't even remember the last time you changed your socks. In most cases, if you are using old socks, of course, you expect them to be falling all the time. They have gone all the miles and complaining that hey, we are tired.
Most people argue that low-quality socks are the only ones that lose elasticity when they are old. But the truth is that even those high-quality socks; if not replace often they will still disappoint you. Make a habit of changing your socks now and then. That way, you will seize complaining that your socks are falling.
6. Use shirt stays to hold them.
The shirt stays look like suspenders. If you have never heard of them before, you would think they are suspenders. These are elastic bands that are used to connect the bottom of your shirt with the top of your socks. They are fashionable and used by many people, especially the people in the military.
Some people think that it is uncomfortable to use these shirt stays. But if you think about it, you will be killing two birds with one stone. These shirt stays also hold up your shirt. So as you walk around feeling comfortable that your socks wouldn't fall, your shirt is taken care of too.
Different companies are selling these shirt stays. All you have to do is to shop selectively to take home the ones you feel are good for your use.
7. Sewing a band on your socks
It is also a great method of keeping your socks in place. It seems interesting, I know. There is that group of people who would like to keep it simple. They don't feel like wearing those stacks and shirt slays or whatever other method is out there. But they want to keep wearing their socks and still not pull them up. If you are in that group, we have taken care of you.
The good news is that you can sew an elastic band at the top of your socks. Many tailor shops sell elastic bands, so go get them and sew all a round at the top of your socks. While doing it, add some patience, and you will enjoy your socks afterward. If you can't sew, get a friend to help.
This method works perfectly because you are customizing yours according to your preference. So if you have those socks that you love and don't want to throw them away, do them the honors. Sew the band and continue using them.
Conclusion
Everyone wants to go out without worrying about some details like socks. While wearing that boot, you need to be comfortable and run your errands with ease. If you have a ton of socks and don't feel like replacing them or need the half calf socks, you can still keep them. With the above guidelines we have shared, you can choose one or two that work best for you. All of them are good because others have used them. So go ahead and borrow some ideas, and enjoy your socks journey.