There has been a lot of heated debate about cowboy boots and soles that they are using. The debate has been on the leather vs rubber sole cowboy boots, especially regarding their durability, elegance, comfort, and other great features.
Leather Sole vs Rubber Sole Cowboy Boots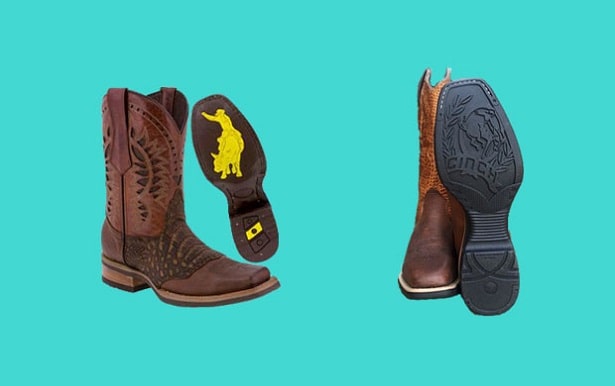 All the two soles have advantages and disadvantages over each other. Depending on your preference, you can either choose one of them. To answer these controversies, we have decided to look at each of the soles and their effects on the various areas.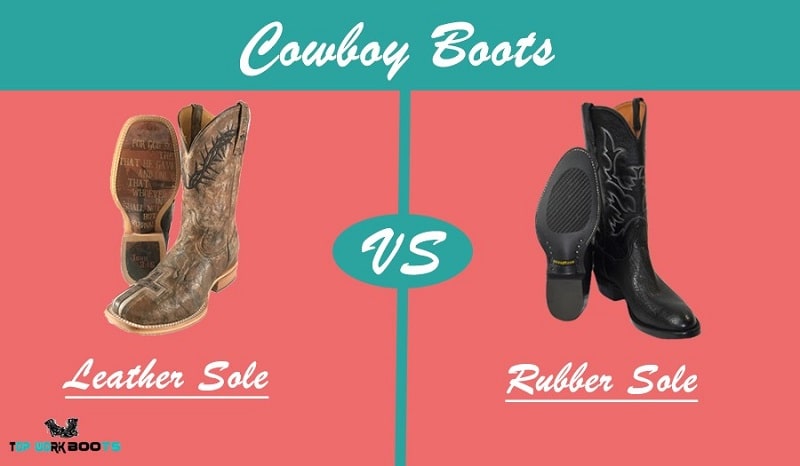 1. History of the Soles
The history of the soles marks the basis of differences between the two soles. According to history, leather soles were the first to appear in the market around the 18th century. Farmers used them because they were comfortable, sturdy, and safe boots to work on farms. Cowhide was the primary material that was used to make the soles.
On the other hand, rubber soles have only been in the market for the last few decades. This was when the square toe cowboy boots were introduced in the market. However, the soles have become popular, and in fact, they dominate in the market. To sum up, leather soles have a longer history than rubber soles.
2. Durability
The two soles also differ in their durability. Cowboy boots with Rubber soles are more durable compared to those with leather soles. A good pair of cowboy boots with rubber can last for about ten years, although this depends on how you use your boot. On the other hand, everyday use of leather soles, they will require to resole after two years.
With cowboy boots that have a rubber sole, you can resole them after four years. Boots with leather soles also deteriorate quickly when exposed to water as opposed to rubber soles. Cowboy boots with rubber soles are more durable as opposed to those with leather.
3. Comfort
The cowboy boots with either leather vs rubber soles have excellent comfort. However, leather soles are made of natural materials that allow your feet to breathe easily. The leather soles are also designed in that they absorb moisture and sweat very well. This helps to keep your feet dry and cool all day. This feature helps to improve your cowboy boot comfort level.
On the other hand, the rubber soles lack this feature, and they do not absorb your sweat or moisture like leather soles. If you are those guys whose feet sweat, you will be having some discomfort in your feet. However, it is good to mention that rubber soles are more flexible than leather soles.
The rubber soles are elastic, thicker, and durable; these features make the feet more comfortable and flexible when working. They can also be used every day as they are suited for such tasks. Breaking in leather soles is accessible to that with rubber soles.
4. Safety
Most western work boots like to use Rubber soles because they ensure comfort and high safety has been provided. The rubber soles are more resistant to water, external power, snow, among others. The soles can also protect your feet from the fangs of small snakes. These are features that you can't get with leather soles which isn't that resistant to water or other material mentioned.
5. The style
The cowboy boot style depends on your preferences. However, experts say that boots with leather soles appear to be much better than those with rubber soles. The outsoles of the sole leather feature the logo and signature of the brand, which makes the cowboy boot look a bit special.
If you prefer a cowboy boot with the beauty of the traditional cowboy boot style, then the leather soles are the best solution for you. But if you want a cowboy boot based on function and high comfort level, then rubber soles are the better option for you.
If also you like that click-cluck sound from your cowboy boot when walking on a smooth surface, leather soles are here for you. These are gorgeous sounds that make you feel like a real cowboy. You will walk with confidence, swag, and arrogance that real cowboys are known for.
6. Wear
Leather soles are stitched to the soles. The soles do not last in wet conditions compared to rubber soles, and they disintegrate quickly. When the material comes into contact with the surface, it rubs away and wears quickly. This contrasts to rubber soles which are long-lasting and can take many years before it wears out. It remains intact even if they are exposed to different climatic conditions.
7. The Cost
The leather-soled cowboy boots involve more artistry in crafting the boots, making them costlier than rubber-soled cowboy boots. They can also resole for so many times, unlike the rubber soles when its life comes to an end once it is worn out.
Comparison Table – Leather vs Rubber Sole Cowboy Boots
| | | |
| --- | --- | --- |
| | Leather sole | Rubber soles |
| Durability | | |
| History | | |
| Comfort | | |
| Style | | |
| Cost | | |
| safety | | |
Advantages of Using Leather Sole Cowboy Boots
They are the best and ideal sole for cowboy dancers

It show the accurate picture of traditional cowboy boots that have evolved over periods.

They are more stylish and classic in design as opposed to others.
Advantages of Rubber Sole Cowboy Boots
They have an extra grip on slippery surfaces.

They provide extra protection to the leather-made boots when added on top.

It is easy to replace the rubber at home as opposed to a leather boot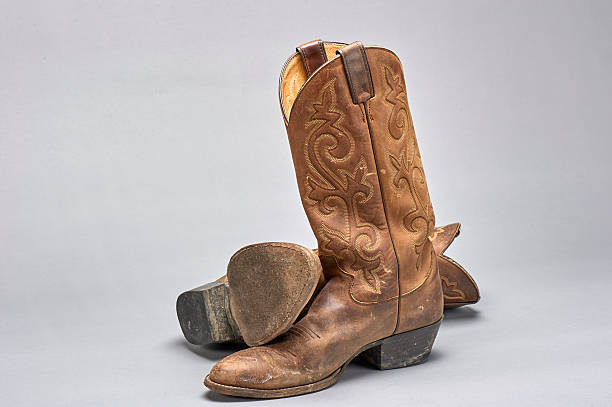 Leather Sole Boots Mens
FAQ
Do leather soles better than rubber soles?
The quality of leather soles purely depends on the number of layers that the sole has used. In a normal situation, rubber soles are better than leather. However, a leather sole that has used triple leather layers will outlast the rubber sole. So, the leather sole will be better depending on the leather layers it uses.
Do leather soles be more comfortable?
Of course, they are; leather is one of the hard materials, the leather soles are made with a superior ability that molds its shape and therefore tends to be more comfortable. Its layers are breathable, and this increases the comfortability of the feet.
Can I put rubber soles on the leather shoes?
Yes, a thin layer of rubber can blend well with the heels of your shoe. The layer will prevent the leather from wearing faster and prevent water from seeping into the leather when you walk in wet areas. This also increases the durability of your leather boot.
Can a cobbler repair a rubber sole?
Yes, a cobbler can fix rubber soles by either adding a completely new sole or half; all you need is to specify which type you need. They can fix with leather, rubber, or foam soles, depending on your preference.
Final Thought
There has been a constant debate on Leather vs Rubber sole cowboy boots. The choice of which of the two soles are ideal for you depends on your purpose. If you need to buy a cowboy boot with a beautiful design and ready for parties or gatherings, the leather soles are the choice to go with.
But if you require a cowboy boot that is perfect for outdoor activities like construction work, farms, among others, you need to think otherwise. If you are working in an area that you are exposed to during the wet or rain season, rubber soles are the best boots for you.
The main difference between the two soles is based on what they offer, although they seem similar. Leather soles are handmade with a classic traditional design which are ideal for riding and western boots. On the other hand, rubber soles are machine-made and are experienced in stockman, roper boots, and western work boots.