Sketchers are obviously one of the biggest names in footwear. Personally, however, I had never owned a pair. And the reason for this is simple. They generally make sneakers, and well, I don't wear sneakers.
Recently however, I came across the Workshire Relaxed Fit. My interest was peaked for three reasons. They were cheap, the wheat version looked ridiculously stylish, and Sketchers are one of the few big names that I've yet to review for this site.
I've owned these boots for just shy of a month now and here's what I think. Should Sketchers stick to sneakers?
Comfort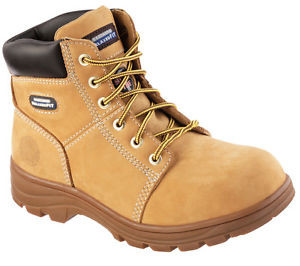 My first impressions of the 77009 were very positive. For a start, the boots look just as good out of the box as they do online. They are the perfect "weekend work boot". And secondly, there's no break-in period whatsoever.
I wore them ten hours straight out of the box and experienced no problems whatsoever. I'm not exactly sure what the Skechers means by "Relaxed Fit". They had no effect on my stress levels whatsoever. And they actually run a little larger than I was expecting.
I did however appreciate the solid mid-sole which is indeed shock absorbent as advertised. If you work long hours or even short hours on hard surfaces, this is a major selling point. The foot-bed is also removable. I personally liked it but the option is a nice bonus.
Safety Features
First off, these boots do indeed have a steel toe. There seems to be some confusion about this in the customer reviews so I'm assuming that a previous product description didn't include it. But I can personally confirm that it is both present and not overly heavy. The 77009's also feature electrical hazard protection, a non slip sole and a high enough heel for ladder safety.
Durability
Too early for me to say. All I can say is that they appear well made, Skechers are popular for a reason, and multiple customer reviews claim a years plus wear. And for a pair of boots that cost less than a $100, that's generally all that I ask.
Style
As mentioned previously, style was a major factor in my decision to buy. I went for the wheat version, and I have to say that they didn't disappoint. Finding a pair of work boots that you can wear at the weekend isn't always easy but Skechers have definitely delivered here. They look good on the construction site. But they look even better at the bar on a Saturday night. There is however one catch. These boots seem to literally attract stains.
Customer Reviews
Reviews for the 77009 aren't bad but they aren't great either. At the time of writing, they've been reviewed 66 times on Amazon for a pretty meager score of 4.0 stars out of 5. Less than half gave them the full five stars. And one in ten gave them, well, 1 star. Complaints include sizing, and the boots looking nothing like the pictures.
Verdict
Personally, I liked these boots and will continue to wear them thanks to the always welcome combination of comfort and style. The mixed customer reviews are worrying. But given the low price, the Skechers name, and my own very positive personal experience, I have no problem recommending them.