First established in 1992, Skechers are pretty young for a boot company. During their twenty years in the business however, they've grown a pretty healthy following. I tried my first pair this month, namely the Men's Clan Boot.
They look decent enough, they promise a light weight composite toe and an upper made primarily from suede. How do they feel on the ground? Read on to find out.
Comfort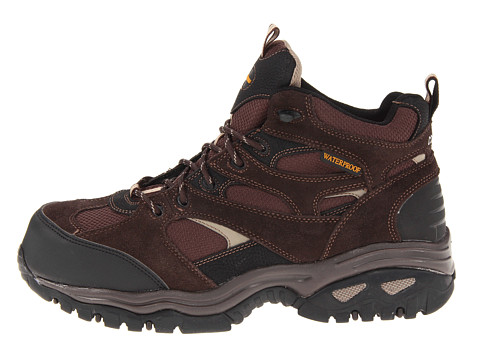 In terms of size, I liked the Clan almost immediately. I'm always a little weary buying from a a manufacturer that I haven't tried before but they fit like a glove. Break in period was almost non existent thanks to the distinct lack of leather.
The primarily suede construction combines well with the composite toe resulting in a light weight pair of boots that feel at time close to the hiking kind. The bouncy sole and very cushioned collar also add greatly to overall comfort levels.
Overall, I was very impressed. They're not quite as comfortable as Keen boots. But at a fraction of the price, they're a lot better than I expected.
Safety Features
The Men's Clan only really have one safety feature, namely the composite toe. It meets ASTM standards however, so you know that in the very least your toes are protected. Aside from that there's no shank in the sole and the bottom doesn't appear to be particularly slip resistant.
Style
If I had to make one complaint about the Men's Clan, it's that they're not much to look at. As far as I can tell, they're only available in one color and that color could best be described as red wine. This results in a pair of boots that don't really clash with anything but don't really go with anything either. It's almost like Skechers focused exclusively on creating a cheap comfortable boot without giving a second thought towards style.
Waterproofing and Insulation
The Men's Clan are advertised as being waterproof and while this is indeed the case, the suede stains very easily. This means that if you step in a puddle, your feet will stay dry but your boots will look terrible the next day. In terms of insulation, these boots are not designed for particularity cold temperatures. With Summer coming up, however, that could be a good thing. I mainly wore them indoors and they felt great.
Verdict
The Men's Clan are currently on the market for just $45 on Amazon. Considering the composite toe, solid fit and reputable brand name, that makes for a bargain price. Personally, I don't love their appearance. But if that's the only fault that I can find on such a cheap pair of boots, I reckon they make for an excellent purchase. Just make sure that you like the one and only color first.