First established in 1857, Stanley are well known for the quality of their hand tools. Apparently, they recently decided to enter the work boot market. And today I'll be reviewing their most popular boot, the Men's Dredge.
Buying boots from a company that doesn't specialize in them isn't usually a good idea. But I decided to give the Dredge a try because I like the casual Chelsea boot design and they have a surprisingly positive online reputation.
It also doesn't hurt that they're roughly half the price of the competition.
Stanley Men's Dredge Steel Toe Work Boot Review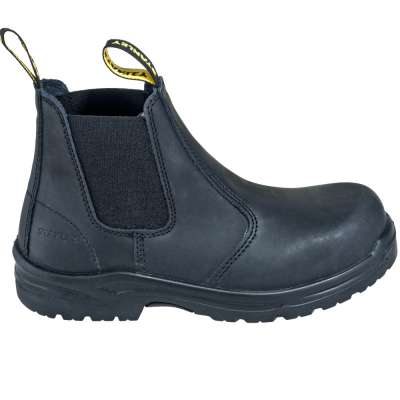 Comfort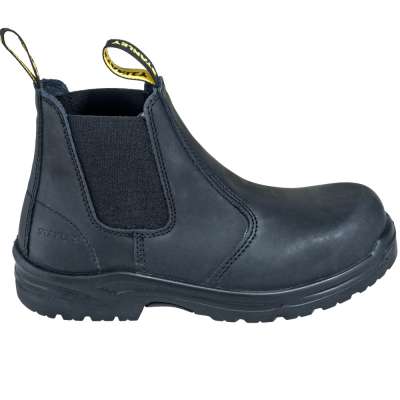 Out of the box, there's a lot to like about the Men's Dredge. They fit as expected, you don't need to break them in, and the pull on design is a definite advantage.
If like me, you're used to lacing up your boots, the difference is night and day. They slip on and off in seconds. The elastic gores on the sides allowing the boots to open up easily but immediately closing back up for a secure fit.
Another benefit of the elastic is that despite their high cut, they offer almost as much ankle flexibility as a sneaker.
For a steel toe boot, the Men's Dredge are also lighter than average but unfortunately, it's for all the wrong reasons. Some boots are light because they've been well designed.
These boots are light because of a distinct lack of cushioning both on the uppers and below your feet.
The result is a boot that's comfortable when you first put it on. But over the course of a long shift, does absolutely nothing to absorb shock.
The removable EVA insole is basically worthless. And the polythurene midsole, while relatively thick, does little to make up for it. In the end you have a boot that instead of combating foot fatigue, seems to actively invite it.
If you're job doesn't involve you being on your feet all day, the low price and low weight, may make them a solid purchase. But if you work long hours on concrete, look elsewhere. You'll pay more but your feet will thank you for it.
Safety
The Men's Dredge has a steel toe that meets ASTM standards. They also have a slip resistant outsole. I tested this on both oil and water and found good traction levels on both. There's a steel shank in the sole but as far as I can tell, this is for stability, not puncture resistance.
Style
If there's one area where these boots can't be faulted, it's style. I chose the black version but they're also available in brown. The combination of full grain leather, tasteful stitching and Chelsea boot design result in a boot that goes well with just about everything. The pull on tags are ugly but are easily covered with your pants.
Waterproofing/Insulation
While not strictly waterproof, the uppers are made from full grain leather which is naturally water resistant. This means that they'll keep your feet dry in the rain. But anything longer than a few seconds under water means wet feet. Insulation levels are average, making them a good year round boot provided the temperature doesn't swing too far in either direction.
Customer Reviews
At the time of writing, the Men's Dredge have been reviewed 137 times for an average rating of 4.3 stars out of 5. Apparently most people don't agree with me about the quality of the sole because along with style and price, the most common area of praise is comfort. The most common complaint is size (some people suggest ordering half a size up). And a few reviews do agree with me that these shoes don't stand up to long shifts.

Verdict
As you can probably guess by now, I don't recommend these boots.
If you want something for casual wear, or if your job doesn't require you to be on your feet very much, then maybe they're worth considering. If you just want something cheap and stylish, they certainly do tick both boxes.