Timberland are easily one of the most popular work boot manufacturers. In fact, if best seller lists are anything to go by, they're officially number one.
Take a look at the picture on your right, however, and you'll see that the Men's Powertrain are something different altogether. Instead of the typical high cut, they look and very much feel like a pair of sneakers.
So why am I reviewing them? Because inside is a safety toe. And as a result, they may well be the perfect choice for somebody looking for something a little bit lighter and a whole lot more breathable.
Timberland Men's Powertrain Industrial Shoe Review


Comfort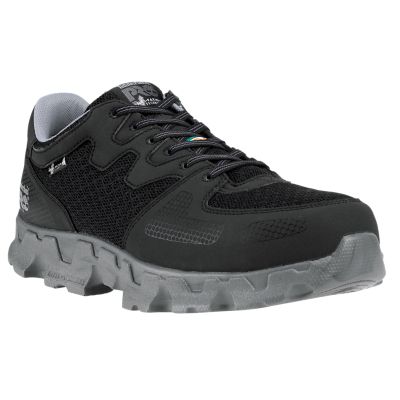 As always, I'll start with the break in period or the complete lack of one in this case. I don't say this often but you can literally wear these shoes to work the day that you get them. And if this is the first time that you've swapped a boot for a shoe, the surprises don't stop there.
Despite the presence of the all important safety toe, the first thing that you'll notice is the significant drop in weight. Don't get me wrong, they are a little heavier than standard sneakers. But nothing compared to most full on work boots.
Then there's the uppers which are made primarily from breathable mesh. This combined with the sneaker like low cut makes them one of the most breathable safety shoes that I've tested.
In other words, these can be worn in direct sunlight, in the height of Summer, and the only thing that won't be roasting is your feet.
The third and final feature that adds to comfort levels is Timberlands patented Anti Fatigue Technology. This consists primarily of cones on the parts of the shoe that hit the ground the hardest. They contract and expand resulting in excellent shock absorption.
This combined with the low weight makes them an ideal choice for anybody who works on concrete floors for long periods of time. This is a sentiment that's echoed in multiple customer reviews.
Safety Features
The Powertrain come with an alloy safety toe. The lack of steel and asymmetrical cut keep the shoes light but still pass all relevant ASTM standards. The link below leads to a shoe with a static dissipation but there is another version without this feature.
Strangely enough, there's no claims of slip resistance in the marketing for the boot. Although, in my experience, they do provide plenty of traction.
Insulation/Waterproofing
These shoes offer zero protection against water or the cold. This isn't a design defect. They simply weren't designed for that purpose. And adding either one into the mix would greatly reduce the breathability that's such a popular feature of the shoe.
Style
As far as I can, these shoes are available in a choice of five different colors. I personally purchased the black version because the others were, in my opinion at least, about ten times too colorful. The black version on the other hand is nicely understated and should look good in just about any work environment. I especially like the fact that the sneaker like appearance make them ideal for casual weekend wear.
Reputation
At the time of writing, the Powertrain have been reviewed just over 150 times for an average rating of 4.6 stars out of 5. I think this makes them one of Timberland's best rated work shoes but don't quote me on that. Strangely enough, most people don't seem to buy these boots for keeping their feet cool. Instead, their most popular features are their comfort levels and significant drop in weight compared to standard work boots.
Verdict on Timberland Men's Powertrain Industrial Shoe Buyers

The Men's Powertrain sneaker like design means that they certainly won't appeal to everyone. If that's what you're after, however, they're a pretty tough shoe to fault. In terms of weight and keeping your feet cool, the only safety shoe that compares is the Atlanta Cool by Keen. I therefore recommend checking both shoes and choosing whichever one you like best. Either way, I doubt that you'll be disappointed with your purchase.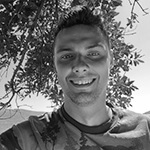 About James Miller
James Miller is a dedicated individual based in the vibrant city of San Francisco, CA, USA. His unwavering passion lies in the realm of construction, where he finds fulfillment in exploring and documenting various facets of construction equipment and processes. A graduate of the University of California Merced, James holds a dual degree in mechanical and electrical engineering, which has equipped him with a solid foundation in technical knowledge.
With a keen eye for detail and a knack for articulation, James has channeled his enthusiasm into writing about the intricacies of construction gear and methodologies. His insightful writings offer valuable insights to both industry professionals and curious enthusiasts, shedding light on the machinery and techniques that shape the built environment.
James Miller's educational background in mechanical and electrical engineering lends credibility to his work, allowing him to delve into the technical nuances of construction with precision. His passion for sharing knowledge and fostering understanding in the construction field is evident in his contributions, making him a respected voice in the industry.