I decided to buy the CMF6366 because they're one of the higher rated work boots on Amazon and yet many sizes still come in below the $100 mark.
Are Carhartt work boots a worthy alternative to the bigger names?
Carhartt Steel Toe Boots Reviews
Comfort
As always, I'll start with the break in period. The CMF6366 doesn't really have one. They start out comfortable and get better after a few days wear. Fit wise, they're almost identical to the better known brands i.e. order what you usually do.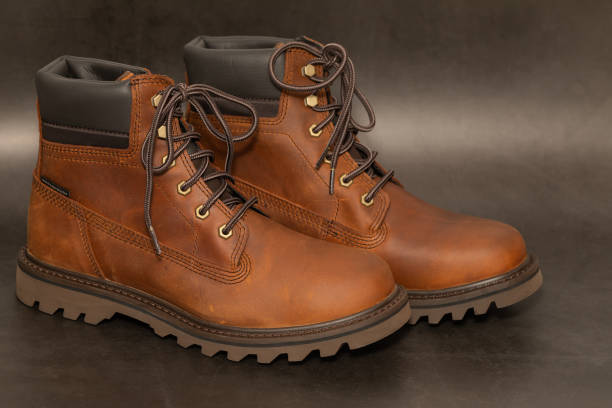 Carhartt promises a well padded tongue and collar and they certainly live up to that claim. What's most impressive about these boots however is what's underneath your feet.
For a start, the removable insole is one of the better that I've found at any price point. It's thicker than most and made from a combination of ortholite and polythurene. Below that, there's additional layers of polythurene and the all important EVA midsole.
The result is a boot that more than matches the shock absorption levels of found in Keen boots and higher end Timberland's. In other words, these fit the bill perfectly for those tackling long shifts. There's also a steel shank to keep your feet stable over uneven surfaces.
All in all, these boots can't be faulted in terms of comfort. I was admittedly skeptical at first but this particular pair of Carhartt boots are right up there with the big names.
Safety Features
All the standard safety features are present. There's a composite safety toe. There's electrical hazard protection. And the deep grooves on the outer sole should provide slip resistance over just about any surface. Personally, I've only tested them on oil and water so far. They passed without fail. There's also a ladder lock for those who need it.
Waterproofing/Insulation
These boots are water resistant, not waterproof. In other words, they will repel small amounts of water i.e. rain but they're unlikely to keep your feet dry if you work in consistently wet conditions. Insulation wise, they're about average, suitable for moderate climates only.
Style
Colour choices amount to a total of one but it's a nice shade of brown. The leather looks high end and the slightly bright laces offer a nice contrast. Overall, they're a modern looking pair of boots that should go well with most pants in most settings. I don't love the attention grabbing logo at the side but it's a minor complaint.
Pros
The boot is resistant to slipping, chemical, oil, and water
Made of pure leather and rubber soles provide a firm grip
They are durable
They are more comfortable
The rugged flex system helps to stretch the boots easily
They are easy to break in due to the powerful flex technology
Cons
The boot is not waterproof
FAQ
Are Carhartt work boots any good?
Of course, they are; the boot can stand toe to toe with the best brands in the market and still give you value. If you are looking for a work boot that is comfortable, safe, and durable, then Carhartt is the brand to go for. They will provide the comfort you need without any stress.
Are Carhartt boots waterproof?
Yes, they are. Carhartt is a work boot that has incorporated high-tech features. They are made of high-quality leather that features a storm defender that is waterproofing. Its sole is puncture not only resistant but also electrical hazard protection.
Do Carhartt boots run true to size?
Carhartt is a boot. They run their true size. However, they have a bit of extra room built with them. So, it is recommendable that you take a boot with a half larger size than yours.
Does Carhartt have a lifetime warranty?
Carhartt is a boot that is made to last for long; however, since there are some expected fortunes, they provide a lifelong warranty that is somehow limited to the area of coverage. The warranty doesn't cover the normal tear and wears, neglect, misuse, and obvious abuse of the boot.
Are Carhartt returns free?
No, the return isn't free; there is a standard return fee of 7$ that is set. However, the fee is waived if the returns are from web store credit. This website store credit is also only to the USA online store on the official website.
Verdict
As you can probably guess by now, I'm happy with my purchase and will probably be reviewing more Carhartt boots in the future. If you're looking for a pair of boots that will keep your feet pain free regardless of the length of your shift, they're a solid choice. The lower than average break in period and higher than average style certainly doesn't hurt either.