First established in 1901, it's fair to say that Chippewa boots have been around for quite some time now. Over the years, they've built quite a following. Personally, however, I purchased my first ever pair three months ago.
I won't lie, I bought them for one reason and one reason only, the handcrafted leather. I needed a pair of shoes that I could wear to an upscale restaurant and I'll be damned if I'm wearing loafers.
The reason that I'm writing about these boots, however, is that I was surprised to learn that they actually make for a damn fine work boot too, albeit for the missing safety toe.
If that's not a deal breaker, read on to learn more.
Comfort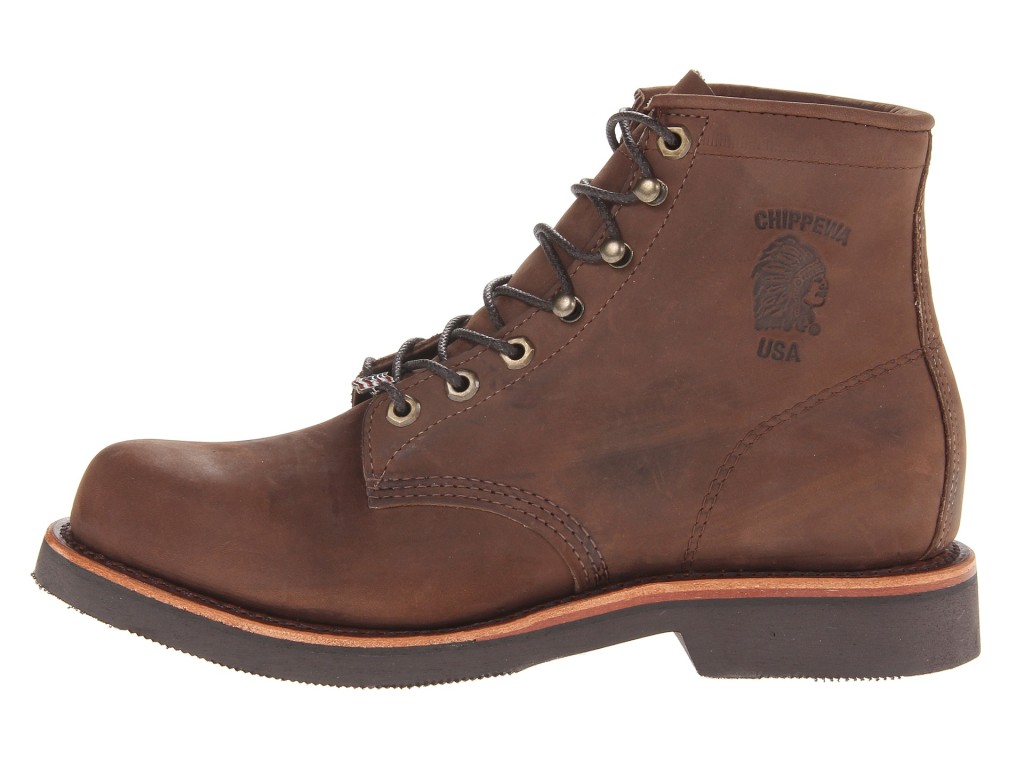 As always, I'll start with the break in period. It can only really be described in one word; painful. Most work boots take a few days to break in, these took me a good two weeks. Rather than being the manufacturers fault however, it's just a natural consequence of the tough materials used.
When you do finally hit the concrete with these boots however, they score highly. The removable cushioned insole is well designed and the high collar feels a lot softer than it looks.
One word of warning, however, these boots do run a little large so I recommend going one size down. They also have a pretty high heel, which while I personally like that, you may disagree.
Safety Features
Chippewa didn't promise a work boot here and they didn't technically deliver one either. There's no steel toe, no puncture resistant shank, and no electrical hazard protection. The only safety feature that they do have is the Vibram anti slip sole. Does that mean that they can't be worn to work? That all depends on whether you're a carpenter or a construction worker.
Insulation/Waterproofing
If you need a pair of boots for working in the rain or snow, don't buy these boots. Don't get me wrong. They can be treated with mink oil and that will keep your feet dry in the occasional shower.
But if you expect to be caught in the rain a lot, there are no shortage of better waterproof choices.
Insulation, on the other hand, is one of these boots strong point. They mightn't look it but the handcrafted leather promises warm feet on even the coldest of days. The downside of this is that they're not a great choice for Summer wear.
Style
I won't lie, I bought these boots primarily based on looks. Personally, I'd call them brown boots. But the marketing department at Chippewa prefers the term "Chocolate Apache". While I'm not so sure about that, they do live up to the term "rugged". Right out of the box, they look a little worn and this gives them a very stylish, casual appearance.
I also like the subtle American flag on the bottom lace, which hints to the fact that they are completely US made. If I had one complaint, it would be the orange line along the bottom which can look a little gaudy. Thankfully, however, this fades greatly after a few weeks wear.
Durability
I've owned these boots going on 3 months now and aside from a few scuffs, they're still as good as new. Coupled with Chippewas solid reputation, I would have predicted at least two years wear. As I'll cover below however, some previous buyers have other ideas.
Reputation
At the time of writing, they've been reviewed over 500 times on Amazon for an average rating of 4.5 stars out of 5. As you'd expect, the rugged leather was appreciated as was the comfort once they finally break in.
There is one problem however. While the vast majority buyers were happy with their purchase, there were a few durability complaints. Given the price of these boots, I find this to be pretty disappointing.
Pay extra for American made boots and you should be getting, well, American craftsmanship.
Verdict
There are three reasons not to buy these shoes. First, there are cheaper alternatives. Secondly, most of those alternatives have an optional steel toe. And lastly, the durability complaints, while very much in the minority, are a little worrying.
If you can get past these problems however, they score full marks in terms of both all day comfort and "Chocolate Apache" style.