Red Wing and Wolverine are the two prominent boot companies that are in the market today. For over decades now, they have stood up to be the top-quality companies that make quality boots. The question of which is the best boot between Red Wing Iron Ranger vs. Wolverine 1000 Mile has been the talk of the day all the time, especially online.
The main reasons for the broader discussion of the two are because they are from American heritage brands, and they have a good reputation for rugged durability. The cost of each of them also seems to be close, and they have features that make them look similar. However, the boots have some significant differences despite looking similar. Let us look at each of them
Iron Ranger Vs 1000 Mile Reviews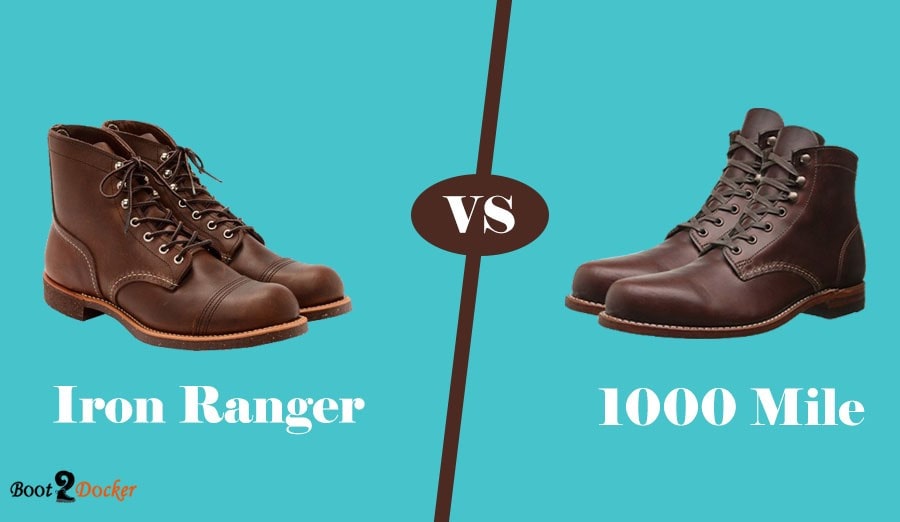 1. Red Wing Iron Ranger
The Red Wing Iron Ranger is the most famous boot of the company. It is made of full grain oil tanned leather from Red Wing's SB Foot Tanning Co, making it long-lasting. The 6″ ankle boot is available in black and brown color, a rugged and classic appeal.
The boots are designed using traditional crafting, a stable and rugged boot with a super powerful foothold over any other boot brands in the market. The sturdy boot is made on an oil-resistant sole with detailed contrast stitching, high polish hooks, and a cap toe.
Features
Construction and design - The Iron Ranger is a unique boot that is originally handcrafted in the USA. The durable Goodyear stitch-down construction and contrast stitching are what I like in the boot. The boot is furnished with a bump cap toe that is wide enough for the toe.
Vibram soles - The Iron Ranger has a durable and robust outsole made of Vibram 430 mini-lug, which provides you with the comfort needed. It is also oil-resistant and non-marking, which makes it strong and dependable. It also has well breathable leather insoles.
The durable material - The boot is made from a full-grain leather on the upper, footboard of leather, and cork midsole that is well molded to your feet. This makes the boot have a customized fit and comfort to your feet that lasts for an extended period.
The Red Wing Leather Protector - the protector provides your feet with an invisible shield from foreign materials like oil, mud, water, and dirt. The welt construction makes the boot easy to clean as you can wipe away stuck-on dirt using warm water and a soft-bristle brush.
Pros
The full-grain leather makes the boot 2mm thicker, and this makes it durable.
The Vibram mini-lug sole is slip-resistant and therefore ideal for most surfaces.
It is easy to clean due to the Goodyear welt construction
It has a super-rugged style that most people likes
It is pretty water, oil, and dirt resistant
Cons
It is not easy to break-in
The toe-cap is somehow sturdier and, therefore, may not be good if you don't like that.

2. Wolverine 1000 Mile
Wolverine 1000 Mile is another top quality and durable boot that comes from the American heritage boot brand. For so many decades that the boot has been in the market, it has stood to be perfect and famous. The materials used, construction, and quality of the boot make it to be a perfect work boot.
Just like Red Wing Iron Ranger, Wolverine 1000 Mile features a Goodyear welting construction for easy re-soling. The sole and leather of the boot are able to last 1000 miles of walking before falling apart. Unlike the Red Wing Iron, it has a casual shoe aesthetic rather than the work boot, and the upper layer is made of leather and Vibram heel, making the boot durable and ideal for all-terrain.
Features
Construction and design -Wolverine 1000 Mile is a top-grade boot that is designed in Rockford and handcrafted in the USA. It has a Goodyear welt construction that makes it durable, flexible and also allows you to re-sole the boot during the years of wear. The classic design from the boot makes it appear shiny and boxy.
Durable material -Wolverine is handcrafted with the upper made of premium leather materials that come from Horween leather company. The leather has a high-level of grease, and this makes it easy to shine even without polish. This material is durable and makes the boot last longer.
The sole -Wolverine 1000 Mile boot has a unique sole that is ¾ leather sock insert footbed and the leather welt. The sole is made of three layers that have been perfectly molded in a design that supports the arch with ease. To have good traction, the outsole features a Vibram heel to address its traction.
Leather laces - the 1000 Mile boot features a waxed lace that is made from short-weave cotton. They do not disintegrate easily, and they come in various color laces to make them appealing and stylish.
Pros
The Horween Chromexcel leather in the boot is a plus as it is rich, oily, and super rugged.
It has a classic design that is appealing to the eye.
It is a durable Vibram heel with the mini lugs stitched on the leather upper.
Sturdy and reasonable Goodyear welt construction
Easy to clean
Cons
The leather sole is slippery in the wet season
It lacks shank

Red Wing Iron Ranger vs. wolverine 1000 Mile
After looking at each of the boots, it is good to note the significant difference between the Red Wing Iron Ranger and Wolverine 1000 Mile. The considerable differences with these boots are experienced in the leather, fit, style, and construction. Below are some of the main difference
Iron Ranger boots use oil-tanned leather from SB Foot Tanning Co, whereas Wolverine 1000 Mile boots use Horween Chromexcel. The leather difference on the upper makes the boot have a different feel and colors, with Iron Ranger having a somehow rough surface and wolverine 1000 soft.
Wolverine, 1000 Mile boots are dressier than Red Wing Iron Ranger, which is more work boots.
The Red Wing Iron Ranger boots have a metal shank, while the Wolverine 1000 Mile boot doesn't have.
The Iron Ranger boots are strong and more suitable for harsh weather conditions like rain and mud. On the other hand, Wolverine 1000 Mile is more susceptible to scratching and abrasions despite the fact that it comes water-resistant.
Despite that the two booths have a Goodyear welt construction that allows re-soling, there are some differences in the two boots' soles. The Iron Rangers soles are fitted with nitrile cork soles with all-weather insoles and Vibram outsoles with mini lugs, which makes a break-in take time. On the other hand, Wolverine 1000 Mile has soles made of molded leather in the heel, making break-in shorter.
The sizing of the boot also differs. The Iron Ranger tends to run in a larger size, although they are a bit narrow, while wolverine 1000 Mile boots are true to their size.
Similarities between the Red Wing Iron Ranger and Wolverine 1000 Mile
Despite that the two boots are different, they have some standard features. As we mentioned, you might fail to note that they are different from the first glance. The common features are
They are both made in the USA
Both boots are made of a long-lasting Goodyear welt construction. Hence, they are both re-soleable
They have leather soles both
They appear to be similar by the first look
Their price is relatively similar
Specifications of Red Wing Iron Ranger Vs Wolverine 1000 Mile
| | | |
| --- | --- | --- |
| | Red Wing Iron Ranger | Wolverine 1000Mile |
| Boot uppers | S.B. Foot Tanning Co. Oil-Tanned Leather | Horween leather or Charles F.Stead Suede |
| style | Casual heritage work boot | Dressier boots |
| insole | Tanned leather insoles | Horween leather footbed |
| sizing | Narrow fit | Truer to size |
| outsoles | Vibram mini-lug or Nitrile Cork | Leather outsole with rubber traction |
| Construction | Goodyear welt | Goodyear welt |
| Shaft measurement from arch | 6.5 inches | 6 inches |
| Heel | 1 inch | 0.8 inches |
| Repairable | yes | Yes |
| Made in USA | Yes | Yes |
| Customizable | No | Yes |
Should I buy the iron ranger vs. 1000 miles?
After looking at the similarities and differences between Wolverine 1000Mile and Red Wing Iron Ranger boots, I am sure you have known each of them. The choice of which to buy depends on your preferred outfit. The wolverine 1000 Mile comes in various colors that are ideal for any outfit; they are shiny, making them the best option for any casual dressy.
On the other hand, Red Wing Iron Ranger is a bit more durable than Wolverine 1000 Mile and doesn't have that classy appearance like 1000 miles. If you need a dressier boot, then go for Wolverine 1000 Mile and if you need the boot that is durable and can be used for work, go for Red Wing Iron Ranger.
Final thought
Red Wing Iron Ranger and Wolverine 1000 Mile are top handcrafted boots that are made from high-quality materials. They are worth and wearing them. Buying both boots is making a wise decision considering that they both have a Goodyear welt construction that is durable. My recommendation is that buy both boots as they can be used on different occasions.