Tactical boots obviously aren't designed to be worn in the average workplace. They are however designed to be highly durable, reasonably protective, and comfortable for standing on your feet all day. For these reasons, they are growing increasingly popular for the working man.
In the past, I've reviewed two tactical boots, both of which scored very highly. Today I'll be talking about the S.W.A.T. Men's Classic which are similar but a whole lot more stylish.
Original SWAT Men's Classic Tactical Boot Review


Original Swat Boots Review
Comfort
First off, there's zero break in period. Get the right size, wear the right socks, and you're good to go from day one. The last boots that I tested were a pair of Timberland's and the difference is like night and day.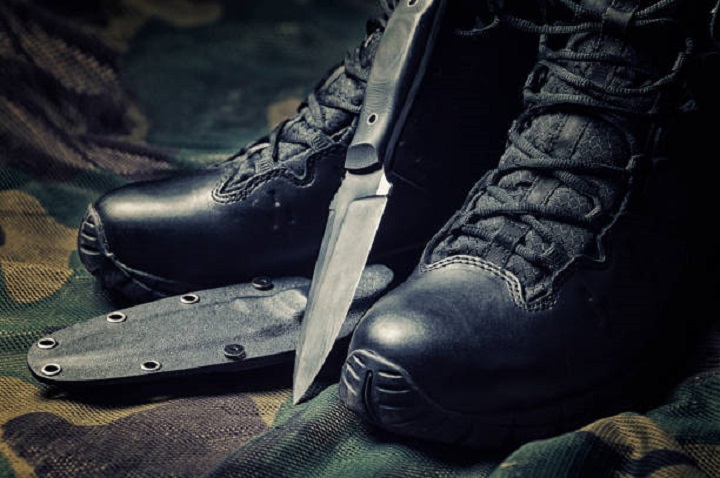 Another thing that I was surprised by was the weight. Appearances can definitely be deceiving, despite the high cut, these boots are light.
Despite not being designed for the purpose, they work well on concrete floors. This is largely the result of the custom molded EVA mid sole (commonly found in standard work boots).
Combine this with their weight and you have a pair of boots that are ideal for those dreaded 8 hour plus shifts, regardless of the surface you find yourself on.
Personally, I'm not a big fan of 9 inch boots but the padding on the upper is soft and flexible enough that even I couldn't complain.
Safety Features
These boots come with a choice of soft or steel toe. They are also equipped with both electrical hazard protection and slip resistance. Both of which meet their respective ASTM Test standards. In other words, tactical boots or not, they have every almost every safety feature that a working man could need.
The slip resistance in particular is one of the best that I've experienced, they grip pretty much anything. It is worth noting however, that while 9 inches in length, they offer little to no ankle protection given the soft material of the upper. Don't even think about wearing them on the rail road.
Insulation/Waterproofing
These boots are designed to be breathable. As a result, don't expect too much insulation regardless of the high cut. Personally, this is a plus given the current season where I live but if you live somewhere colder, don't expect warm feet.
Waterproofing is good for about two inches or light rain. Anything more than that and you can expect wet feet. Again, it all depends on the conditions in which you work.
Style
I personally purchased the black version because I didn't want something that screamed military or police etc. I was pleased with my choice as they don't stand out too much. Cover the top with jeans in fact and they look like standard work boots. I also like the leather seems surprisingly scuff proof. And while the acrylic does get dirty easily, it remains easy to clean. In other words, full marks, at least for the black version.
Durability
Based on the editor's research, the solid construction, high quality materials and my own limited experience, I would expect these boots to last at least a year if not two. And with many sizes available at sub $100 price points, that's pretty much all that you can ask for.
Pros
They are easy to break-in
They are lightweight and hence can be used all the day
They come with a steel toe that is both electrical hazard and slip-resistant
They are breathable
Waterproofing
Made of durable, high-quality material
Cons
They do not have shock-absorbing technology
They are somehow expensive

Original SWAT Men's Classic Tactical Boot FAQ
Are Original SWAT boots good?
Original SWAT boots are not only good but also provide outstanding comfort throughout the day without experiencing any aching on your feet. The great products the boot use is what makes it responsible for having perfect comfort.
Are Original SWAT boots waterproof?
Yes, they are; they feature HydroGuard technology that is waterproof. The boot's toe and heel are polishable, and this makes it ideal for formal events. The leather on the upper is about 2 inches or light to rain, making it resistant to water that falls on the boot surface.
What boots do SWAT teams wear?
The participating SWAT teams are provided with three boots to choose from including, GSG9-S, Black Eagle Athletic 2.0 T High Slide Zip, or Black Eagle Tactical 2.0 GTX High. The teams are supposed to use these boots for two good months before putting them on their paces.
Who makes the best tactical boots?
It is not easy to answer this question, to be honest. The quality of the best tactical boots is based on goal fulfillment. To me, my opinion may differ from yours. However, we can highlight some of the best-rated tactical boots.
Final Verdict for Original SWAT Men's Classic Tactical Boot Buyers

This is the third tactical boot that I've reviewed for work purposes and like the previous two, the Men's Classic get my full recommendation. Don't be put off by their tactical nature. Get the steel toe version and you have everything you need in a work boot. In other words, if you're happy with the high cut, they make for an excellent purchase. Expect more reviews of tactical boots in the future.