First established in 1932, Danner aren't quite as well known as the likes of Timberland but in my experience more than match them in terms of the comfort and durability of their products. The catch is that, well, Danner boots generally come with a higher price tag.
Today, I'll be reviewing the Men's Trakwelt.
Danner Men's Trakwelt Top Features
Comfort
The product description literally says "overbuilt and ultra durable". A side effect of this is that they are a lot heavier than average. Depending on your shoe size you can expect to be carrying approximately 2.5 pounds per boot.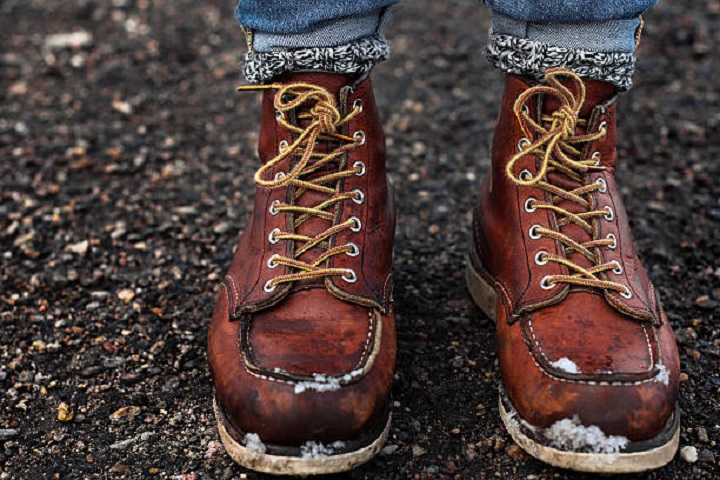 Surprisingly, the break in period is minimal. The leather is thick but it arrives relatively soft. I still wouldn't recommend wearing them to work the day you get them but it's close.
For me, they seem true to size. Thanks in part to the composite toe, there's plenty of room in the toe box. The back of the boot on the other hand keeps your heel firmly in place at all times. Arch support is about average.
As you can see from the image above, the Trakwelt go up higher than most with a shaft that goes 8 inches from the arch. This is beneficial for support and protection but in some boots can obviously restrict movement. Thankfully, Danner haven't made that mistake.
The lace and eyelet system is highly customizable. And although it can take a little getting used to, I eventually was able to find the right balance between support and you know, actually being able to bend over. This lacing system also makes them easier to get on and off than many similarly high cut boots.
The midsole is made from Polythurene and according to Danner there's shock absorbing zones in both the heel and forefoot. There's also a thick ortholite footbed. Once fully broken in, this combination provides excellent shock absorption.
I wore them for up to twelves hours at a time on concrete, and in terms of anti fatigue, they were up there with the best.
In conclusion, full marks for comfort provided you're willing to carry the added weight.
Safety Features
The Trakwelt features an NMT toe. This is just a fancy way of saying composite and it meets ASTM standards. They also meet ASTM standards for electrical hazard protection. There's a 90 degree heel to keep you on your feet over steep terrain. And more importantly, an oil and slip resistant outsole. I tested this on both oil and water and found good traction on both.
Insulation and Waterproofing
The uppers utilize Danner Dry technology which is supposed to keep water out while still allowing moisture to escape. Unfortunately, it doesn't do a very good job of the latter. And that combined with the high cut and nubuck leather uppers result in a boot that's far warmer than I was expecting.
These boots are ideal for working in the cold, reasonable for moderate temperatures but not at all suitable for high temperatures.
Waterproofing, on the other hand, does work. I worked in heavy rain and stood for 30 seconds in two inches of water. My feet remained dry.
Style
For me, this was one of the primarily selling points of the boot and I'm happy to say that the Trakwelt didn't disappoint. The boots have a distinctly modern design in terms of their shape, stitching and eyelets. The leather has been lightly sanded but still retains a high end appearance. I would have preferred them without the orange stripe at the bottom but they still go well as casual wear.
Pros
It is made of heavy material that is ultra-durable
They are easy to break-in
A wide composite toe box that provides plenty of room for toe movements and protection
The shaft provides extra feet support and protection
Easy to lace up
Thick Ortholite footbed that provides excellent shock absorption
They are waterproof and keep the feet within the required temperature
Cons

FAQ
What is the best Danner work boot?
Danner work boots are one of the famous work boots that are available in the market due to their quality craftsmanship that has been used. All the Danner boots are good for work, and their quality only depends on where to be used.
Are Danner Quarry boots good?
The bottom line of danger query boot is that they do best in work areas. They are easy to break in, and the leather material is durable and provides excellent comfort to your feet.
Are Danner boots worth the money?
Of course, yes, the higher is because of the quality material and techniques they have used. They are not only durable but also have a comfortable fit when using them.
Are Danner Work boots waterproof?
Yes, the Danner work boot features a Danner dry technology that helps to keep the waterway away from reaching your feet. The material is waterproof, making it ideal for wet conditions.
Is Danner Made in the USA?
Danner boots are made in the USA; the plant is located in Portland. The Oregon plant has remained their top manufacture of the boot.
Verdict
If all you need is a safety toed boot, there's no shortage of lighter (and cheaper) alternatives. But if you need the protection/durability that only a heavy duty boot can offer, the Men's Trakwelt is an easy choice to recommend.
The high cut adds support but doesn't restrict movement. The leather looks and feels high end. And despite the added weight, the anti fatigue technology will keep your feet comfortable regardless of how long you're on them.
Just don't underestimate their insulation levels.