This is a general term for a style of shoe that has expression only on the seam of the toe. Strictly speaking, this style also exists in shoes where the foot is secured with a buckle or rubber band instead of laces. But let's take a closer look at the shoes with laces again.
Black Inner Blade
The first thing that comes to mind when you think of this shoe is probably the black inner-blade version, because this black shoe is a "special one" that is essential not only for business use but also for formal wear. Strictly speaking, it is an exemplary shoe for "ceremonial daytime attire" such as morning wear. They give a dignified impression with sharp lines along the nose, so I personally prefer to wear this style only in black and not in brown, just like the plain toe shoes with inner blades, and use them only for semi-formal or more formal occasions. The punched cap toe has a glamorous finish and can be used for private wear.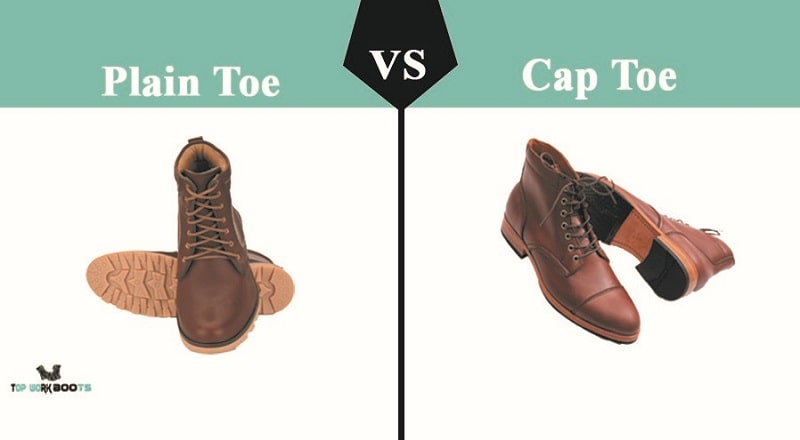 Edward Green's Barclay
Edward Green's Barclay is a typical example of punched cap toe. The chestnut brown shade adds to the glamour of the style. A style of shoe with only single letter broguing (hole decoration) on the toe, instead of stitching like a straight tip, is called "punched cap toe. The difference between this style and the straight tip is really very slight, but it seems to add a more flamboyant look to the shoe.
The black inner-blade style seems to be slightly less formal than the straight tip, but it can be a good substitute unless the occasion is very formal. If you go to an established shoe store in England, the birthplace of this type of shoe, you will usually find that both types of shoes are "Cap Toe" and are treated with the same respect.
However, it also adds a mild atmosphere to the shoe, so I'll explain more later. Also, as you can see, brown shoes also give a very noble impression, so these are perfect not only for business use on weekdays, but also for private visits on weekends when you want to show your sincerity without being too awkward. Cap toe is still a shoe you want to wear properly
How to wear an exemplary inner-blade cap toe?
The black inner-blade cap toe is still best suited to be worn in a neat and tidy manner. Once you learn how to "wear" a black plain toe, you will want to have a pair in your wardrobe for any occasion!
As I've mentioned so far, the "cap toe" shoe inevitably brings out an austere image at the top. So, for example, if you are wearing black inner-blade shoes, I think it is more appropriate to wear them with "ceremonial daytime attire" or a plain charcoal gray or dark blue business suit, in other words, "formal attire".
Although brown inner-blade suits cannot be used for formal use, they can be used in a wider range than black suits. For example, if you want to wear a navy blue blazer with plain gray pants with the same atmosphere as a dark suit, it will be your best friend. Of course, it can also be worn with a plain business suit. However, if your jacket is checkered, the dignity of these shoes will be out of balance.
In fact, this is a natural consequence of the historical changes in men's shoes. Toe caps started to be inserted into the toes of men's shoes in the 1860s, and it is said that the cap toe became a design based on the line used as a guide when inserting the cap toe.
What is a plain toe?
As the name suggests, plain toe refers to shoes that are tailored with the "toe" part "plain" (i.e., without anything). Shoes that have cutouts or detailed decorations in the toe area are not categorized as plain toe type. On the other hand, if the toe is plain, no matter what color or material it is, it is a plain toe. In general, it refers to leather shoes made of smooth leather, but there are also plain toes made of suede.
Now, there are four main types of plain toe shoes. There are four main types of plain toes, which I will explain in the following sections: "inner feather," "outer feather," "V-front," and "hole cut." All of these types of leather shoes look simple and elegant at a glance, but strictly speaking, they have different uses in different situations.
Inner Blades
First of all, let's take a look at what an inner-blade plain toe shoe is. The "feather" refers to the area where the "pigeonhole" for shoelaces is attached. If this feather is on the "inside" of the shoe, it is an "inner feather".
The feathers on the inside of the shoe are casually stored in a place deeper than the instep. The inner-blade type of shoes is very elegant, well-behaved, and docile because of its well-balanced design. The formality is very high.
If you are unsure of what to wear to a formal event, you can wear these plain toe shoes with inner blades to any wedding, funeral, or any other occasion. If you are an adult man, you should have one of these inner-blade plain toe shoes.
Outer feather
In contrast to the inner-blade style, the outer-blade style refers to shoes in which the feathers with the dovetails are covered over the instep.
Compared to the inner-blades, they are quite gorgeous and give a much more active image. They can be used as business shoes, but they are also easy to match with casual outfits, so they can be useful as leather shoes right in the middle of both.
Since they are the type of shoes that can be worn with denim, it may be a little inappropriate to wear them to a funeral, but they are plain toe shoes, and if it is a sudden wedding or funeral, they can be said to be within the acceptable range.
Of course, depending on the color and the material, the impression that is acceptable may change, so please be sure to carefully assess the situation and wear them.
V-Front
V-front shoes are categorized among the outer-blade type shoes. Among such shoes, the type with the wings spread out in a V-shape is specially called "V-front".
The number of pigeonholes through which the laces are threaded is smaller than that of the common outer-blade plain toe, and the position of the pigeonholes is generally higher, which gives the image of sophistication and elegance.
The fact that the laces are tied at a high point on the instep means that it is easier to get a good fit. If there are too many laces, the shoe will inevitably feel tight. In Europe, V-front type shoes are used when wearing a tuxedo.
In Europe, V-front type shoes are used when wearing a tuxedo. They are more like shoes that you would wear to a formal event where you would feel rather glamorous and festive.
Whole cut
Hall-cut shoes are made of a single piece of leather, and do not have a feather area with a pigeonhole like inner or outer feather shoes. There is no feather area where the dovetails are located like in the inner and outer feather styles. The dovetails are directly on the upper itself, not on the feather area.
Since there is a minimum amount of stitching, this is a type of shoe that requires a very high level of craftsmanship. The price can be quite expensive as well because of the luxurious use of a single piece of unblemished leather.
It can be said that the whole-cut plain toe is a high-level shoe that is difficult to match with any outfit. However, that is why they are so elegant when worn with a simple and luxurious suit. It can be said that they are special shoes that can only be worn by a select few.
Is a plain toe suitable for casual wear? For business?
A plain toe is a shoe that is more suitable for business, but wingtip type shoes with a decorative toe are also usually used as business shoes, so just because the toe is plain does not necessarily mean that it is defined as a shoe for business.
If anything, the coloring, the material, and the overall atmosphere of the shoe will determine whether it is for business or casual wear, and plain toe shoes themselves can be said to be for business or casual wear.
For example, if a plain toe shoe has a rubber sole and a pointy toe, it will give a very casual impression. This means that the world of plain toe shoes is very deep.
Wrap Up
If you can afford it, you may want to use different types of shoes, but since many countries of the world are not a country where etiquette is that strict, even if you wear any of them, as long as you don't look bad, you won't end up losing your life because of it. However, if you are worried about etiquette, just keep in mind that you will be fine as long as you have an inner-blade plain toe. After all, it's cool to be an adult who knows what to wear and how to use it properly, and your co-workers, juniors, and even women will give you a second glance. It's not that difficult, so I think it's a good idea to have fun while gaining this kind of knowledge.