If your job involves falling of objects, electric hazards, rolling of objects and things that can penetrate through your sole and harm your feet, then you deserve a pat on the back. People who engage in these kinds of jobs work in challenging conditions. That warrants strong boots with either steel or aluminum toe caps.
The significant bit about the market is that it has so much to offer regarding this kind of footwear. When you visit your favourite boot shop, you will discover that they have various boots to choose from. Most of these boots are made with steel or aluminum toe caps to ensure that your feet are well-protected.
While choosing from steel and aluminum, you don't ignore some basics like comfort, weight and durability. We advise you to take every detail to book to help you choose what is best for your needs. The big question is, what are the similarities and differences between steel and aluminum toe cap boots?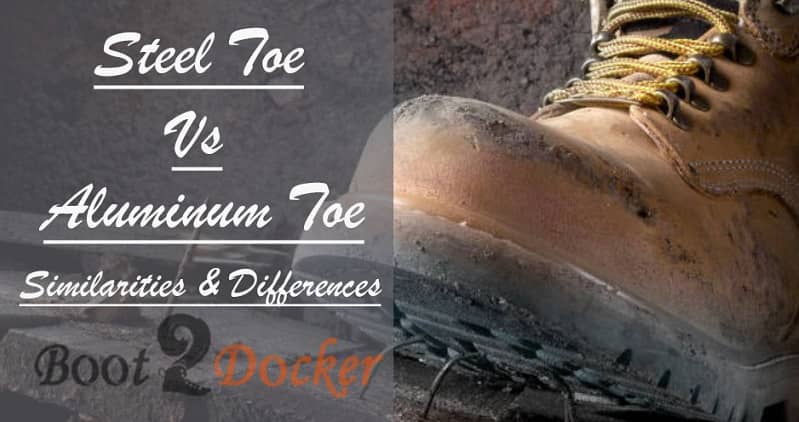 Well, I will take you through these two, pinpointing all the details you need to put your concentration on so that you can be well informed. So, steel toe vs aluminum toe, how do you compare?
Steel Toe vs Aluminum Toe
Steel toe caps boot
When you explore the market, you will discover that steel toe caps boots have been around for a while. They have been used for the last 80 years and still remain top in the market. What does that tell you? It simply shouts that they are the sturdiest boots that can offer maximum protection to your toes, while working. The making of the boot has concentrated well on the toe department by using hardened steel. That has made this boot hard and in case a big force falls on your feet, you are protected.
For your peace of mind, steel toe has withstood the test of time. Apart from the falling objects, there are many injuries that you can encounter in your work offices. In case of a slide and burns your feet are well protected.
Aluminum toe caps boot
These are commonly used because they are versatile. Another name to describe these aluminum toe caps is alloy caps boot. They are solid and durable, just as the steel cap boots. But the construction is a bit different because they are light. The making of the cap that protects your toe is made from aluminum composite.
When you compare the steel ones, you will realize they are more than 30 % lighter. The making at the toe area is also fantastic. It gives you good space. That means your toes are also comfortable and not squeezed.
What are the advantages of steel toe caps?
Protection; when you dig deeper, you will discover that your toes are well protected when using this kind of boots. The heavy steel that is used to make this boot is very tough. Apart from your toes, even your feet are well cushioned from a harsh working environment.
The steel cap boot is long-lasting. Despite the dangers the boot is exposed to, it can withstand the test of time. It is durable, and you can use it for quite some time.
Productivity; when you are working, you need to be as comfortable as possible. When wearing this boot, you are sure that your feet are well-protected even if you encounter an injury. So your production output generally is very high.
Comfortable; who doesn't want to wear some good stuff made from steel? With slip-resistant soles and achy support, the boot is all-round. To emphasize comfort, wear heavy socks.
Design; you may wonder, what does design have to do with a working boot? It doesn't matter whether it is a working boot or not. You need to feel good while wearing either the traditional kind of boot or athletic type boot.
Disadvantages
They are heavy
Poor insulation
What are the advantages of aluminum cap boots?
Light in weight; when you are working, you need something that is light on your feet. The materials used to make aluminum cap boots, generally, are light. That makes the boot lighter than most of the safety boots available.
Comfortable: It has some space that is left around the toe area. So when you are wearing your boot, your toes can breathe comfortably.
Safe; despite being light, they are designed to protect your feet well. They play their role perfectly, so no need to worry about that.
Disadvantages
The aluminum toe cap boots are quite expensive.
Now that we know what steel and aluminum toe caps are, we can explore their differences and similarities.
Below is a table to highlight their differences.
| | |
| --- | --- |
| Steel toe | Aluminum toe |
| One of the notable differences is that steel toe cap boots are heavy. The fact that these boots are made from steel material makes them very heavy. | The aluminum to cap boot is made from alloy and titanium materials. The material is believed to be light in weight making the boot feel light. |
| The insulation is not up the par. When the weather is frigid, you feel from your feet. They can't withstand extreme weather, making your feet uncomfortable. | When it comes to insulation, aluminum toe has done a great job. |
| Not enough room for your toes. Since it has a steel toe cap installed in the sole, you will realize that your toes are a bit squeezed. It is worse when you wear heavy socks. | Since the aluminum toe is made from light materials, it leaves a lot of space inside. That allows your toes to have enough space for comfort purposes. Even if you wear socks, your toes will still feel good. |
| When it comes to protection, steel toe offers excellent puncture protection. So if you are working in places with sharp objects, your feet are well protected | Though the aluminum toe can withstand heavy and sharp objects, it is not as strong as the steel one. Very heavy objects can damage the boot. |
| They are not very expensive. The steel toe is well priced thus making the users afford. The price ranges between $30 to 300. | The alloy toe is a bit pricey. The price ranges between $ 60 to 400. So when planning to buy this kind you must budget well. |
| When it comes to metal detecting, this one is a poor detector. It is known to set off all the time. | It is not an excellent metal detector but it doesn't set off all the time. |
How are steel toe and alloy toe similar
They may be having their features and differences, but one fantastic fact is that they are similar in many ways. Let's explore some similarities;
Protection; Overall, when you compare the steel and aluminum toe, you will realize that they offer the protection needed. What backs this observation? The boots can withstand high forces when heavy objects fall on them. They have passed the ASTM 75 standard that is recommended for safety boots.
They are both durable. From the materials used to make them, it is a clear indication they will serve you for some time. One is made from steel and the other from aluminum. These two are known for their wear and tear persistence. Products made from such are known to give you value for your money.
They are both comfortable. According to your working places, both are comfortable for their users. When you analyze an aluminum toe's comfort, the wearer's pride in having a good time is noted because you can stay with them for a long time. On the other hand, steel wearers feel comfortable wearing theirs because they are not afraid of hurting their feet.
They play the same role. The boots are used as safety boots for harsh working conditions. You will realize they are made to play the same role of feet protection at a closer look. This is also backed by the craftsmanship that is used to make them stand out from the rest. It is a clear indication that manufacturers have taken the time to understand the needs of users. In turn, they have put all details to protect your feet in these two types of toe caps boots.
They are both recommended by OSHA as some of the best in the market. That alone should give you a guarantee that you are buying something that has been tested.
Final thoughts
If you are working in the construction industry or in places where you must wear safety toe caps boot, you have much to navigate from. The above guides will take you through every detail you need to understand about steel and aluminum toe wear. The choice of what to pick will entirely depend on your working environment. The type of boot you choose should be based on comfort, durability, and protection. But at the end of the day, both types have their bright and dark sides. Make your choice wisely.