Winters coming to an end but for most people, the rainy months aren't quite over yet. Today, I'll be reviewing a waterproof boot by Wolverine, the Men's Overpass.
The last Wolverine boot that I reviewed for this blog scored high in waterproofing but was ultimately let down by a sub par sole.
How does the Overpass compare?
Feet are the first part of the body that gets affected by the extreme condition. However, with the insulated boots from Wolverine that include a warm design, you can enjoy comfort and safety benefits. When you choose to wear these insulated boots, you can get away from wet socks and wet feet that you may come across while wearing conventional boots. You can stay away from unwanted moisture and wetness by opting for Wolverine insulated boots. These boots are made with excellent specifications and features which make them stand out among the counterparts. Wolverine insulated winter work boots equipped with abrasion resistance super sole that adds credit to the longevity of your footwear.
Wolverine Men's Overpass Top Features
Comfort
Open the box and the first thing that you'll notice about the Overpass is that the color choices made when designing the boot were poor to say the least. Once you get them on your feet, however, there's a lot to like immediately.
They fit true to size. Despite the waterproofing, the leather arrives pretty soft and you can wear them the day you get them no break in period required. They're also a lot lighter than similar work boots at approximately 1.8 pounds a pair dependent on size.
Padding on the uppers is generous and together with the overall shape of the boot, they provide a snug fit particularly around the ankles. The composite toe is based on the brands "Carbon Max" design which is basically a fancy name for being thinner than average. The result is an ultra light safety toe that's barely noticeable.
The real test obviously comes when you wear them on a long shift and I'm pleased to report that they hold up well.
First off, like many Wolverine boots, there's a contour welt sole. This greatly increases flexibility and while not quite sneaker like, they come about as close as you're going to get in a full size boot.
Secondly, the thick PU midsole provides plenty of shock absorption. When combined with the removable Ortholite insole, you have a boot with excellent anti fatigue properties. I've had mixed experiences with Wolverine in this department, but these boots easily match Keen in terms of keeping foot fatigue at bay on a long shift.
So as you can probably guess, the Overpass gets full marks in comfort. Anywey here is a buying guide to help you to choose any work boots
Safety Features
Despite the minimal weight, no corners have been cut in terms of safety. Ultra thin or not, the safety toe meets
ASTM standards. They provide electrical hazard protection. And more importantly for most, the PU outsole provides plenty of traction on both wet surfaces and gravel.
Style
If style is something that you care about in a work boot, the Overpass simply isn't going to cut it. There's no getting around it, there's nothing even remotely fashionable about these boots. The brown leather feels high quality but it looks cheap. And the orange stripes and markings seem like they were added as an after thought. Some boots can double as casual wear, these will look completely out of place in any environment that isn't industrial/construction.
Insulation and Waterproofing
The Overpass comes with or without insulation. I chose the latter and even then, they're pretty warm. The waterproof leather is supposed to be breathable but air circulation was actually pretty limited. As a result, they're good for Winter wear but Summer is completely out.
They do, on the other hand, live up to their waterproof label. I wore them in very heavy rain. I stood in ankle deep water for sixty seconds. My socks remained completely dry.
Pros
They are waterproof
The boot has a breathable lining that keeps the feet cool
It is lightweight with a composite toe protection
It provides an electrical hazard protection
The brown leather feels high-quality as it is durable
Cons
It does not provide a comprehensive ankle support
It is not easy to break-in

Wolverine Men's Overpass Work Boot FAQ
What is the most comfortable Wolverine boot?
Wolverine boots are generally good brands. All the boots have an attractive design; they are lightweight, which makes them comfortable compared to other brands. They are all-around brands that I can't say which is comfortable because they are all comfortable.
Are Wolverine boots waterproof?
Yes, these USA-made boots are made of water-resistant material that not only lasts longer but also ensures that your feet aren't exposed to water when working, even in a wet environment. This makes them waterproofing boots.
Are Wolverine Boots Made in the USA?
The wolverine select styles are purely made in Michigan and other plant factories found in the USA. Those wolverines made in the USA include hiking boots, steel toe, classic style fashion boots, and work boots.
How long do Wolverine Boots last?
Wolverine is a boot brand that lasts longer. Since it was introduced in the market in 1910, the boot got 1000 miles meaning it was made to last for 1000 miles of wearing it. The average durability of the boot is 4.5 years. It can last up to 10 years if it is well maintained.
Are Wolverine steel toe boots good?
Yes, Wolverine Raider steel toe boots seem to be the best set quality boot to have of all the wolverine boots. Its leather is strong enough, and the stitching is real to various areas. The laces hook also seems to be good and comfortable, and therefore you won't experience any problem with them.
Verdict on Wolverine Men's Overpass Work Boot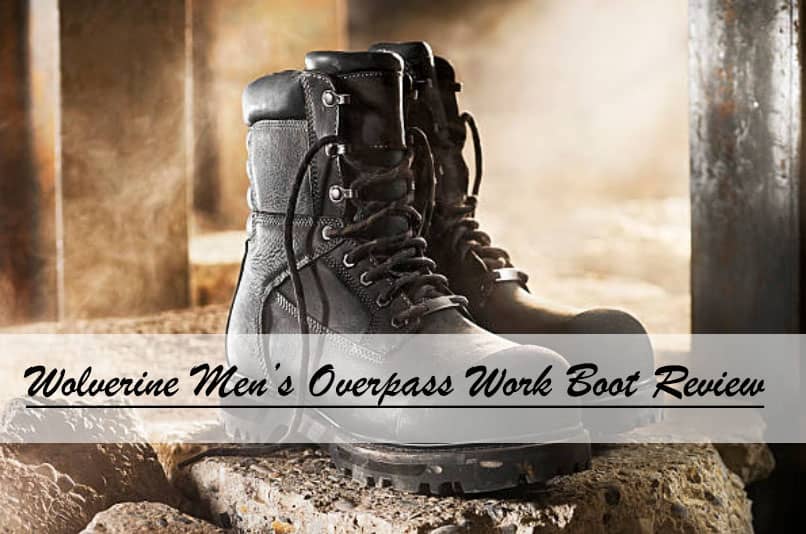 If you care about style, you won't care for these boots. And the distinct lack of air circulation makes them a very poor choice for warm weather wear too. If you can get past these two definite cons however, there's enough pros to make the Men's Overpass well worth considering.
Despite a wealth of safety features and genuine waterproofing, they're almost as flexible as sneakers. They're low in weight. And they have more than enough shock absorption to keep your feet happy during even the most demanding of shifts.