Athletic shoes with built in safety features are a popular alternative to work boots and with very good reason. They're lighter, generally more breathable and obviously a lot more casual looking.
Two very good examples of this can be found in the Atlanta Cool shoe by Keen and the Men's Powertrain by Timberland.
Today however, I'll be talking about Reebok, specifically, their Sublite RB4005 safety shoe.
Reebok Work Men's Sublite Safety Shoe - Link
Obviously Reebok make solid sneakers but do they make decent safety shoes? Read on to find out.
Comfort
Multiple reviews of this shoe report a narrow toe box so I ordered one size larger than usual. This resulted in a comfortable fit but the toe box still wasn't exactly roomy. If you have even remotely wide feet, I'd therefore avoid these shoes completely.
The athletic design means that there's no break in period. Despite the presence of the safety toe, if you're used to boots, you'll also notice the drop in weight immediately.
The uppers are comfortable with a mixture of leather and mesh. The mesh along with the low cut provides plenty of air flow.
Because it's been designed specifically for the workplace, Reebok have included a "footfuel" footbed on top of the EVA midsole.
This consists of small polymers which contract and expand as you walk. The purpose of this is to reduce foot fatigue when walking for long periods of time.
While the footbed seems well designed, the EVA midsole is a little on the thin side particularly around the heel. As a result, the shoes are just average in terms of shock absorption.
This doesn't mean that the shoes are uncomfortable. But it does mean that if you work on hard surfaces for long periods of time, the shoes listed above are a better choice.
Safety Features
It might be practically invisible but the steel toe meets ASTM standards. The shoes are also equipped with electrical hazard protection. Reebok claims that the outsoles are slip resistant but I found them to be no more slip resistant than regular Reebok sneakers i.e. not very.
Style
I've worn Reebok sneakers for years and these basically look identical. As you can see from the grey/red version, they look nothing like work shoes. They are also available in black/grey provided you don't need electrical hazard protection.
Pros
They are easy to break-in
Lightweight
The upper is made of a mixture of mesh and leather, which provide good airflow.
The EVA midsoles help to reduce fatigue and hence acts as a shock absorber when walking.
They are equipped with electrical hazard protection
Cons
It has a narrow steel toe box, and therefore not ideal for those with wide feet.

FAQs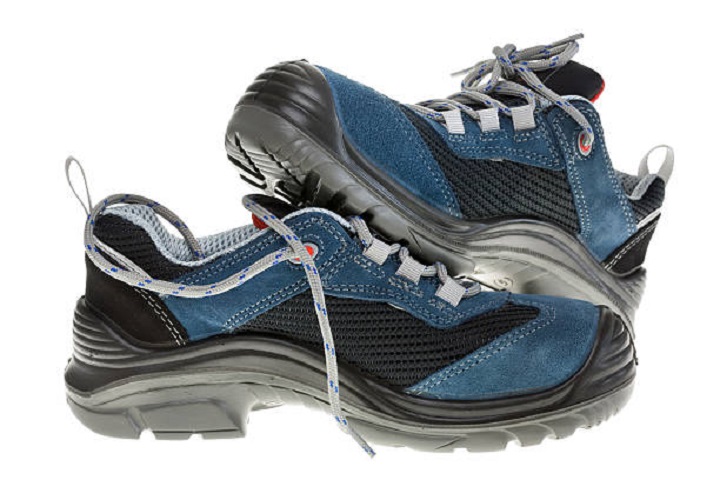 Does Reebok make safety shoes?
Reebok is one of the boots that are lightweight but good for work. They feature a safety steel toe that meets the ASTM standards meaning they are safe for use. They are also equipped with an electrical hazard that offers extra protection.
What are CSA-approved safety shoes?
The CSA stands for Canadian Standard Association. In boots, it means that the safety standards of the boot have consulted CSA, and they meet their set standards. They will provide an alphanumeric code that is five digits.
What is the OSHA standard for safety shoes?
Whenever you work, the employers require you to wear safety-toe boots that will not be worn out and are not only oil resistant but also slip and water-resistant. The soles must also comply with ASTM standards, and this is what is referred to as OSHA standards.
Do safety shoes expire?
Safety boots do not have an expiry date; users, however, need to check regularly the state of their soles and leather. If there are cracks, that is a sign of worn out, and changing is required.
When should you wear safety shoes?
Safety boots are supposed to be used when one realizes that working has a risk of injuries. To workers, it is always good to use their shoes whenever they are working. This will help to avoid the risk of exposing their boots to injuries.
Verdict
The Reebok Sublite is basically a standard pair of Reebok sneakers with a safety toe added. If that's all that you're looking for, you'll be happy with your purchase (provided you get the size right).
Other than that, I can't really recommend them. The lack of proper slip resistance means that they're not really suitable for most work environments. And the thin sole means that they're also less than ideal for working on concrete.
It also doesn't help that they're roughly the same price as the aforementioned Keen and Timberland boots, both of which are superior in almost every way.