Since shoes tend to define our personality, you may get confused about choosing plain toe or cap toe boots. These two types of shoes are debatable. Although they are both excellent, you need to choose one that works for you best.
Plain toe gives a formal look while the cap toe is designed for an informal look such as for parties. Additionally, plain toe comes in a variety of styles, unlike cap toe boots. This article will help you learn the differences between Cap toe and Plain toe boots and which occasion each fits best.
Let's get started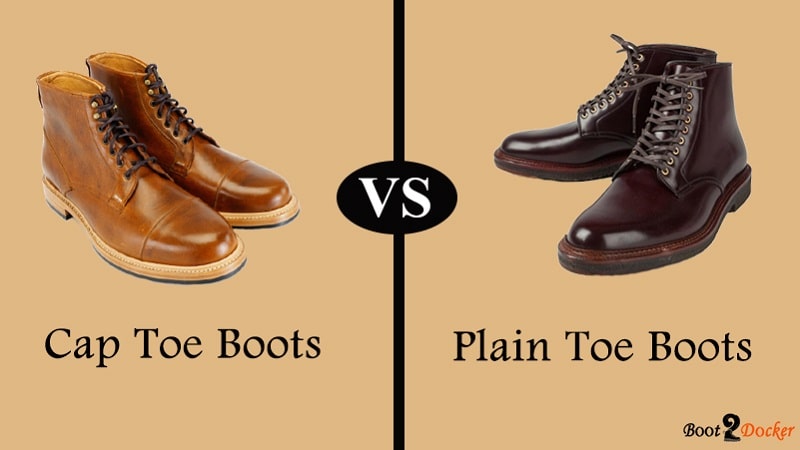 What is Cap Toe?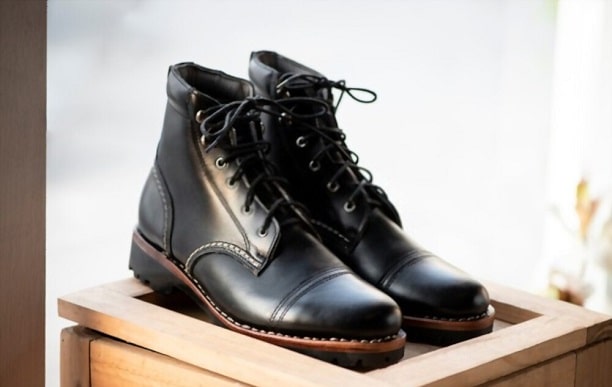 As the name suggests, the cap toe is designed with an additional layer on the boot's top, giving it a cap shape. It features horizontal stitching that can be adjusted from the welt on either side of the shoe. This makes the shoe form a "cap" design on the boot. Moreover, the seams also hold the layer of leather on the top box. Thanks to the additional layer of leather, which enhances protection and the shoes look.
Some people think that cap toe shoes are also known as Oxford that is not true. However, Oxford loafers, boots, and monk straps all feature cap toe. These shoes are made in Blake constructed, closed throat Oxford and Goodyear welted, among others.
Compared with plain toe, the cap toe provides a stylish decoration, especially for a dress and casual boots. It also creates a visual divide that breaks up the toe box on the larger boot sizes. The shoes are designed for everyday wear. They add a touch of elegance to your dresses. Although they are used in formal events, you need to stick to them for business use.
History of Cap Toe
Cap toe is assumed to have emerged from Oxford in the 1800s since they are common among Oxford shoes. Students from Oxford University wore them to rebel against the knee-high boots of that time. The boots were known as "Oxonians" and had a small slit on the sides, making them easy to slip in and out.
Over time these shoes have had many changes, including lowering of the shoe's height and addition of laces. They have become famous footwear up to date. Cap's toes are additional leather sewn on top of the boot's toe box to reinforce the toe box. This part of the shoe mostly gets dinged and also attracts attention.
Level of Formality
Cap toes feature in multiple shoe styles but are common informal shoes. You can opt for plain black Oxford with cap toe for daytime business as they tend to be more formal. However, monk straps and brown bluchers tend to be less formal.
What to wear with cap toe style
Calfskin Oxfords: odd trousers or jackets, black tuxedos, and dark worsted suits
Loafers or monk strap: Chinos and Denim
Calfskin bluchers: chinos, denim, and worsted wool suits in light or medium colors
Features of Cap Toe Shoes
We will discuss the three main features of cap toe shoes in detail, i.e., color, material, and shoelaces.
Material
Cap toe boots come in a variety of materials such as calfskin, leather, and suede. You can choose the material depending on the seasons. For instance, during the spring season, you can wear suede, leather with light-color. Summer, you can consider Quarter-brogue white in color. For fall, choose tobacco, calfskin, or burgundy. Lastly, for winter, go for calfskin, which is black or chocolate.
Shoelaces
Thanks to the shoelaces, which keep the shoes firm and comfy. You can easily change the shoe's look and feel by purchasing different shoelaces. You need to be creative when it comes to matching shoes with lace. This is because not many shoelaces will look good on all shoes. For instance, for dress shoes, you need high-quality waxed cotton laces. The perfect lace length for dress shoes is about 31.5 inches and used on shoes with 2-6 rows of eyelets.
You will need thin waxed cotton lace for Oxford shoes. They are laced horizontally and parallel regardless of the number of eyelets. Most of these shoes come with 5 rows of eyelets.
Color
Cap toe shoes come in different colors, like black, tan, and brown, among others. Below are tips on how to choose colors to suit a particular occasion.
Black: it is a popular color among most Oxford with cap-toe style. Amazingly, the black shoe can be worn with anything in your wardrobe. It is the most versatile color that can be matched with every color to bring a smart and conservative look. Black Oxford shoes are worn at weddings, work, and funerals.
Brown: brown Oxfords shoes stand out when paired with grey, dark-brown, or navy suit. You can choose any of these colors.
Tan: tan has dark and light tones making it easy to style and pairs with everything. Tan Oxfords are meant for a less formal look. You can wear them with denim trousers, brightly colored chinos, and navy pants.
How do you Wear Cap Toe Shoes?
The cap toe shoe style looks excellent regardless of the paired outfit. Here are some of the ways to wear cap toe shoes.
Casual
For a casual look, black Oxford shoes will look good on you. Pair it with black skinny jeans, slim-fit tee shirt, and you will love the look. A cap toe Oxford shoe is an excellent option if you want to feel comfortable and achieve a sophisticated look.
Refined and fashionable
The Oxford shoe with cap toe makes your outfit look refined and fashionable. It involves pairing your cap-toe oxfords with black pants and a bold-print shirt. You can also wear a Harrington jacket to keep warm while maintaining the style.
Modern and classy
You don't need to wear black shoes to look classy. You can decide to wear a grey suit with brown cap-toe Oxfords shoes to achieve a striking and elegant look. To complete the look, ensure you wear a white shirt.
Relaxed
If you want to achieve a casual look, then pair blue jeans and cap-toe Oxford shoes. It creates an exciting contrast with a grey tee shirt and a pin roll cuff. It makes you look relaxed and polished.
Warm
It keeps you warm during cold seasons while standing out. You can wear red chinos and a white tee shirt to bring a neutral color to keep you from creating too much contrast.
What is a Plain Toe?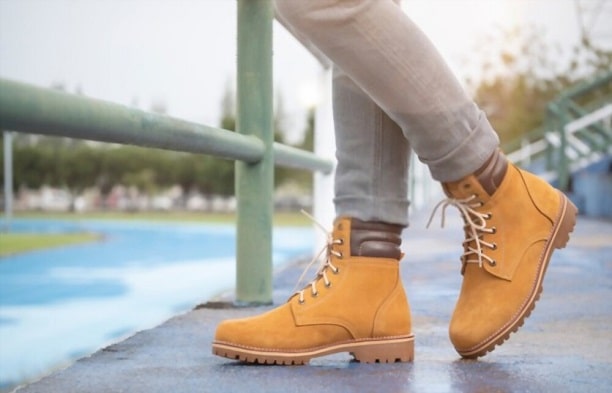 A plain toe is constructed with a simple design, which doesn't have any decoration or extra covering on the toe area. The medallion is also absent. You can use plain toe interchangeably with a round toe. Despite their design, the boots tend to be elegant and classy. These types of toes keep the shoes apart and in the limelight with their vintage look. You will mostly find these plain toes on formal shoes such as Derby boots, Oxford or Chelsea.
What to Wear with Plain Toe Boots
Plain-toe boots are designed for a variety of purposes, making them versatile. You can wear these boots with anything in your wardrobe, whether jeans, dress pants or fancy clothes. Also, they work significantly with anything like cardigan sweaters, casual button-down, denim jackets, and jeans.
How to Wear Plain toe Oxford
Simple and elegant look
The plain toe Oxford doesn't have a leather cap on top of the toe box. It is simple and elegant; black color for evening shoes and leather for black tie and white tie.
Refined look
For a refined look, you need to pair your Oxford plain toe with a tuxedo and tailcoat. Also, add evening shoelaces as they tend to be wider than regular ones.
Mirror shine
You can choose a water polish calf leather shoe that is polished to a mirror shine. Patented leather to be more traditional, but a mirror shine is fine too.
Differences between Cap Toe and Plain Toe
Design
Cap toe is designed with an extra layer on top of the toe box to enhance its design and appearance. For plain toe, it has a traditional and straightforward design on the shoes. It doesn't have an extra layer over the shoe's top or medallion.
Construction
Cap toe is stitched in a parallel and horizontal way extending in the welt on either side of the shoes, while the plain toe is not made with extra seams.
Formality
Although the plain toe is made with a traditional and simplistic design makes it easy to wear with formal outfits. However, for cap toe, wear them with both formal and casual attires. If you are looking for casual shoes, then opt for plain-toe shoes.
Wrapping Up
With the help of this article on cap toe vs. plain toe shoes, you can decide what is best for you to buy. Both styles are excellent for different occasions. You can use plain toe for almost all events while cap toe for formal use.
You can buy both styles since they tend to be unique and depend on your preferred look. You can opt for cap-toe shoes if you are a business person. On the other hand, if you love formal wear, you can choose plain toe shoes. Moreover, plain toes are versatile, allowing you to wear them with any clothing. Lastly, a plain toe will suit you for comfort since it is designed with a round shape. They tend to be more comfortable compared to cap-toe boots.