As their name implies, tactical boots are designed for soldiers, or in the very least those who encounter similar conditions on a regular basis. Despite this fact, many make for excellent workplace footwear too.
The logic is simple. Tactical boots need to be comfortable, they need to be protective and they need to have enough shock absorption to keep your heels happy after ten straight hours of walking. In other words, they have very similar requirements to work boots and it should come as no surprise that many manufacturers market the same products to both marks.
Danner Men's Tachyon Military and Tactical Boot
Case in point, the Men's Tachyon by Danner. It's a high cut, full 8 on inch boot so if that's a deal breaker, you should probably stop reading now. If that's what you're after however, there's certainly a lot to like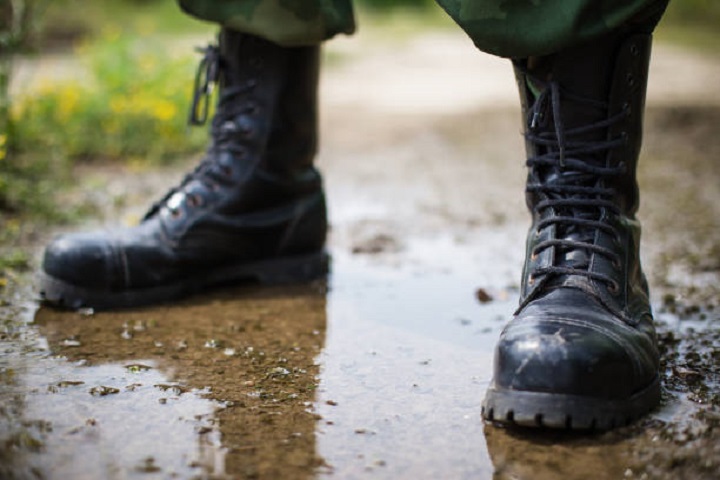 Comfort
First impressions of the Men's Tachyon were very positive in three key areas.
The break in period, while existent, was small and dare I even say gentle. I made the sometimes risky move of wearing them to work on day one. And while they were a little stiff, I got home pain free. Try that with a pair of Red Wings.
The weight, while not light for boots in general, was well below what you'd expect from the 8 inch variety. Therefore if you need ankle protection but don't want to lug around the weight of ankle protection, this is arguably their primary selling point.
The sole has clearly been designed with the standing/walking man in mind. There's a one inch heel for posture, an open cell polyurethane foot bed for comfort, and an EVA mid sole for shock absorption. In other words they're ideal for long shifts on hard surfaces.
They mightn't look like work boots (at all), but on your feet, there's literally no difference. I'm always a little nervous buying boots that aren't specifically designed for the workplace but that's not a problem here. They might look like jungle boots but they don't feel that way.
Safety Features
What might be a very real problem is that being tactical boots, there's little in the way of toe protection. Soldiers tend to encounter bullets not heavy machinery so if you work around the latter, these will need to be skipped. Electrical hazard protection is missing as is a puncture proof sole. The only real protection that these boots have is that they cover your ankles and are non slip on pretty much everything thanks to the rubber out sole complete with pentagonal lugs.
Insulation and Waterproofing
Another potential pitfall of these boots is that they're not even remotely waterproof. Step in a few puddles and you might be alright. But get caught in a serious rain storm and your feet will be as wet as your face. This isn't so much as a design flaw, however, as it is a trade off. The uppers are completely synthetic and this makes them machine washable and very, very fast drying. It's also what makes these boots so breathable and light. Needless to say these aren't the kind of boots you want to wear in very cold temperatures either
Style
I've generally found that there's no such thing as a stylish 8 inch work boot and Tachyon are no exception. They come in four different colors but it doesn't really matter. It also doesn't matter what pants you wear or how. The fact that you've just come home from work (or the war) will always be apparent. For work, they look great, just don't expect something that you can wear at the weekend if you are even remotely style conscious.
Pros
Features a shock absorption that keeps the feet and feels comfortable
The EVA midsole is well designed to provide strong feet support
They have a supportive ankle that is non-slip due to the rubber sole
The upper is made of synthetic material that is easy to wash
They are also light with a breathable lining that keeps the cool
Cons
They lack electrical hazard protection
They are not easy to break-in
They are remotely not waterproof

FAQ of Danner Men's Tachyon Tactical Boot
Are Danner Tachyon boots authorized?
Yes, they are authorized, but they say you can only solely use the boot for Garrison use and not the other strenuous fieldwork. They say that the material does not have the quality required to be used in other strenuous work.
Are Danner Tachyon boots waterproof?
The Tachyon boot is a product of good research that has been applied. The boot features a Danner dry liner that is 100% waterproof. However, there are some things you need to apply to ensure that the leather isn't allowing any water penetration to the boot.
How do Danner boots fit?
Danner boots come with a fit that is true to the size. The boot uses the Brannock device to size the boot, which makes it a perfect fit. There is no need to worry about the comfort and arch feet support because they have been included in the boot.
Are Danner boots worth the money?
Danner boots are not cheap; to be honest, the boots are durable and made of top-quality material worth the money. The technologies they have applied to the boot make them worth; I consider them worth because they can last for more than a decade.
How extended is Danner Boots warranty?
The warranty duration for most of the Danner boots is 365 days. They guarantee a free delivery if there is a defect for that warrant period once purchased. It is good to say that you only get the warranty if you have purchased from the authorized retailers.
Verdict
The Men's Tachyon are comfortable and far lighter than any 8 inch boot has a right to be. Unfortunately, the aforementioned durability issues means that I can only recommend them if you meet two criteria.
First off, you can buy them for less than a hundred dollars (the price ranges from 60 to 150 based on size). And secondly, you're not expecting them to last longer than a year.
Meet these two criteria, however, and the superior comfort levels make them well worth considering.