Frye is one of the American heritage leather boots brands that has been in the market for more than 150 years. The shoes are easy to wear, and they look delightful to any occasion. These boots are popular among men and women as they come in a range of convenient and fabulous styles.
Frye boots fit sizes do range from 4 to 11.5 inches for women and 7 to14 inches for men. Those with wide feet may require to size up. Before we look at the Frye size chart, it is good to understand the various styles, sizing, and how to fit the boots.
Styles of Frye boots
Frye boots provides boots with various long and short boots that may include zip-up, lace-up, and pull-on boots. The most popular styles include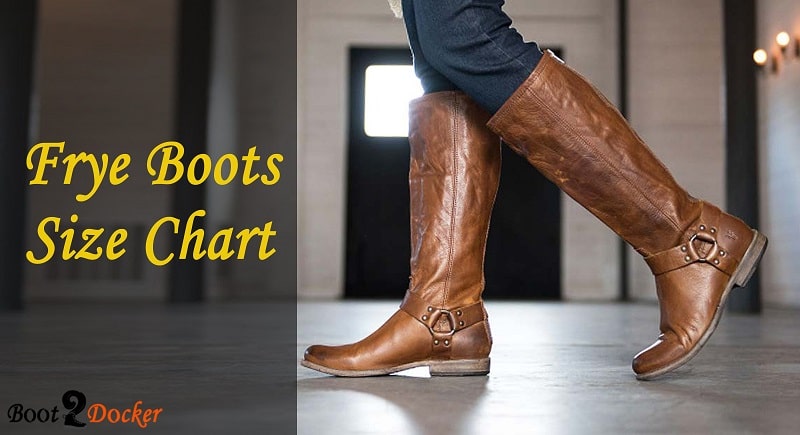 These are pull-on boots with a shaft size ranging from 8 inches to 12 inches and an opening of 15-inch. They are also available in both wide and medium fittings. There is some harness boot that has a back zip and 8-inch shaft. There is also a knee-high harness boot for women.
These are Frye boots that have a classic staple design that most people like. There are so many styles of this pull-on boot that have an elasticated panel. This Frye type has an ankle-level shaft that is excellent for wearing suit pants or under jeans.
Engineer boots are pull-on boots that have a long shaft of about 10 inches. The boots also have a more expansive room at the instep, making it the perfect choice for those with high. The insoles can also fill the gap if possible.
This is another famous pull-on boot that is in the market. Most of these Frye boots are made from different leather materials and come in different colors. They have a shaft that measures 10-inches and an opening of 14.5 inches.
Frye boots also have various ankle-high lace-up boots. The most well-known are Tyler models for men and Sabrina models for women. All the boots come in a range of colors, sizes, and medium-width fittings. This makes them to have a perfect fitting even to those with wide feet.
Frye boots sizing
Knowing whether the size is off or not isn't easy. Manufacturers do not admit whether the size is fitting or not, but with customers, you can know whether it is the exact size indicated or not. The Frye chart will show you the guidance of choosing the right size boots.
To get a perfect size, you need to order half large size in two forms; one is when you have a large foot cramped, but you get your foot fit fine, and when you have a wide foot but there is no wide size boot. Sizing up is always better than sizing down as it has more fittings than you size down.
Why you need to size up
When the sizes get down, and the feet run down, you need to size up rather than running to chaffing. This is the primary way to go with wider feet because you do not need to experience scratches or blisters on your feet. Also, if the boot fits one foot and feels a bit tighter, you need to go with this.
How to ensure the Frye boots fit
To have the perfect fit on your feet, you need to understand your shoe size and know the signs of a well-fitting shoe. However, there are various tips you can apply to ensure you have the perfect Frye boots with an ideal fitting. The tips include
Test your Frye boots with the socks you intend to use with the boots. Socks require some space in your boot, and therefore they will have an impact on the sizing.
If you plan to use an orthotic or insole, place them in your boot before trying them on. The insoles will also affect the size of your Frye boots.
When testing your boot, do it in the evening hours because feet do swell during the day, and therefore they might not bring out the best size. This is vital because you will avoid buying a small shoe.
Walk around with the boots despite which closure they come with. Check out if you are experiencing some pinch or some pressure within your feet.
The lace-up styles should be held firmly and not slip up. With zips and pull-on, they need to have a slight slip in their heel. However, this needs to be minimal, and the heel should seat well once you wear them.
The feet' toes should be provided with enough room for them to move despite the style you choose. There should be no pinching or seams of rubbing at the toes.
Frye size chart
Frye boots have some sizing guidance that is posted on the customer care page. According to the chart, if you find out that you are in between different sizes, you need to choose the large size. They suggest that going up a half size is the best option for those with wide widths that they do not provide.
However, sizing up isn't the best option that should compensate for the width, according to some customers and experts. Most of them agree that the medium width will have the same effect despite the difference in size. It is only the actual boot length that makes a difference.
The Frye size chart that we have highlighted here shows a size range in the US, UK, and EURO for both men and women.
Women's size
| | | | | | | | | | | | | | |
| --- | --- | --- | --- | --- | --- | --- | --- | --- | --- | --- | --- | --- | --- |
| US | 5 | 5.5 | 6 | 6.5 | 7 | 7.5 | 8 | 8.5 | 9 | 9.5 | 10 | 10.5 | 11 |
| UK | 3 | 3.5 | 4 | 4.5 | 5 | 5.5 | 6 | 6.5 | 7 | 7.5 | 8 | 8.5 | 9 |
| EURO | 35.5 | 36 | 36.5 | 37 | 37.5 | 38-38.5 | 39 | 39.5 | 40 | 40.5 | 41 | 41.5 | 42 |
Men's size
| | | | | | | | | | | | | | | | |
| --- | --- | --- | --- | --- | --- | --- | --- | --- | --- | --- | --- | --- | --- | --- | --- |
| US | 7 | 7.5 | 8 | 8.5 | 9 | 9.5 | 10 | 10.5 | 11 | 11.5 | 12 | 12.5 | 13 | 13.5 | 14 |
| UK | 6.5 | 7 | 7.5 | 8 | 8.5 | 9 | 9.5 | 10 | 10.5 | 11 | 11.5 | 12 | 12.5 | 13 | 13.5 |
| EURO | 40 | 40.5 | 41 | 41.5 | 42 | 42.5-43 | 43.5 | 44 | 44 | 45 | 46 | 47 | 47.5 | 48 | 48.5 |
FAQ
Do Frye boots run small?
This depends on the styles of an individual. Some run true to the size while others run about a half size small. The best tip here is to try your size and use the fitness tips mentioned earlier. If you find they are tight, go for half size up, but if they are loose, try the next size.
How do Frye Boots feet in the leg?
The longer boots have a known calf circumference in every model. This means that they are roomy and fit well in many of the calves. If you do not know yours, measure your calf and check the calf width of the boot. Try to check if there will be enough room in the boot.
Do Frye boots break-in?
Of course, yes, they do; just like other boots, Frye boots do break-in. If you get that they pinch you the first time, you need to adjust within the first two to three days. If you need a faster process, you can use a leather conditioner or boot stretcher to help in speeding up the whole process.
How can I know the size that is in Frye boots?
To know the size is straightforward; if you know your size, you need to check with the chart above. If you do not know, measure your feet keenly and compare them with the chart. It is also good to try to wear the boot in the evening because in the day it swells and it might not bring the correct size.
Final word
Frye boots have a variety of contemporary and classic styles that are excellent for both men and women. The quality of the Frye boots is unquestionable because their boots meet the needs of their customers. Most of the boots have their actual size, but those with wide width need to check their fitting.
Some Frye boots are also a little narrow. With the sizing chart and fitting tips, we have discussed here, I am sure you will get the best Frye boots that fit you well. We hope that this guide will be helpful for you as you prepare to check your Frye boots.