As a general rule of thumb, if you want a decent pair of work boots, it pays to stick to the big names. The likes of Timberland, Red Wing, and Keen, well, they're popular for a reason.
Occasionally, however, I do come across a pair of boots from a brand that I've never heard of and curiosity gets the better of me.
Case in point, this pair of boots by Golden Fox. I decided to give them a try because for approximately 70 dollars, you're getting a pair of boots with a Goodyear welt construction that look suspiciously like a pair of 2-300 dollar Red Wings.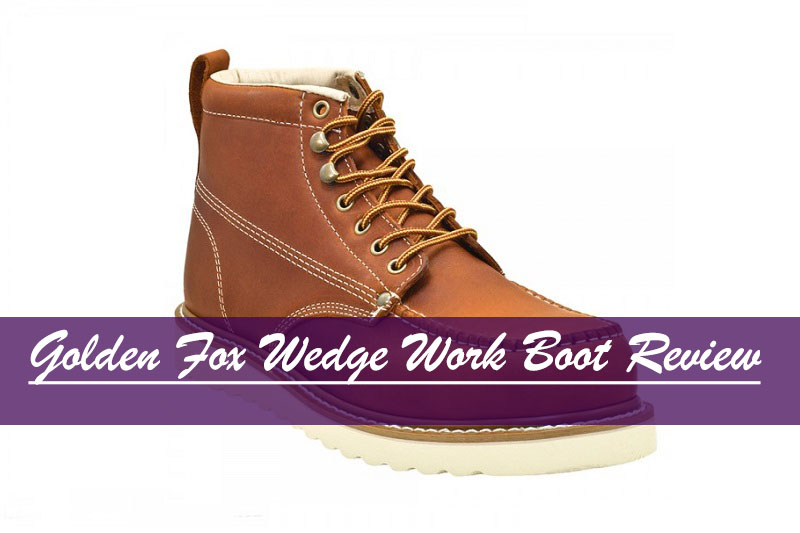 Golden Fox Wedge Work Boot Review
Comfort
First off, the product description suggests ordering a half size smaller than other brands. Don't ignore this. I went half a size down and even then, I needed to wear thicker socks to really fill them out.
As for the break in period, it's minimal but certainly not non-existent. In other words, you can start wearing them immediately but they will be a little bit stiff for the first few days.
After that, the combination of mesh and oil treated leather on the uppers results in a very soft, flexible feel.
The bottom of the boot, on the other hand is a little bit hit or miss.
First off, the removable insole is one of the flimsiest that I've ever come across. And secondly, the midsole, while relatively thick, doesn't offer quite the same level of shock absorption as more expensive boots. Arch support is also largely non-existent.
In other words, whether you find these boots comfortable will probably depend on what you do for a living.
Work on soft surfaces or spend a lot of time sitting down? You'll probably be a happy buyer. Work on hard surfaces constantly standing/walking like me? Around the 8 hour mark, you're going to wish you spent more money.
Safety Features
They come with a choice of Moc or Steel Toe. There's no mention of electrical hazard protection so I'll assume it's not present. They are slip resistant against oil and water (claimed by the manufacturer and tested by myself). Unfortunately, the lack of any kind of real grooves mean that they won't offer much traction over anything else.
Waterproofing/Insulation
Minimal on both counts. They are water repellent so a little bit of rain won't be a problem. Don't plan on working in puddles however. Insulation is about average i.e. they'll keep you're feet happy in moderate temperatures but freezing temperatures will lead to well, freezing feet.
Style
I personally purchased the brown version and the color matched up well to the picture above. I mentioned that they look like Red Wings. And my verdict is that from a distance they look identical but up close the inferior leather is obvious. Still for a fraction of the price, I'm not complaining. They also go well with everything.
Pros
They are easy to break-in
It features a relatively thick insole that is removable and comfortable
It comes with steel or Moc toe that are slip-resistant against water and oil
The steel shank provides extra arch support
The leather material is water repellant
Goodyear welt construction
Cons
They are not ideal for construction works
The boot scuffs easily
They have a crepe outer sole which is doesn't have a strong grip

FAQ for Golden Fox Wedge Buyers

Are Golden Fox boots good?
Yes, Golden fox is made of high-quality leather material just like other work boots; this makes it worth it. To add to that, they have a good color that feels nice, and once you lace them up, you feel worth wearing them. I can't wait to see how you will feel when wearing the boot and how durable they are.
Are Golden Fox boots made in the USA?
Yes, the collection of boots are made in the USA. They have a classic design that combines quality and comfort that will make you happy.
What is a wedge work boot?
These are top-quality work boots that are ideal for welders, construction workers, and carpenters. The boot is characterized by full wedge-shaped outsoles, as the name states. One such boot is the Golden Fox boot that has a wedge-shaped outsole.
Why do ironworkers wear wedge boots?
Ironworkers are one of those individuals who wear wedge boots. This is because they usually step on metal beams all day, and they may feel pain on the feet. To avoid these, wedge boots are used because they have a shock-absorbing insole that helps to keep the feet protected from any shock.
Are wedge work boots more comfortable?
Wedge sole boots give better comfort because their sole runs entirely within the boot hence distributing pressure to all parts of the boot. This creates balance and reduces the pain that you might experience.
Verdict on Golden Fox Wedge

Overall, I won't be wearing them to work again and but I will be keeping them for after work wear. For the price, I don't think you'll find a more stylish work boot. But it's important to understand that while they may look like Red Wings, they certainly don't live up to them in terms of shock absorption or overall build quality.