Breaking in a new pair of boots can be an uphill task if you don't know how to do it. Additionally, wearing such boots is characterized by severe hazing that lasts for about five days. In this article, you will get insights into how to break in work boots and tips for accomplishing the task.
Breaking in the work boots is perhaps one of the most difficult steps to actually using them. You cannot be sure of how much pain you will have to endure. Whereas some of the best leather boots offer no or very minimal break in period, but they also come with their own set of drawbacks. And if you want to get around those flaws, the break in period increases automatically.
The Purpose of Breaking in Work Boots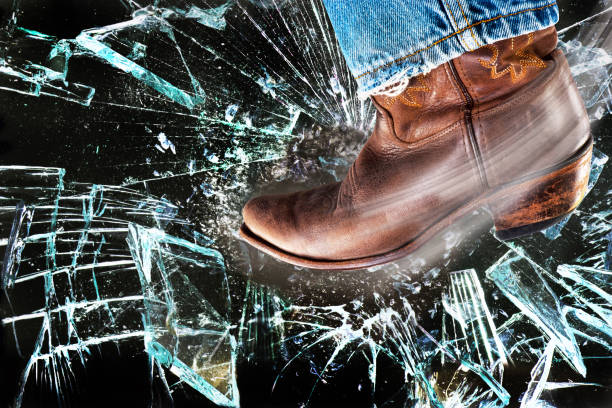 Going to work with boots that haven't been broken in can hurt you a lot. Sometimes, you may develop blisters that may lead to more serious complications. Besides, it is difficult to engage in challenging tasks when there is discomfort in your feet.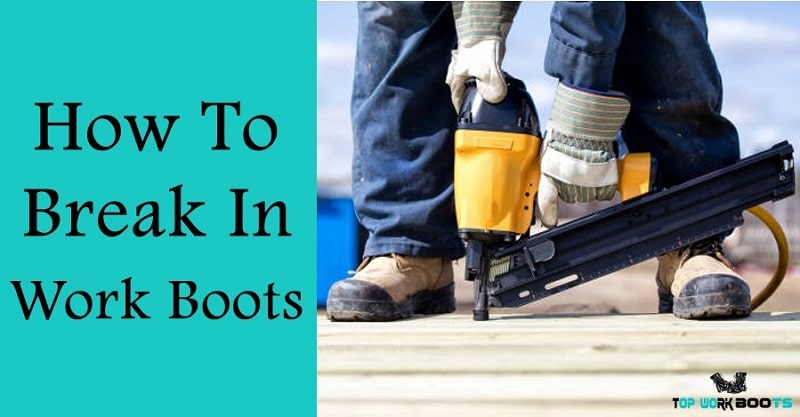 How to Break in Leather Boots
Here are some of the ways you can use to break in your work boots.
Be prepared
Your shoes are going to hurt your feet. You will experience pain. You are going to get blisters. Your feet will ache. But you need to be prepared for that. You have to mentally ready to face all this. And you might not even have to go through all this trauma if you perform the breaking in perfectly. Just follow the steps given here and you will break in the boots in no time.
Wear everyday
July is considered the perfect month to start the process. Wear your boots daily for a few hours. If you can wear them all day without hurting your feet, do it. And once your feet start to hurt, put in some other shoes.
With regular usage, the leather will gradually start to loosen up. But before that, it is your feet that will have to bear the damage. So, put some mole skin on the part of your feet where it is hurting. Make sure the edges are trimmed nicely else it will hurt your feet only. The benefit that you will get is less friction. Thus, the leather of the boots will be pushed when you wear them and not your feet.
Go a little tough
After a session with these boots, it is time to increase the level of the game. You do know that when you are out hunting, you will have to walk, run and hike. You never know what situation you will face and at what moment your feet will be put to what test. Therefore, take out your leather boots every weekend and try walking up and down the hill. First with no weight, and then gradually start adding weight.
Do not forget the moleskin and if you ever experience a hot spot, do not ignore that. Get it remedied as soon as possible. Sweat, heat, and dampness will add to the pain of it.
Wear boots with thick socks
Wearing thick socks means creating an additional layer that will stretch the leather outwardly. More importantly, the socks will protect your feet as you haze them during the process. Hiking socks come with an extra heel pad, allowing you to stretch the interior at every angle.
With thick socks, you will passively break in your boots even when you are seated.
Wear socks when you are putting your feet through these rigorous exercises and take an extra pair with you. Change them halfway.
After a few weekends, add weight. One more thing is that no matter how tough your boots are, once you have walked more than 50 miles in them, they are ready to face any sort of scenario. Also, this ensures that the boots last very long. People have reported using their boots for more than 6 years.
So break in your best hunting boots in a stepwise manner and you will have them last long enough.
Begin with a suitable size
Always select boots based on their sizes and numbers. For example, understand your preferred boots' width and select boots that come with extra room in the toes to protect you against heat. Additionally, if you are a runner, you need to measure your gait to determine the right running shoes. Bear in mind that when the boots are flatter, the outsole requires more support.
Walk around the house.
Unlike regular boots, work boots come with stiff leather, so they require more effort to break-in. Therefore, when you wear them frequently, the more the leather flexes into your foot's shape.
Take a few hours daily to wear your new shoes, especially when you are within your home. On weekdays, you may wear them for around twenty minutes, but on weekends, ensure you wear them full time. While on work boots, walk up and down the stairs for three days.
Walk around outside
Walking around outside is a better way of breaking in your boots. If there are patio steps, verandah, or a back garden in your home, use them. These floors have different textures, which is ideal for breaking in the boots.
Bend the boot and step on the heel
With the help of your hand, bend the midsole of the shoe forward and backward. Also, step on the heels or toes to relax the stiff areas of the boots.
Condition and moisturize your boot.
Note that conditioners and moisturizers can make your shoe's upper soft. Once the boot is moisturized, it makes it easy to stretch the fibers. More importantly, use conditioners/moisturizers based on the manufacturers' recommendations.
Utilize a shoe stretcher
A shoe stretcher is one of the best ways of breaking in your boots. It features a mechanism that will shift the back and front of the stretchers. You should lock it in place for impressive results and leave it in the boot for some time.
Stuffing
Utilize thick socks or scrap papers to shape your boots. Stuff the papers/socks into the boots overnight for effective results.
What to Avoid When Breaking in Work Boots
When breaking in your new work boots, there are some things you need to avoid to achieve excellent results. Here is what you shouldn't do.
Don't exaggerate it
Avoid breaking in your work boots continuously, but rest between break-in days. Giving your boots a break will reduce any build-up of moisture that may cause blisters.
Desist from treating your shoes with hot water
The hot water treatment encompasses submerging your boots in hot water for about half an hour and at a time. This method can loosen, warp, and even destroy your leather without your knowledge.
Avoid applying direct heat to your boots.
After conditioning your shoes, stop using a hair drier to quicken the drying process. This is because subjecting your boots to direct heat will dry out the leather and make it crack.
Don't get impatient
Due to their robustness, it will take time to break in work boots. Therefore, if you get impatient, you are likely to take shortcuts that might destroy your boots.
Considerations for Buying Work Boots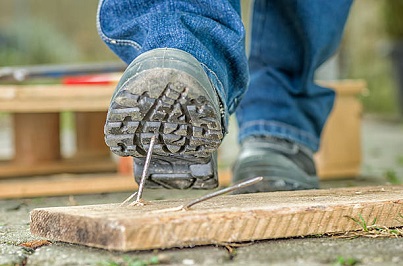 Getting suitable boots for your workers is crucial for their comfort and safety.
Here are the factors to consider when buying work boots.
Slip-resistance
Slipping is one of the most common workplace accidents. Ensure that you buy safety boots with slip-resistant properties.
Comfort
It is advisable to find safety boots that fit you comfortably. At your workplace, ensure that employees wear safety boots that suit them. When buying work boots for your workers, consider shoes that will provide protect them against heat and cold. For instance, fur-lined boots are appropriate for cold environments.
Material
Ensure that the shoes you buy have features that will protect you against the potential hazards you have identified in your workplace. For instance, if you are operating in an acidic environment, buy boots with a rubber compound.
Assess the risks at your workplace and determine the ideal work boots to buy. Some shoes come with heat-resistant outsoles, making them suitable for hot environments.
Use
Make sure the boots you buy cater to your needs. For example, if you are a construction worker, you may buy a safety boot with steel toe caps and anti-penetration inserts.
Replacement
Depending on the extent of their usage, work boots should be replaced between six to twenty-four months. When buying work boots, consider quality and durability, and desist from buying cheap shoes that last for a short time.
Tips for Breaking in Work Boots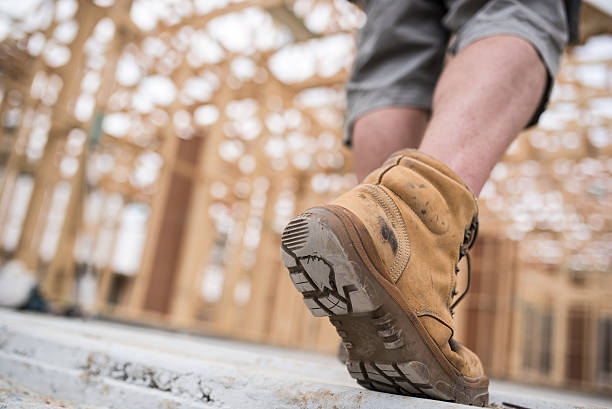 Here are the tips to help you break in your work boots easily.
Wear Thick Socks
One of the best ways to stretch the leather on your shoes is to wear thick socks. When boots are new, thick socks will also protect you against blisters. More importantly, the socks enhance the stretching in the leather, speeding up the breaking-in process.
Buy the Right Size
Avoid buying too big or too small boots because they will pose challenges when breaking them in. If you want a suitable pair of boots, visit the manufacturer and buy them in person.
Invest in Leather Treatment Products
Investing in leather conditioners and softeners will enhance your shoes' lifespan and make them break in faster. While in the break-in stage, use treats your boots regularly to achieve excellent results.
Start the Break-in from Your Home
Wearing your new boots to workplaces or social gatherings will cause pain and discomfort in your feet. Wearing the new boots at home will accord you adequate time to rest while moving around.
Keep a Spare Pair
It takes about five days to break in new boots. To avoid discomfort in your feet, avoid wearing your new boots for five days straight. Instead, space the time out to four hours daily and have an alternative pair to change into. Your feet need time to adapt to the boot and to rest from it.
Mash the Heels with Your Hand
Since heels are the stiffest parts of your work boots, squeezing them with your hands will soften faster. Bear in mind that besides mashing the heels with your hands, you have to wear your new boots to break in faster.
FAQS
How long do work boots take to break in?
For new boots, it takes three to five to break in. To avoid sustaining injuries, avoid wearing your boots continuously, but space the time out about three to four hours daily and have an alternative pair of shoes to change into.
How should work boot fit?
When buying a new work boot, take your time and try different boots to compare their comfort levels. Note that too narrow boots will crowd your feet and make you uncomfortable, and too big boots will allow a lot of movements, causing blisters and hot spots.
What are the most comfortable work boots?
If you are using steel-toe boots that are making you uncomfortable, look for boots with cushioned outsoles. Some of be best brands include Timberland, Keen, Wolverine, and Irish setter.
How do I stop steel toe work boots from hurting?
If you want the steel toe boots from hurting you, put adhesive bandages on areas where your foot hurts. Additionally, ensure your boots have been broken in, and the shoelaces are tightened to prevent your foot from moving when in the boot.
What are the best socks for work boots?
Work boots require socks that can manage moisture and protect you against pains and diseases. Ensure that you wear socks that will make your feet dry throughout the time. Therefore, avoid buying cotton socks because they absorb moisture, making your feet wet. Instead, buy polyester because it doesn't absorb moisture. Additionally, wool is ideal since it is antimicrobial, and using it will keep your feet dry.
The Verdict
You can choose to skip the break in period, but that will not be very helpful for you. These boots won't be durable or strong. Thus, they won't last long. They will give up very quickly and will not stay with you.
It depends on the build, model and the material of the shoes that how much time you will actually need to break in the boots.
Breaking in a boot is like making your feet adapt to the new pair. Good boots that will last long tend to be very stiff. In fact, the people who need a very stiff pair of boots realise their importance. But how to break in these boots? Let us see.