If you are a lover of classic 6-inch best Moc-Toe boots that are very popular, then you must have been caught between choosing between the two types that are the best in town: Thorogood vs. Redwing.
Both boots are amazing welted boots that are made from renowned brands that have a rich history. Redwing makes their boots in Redwing just like in the old days, while Thorogood Company is in Wisconsin since 1892.
Thorogood and Redwing look pretty similar to each other, although there is a slight difference. The two boots are also quite different in terms of the purpose they are meant to serve. Let us take a detailed Thorogood boots review and Red Wing boots review to help you figure out which one suits you best!
Thorogood Boots

Thorogood Moc Toe boots may be the leading brand in the rugged footwear boots category. These boots have stood the test of time since they were a people's choice since their invention in 1892.
Thorogood boots are more than simply beautiful, unlike many boots found in the market. Their removable footbed is strong shock absorbers, and they also offer extreme comfort. Thorogood boots are for working in. The boots also have a safety toe, so they are ideal for you if you work in the manufacturing sector. If you are searching for a beautiful boot to add to your shoe collection or are searching for a working performer, Thorogood Moc Toe is a purchase that you will fall in love with for years. Here is a more detailed Thorogood boots review.
3 Best Thorogood Boots Reviews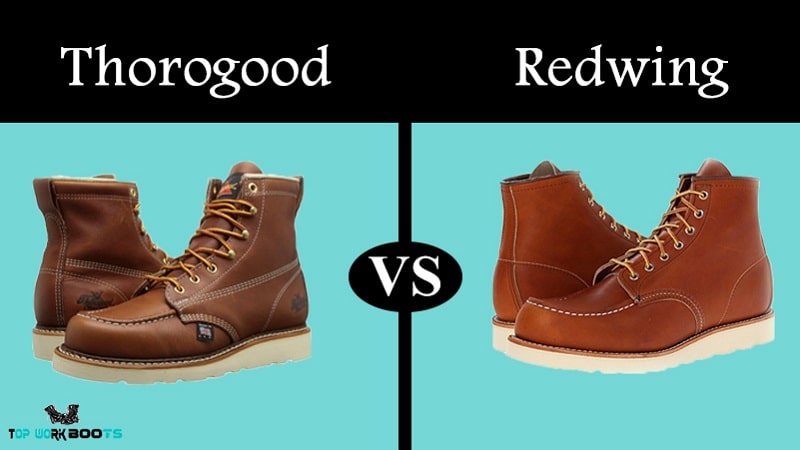 1. Thorogood Men's American Heritage 6″ Moc Toe, MAXwear Wedge Non-Safety Toe Boot
The Thorogood boots are built to last. They have an exquisite finishing and color that will catch your eyes and the passersby's eyes. There tobacco oil-tanned leather ensures that your legs can breathe. These iconic boots have been made in America. They have been made by union laborers who know a lot about what it feels like to be in your shoes.
Features and Benefits
Full-grain leather - the finishing of the leather is highly tumbled, and this ensures that it offers a suppler and softer feel compared to the Redwing boots.
Removable shock absorption footbed - this boot's footbed has a double layer to ensure that your feet feel comfortable wearing them, even in harsh environments. The footbed area has a shock absorption mechanism that ensures that your feet are safe no matter what you step on. The footbed is also removable. You can easily remove it for cleaning or airing after wearing it for a long time.
Comfortable cushion insole - to ensure more comfort, this boot also had a comfortable cushion insole that offers total comfort to your feet. You can walk for miles without feeling the urge to remove your shoes, as is the case with most boots found in the market.
Padded collar - The padded color incorporated in these boots makes it possible to enjoy wearing your shoes even when they are still new. The padded collar makes it easy to break in the shoe right after wearing it for the first time. You do not need to suffer when wearing this boot when it is new. It perfectly fits the size of your leg almost instantly. You need to buy the correct size.
Pros
Easy to break-in
Breathable shoes
Top-notch comfort
Replaceable and soft insole
Long-lasting
It has a fiberglass shank
Cons
The sole might crack after long-term use, but this is avoidable if the boot is well taken care of.

2. Thorogood Men's American Heritage 6″ Moc Toe, MAXwear Wedge Safety Boot
Thorogood American Heritage 6″ combines safety, comfort, and striking looks. These boots will always be your choice, and you can comfortably wear them all day long. This boots will always be your favorite from tobacco oil-tanned leather to the comfortable inner sole and footbed.
Features and benefits
Tobacco oil-tanned leather - I bet you know how leather will always be the number one material, especially for shoes; the comfort, beauty, and feel of leather are unmatched. Thorogood American Heritage 6″ heritage boots will guarantee you comfort, durability, and the best functionality thanks to the leather used to construct these boots.
Shock absorption footbed - Thorogood Men's American Heritage 6″ has a footbed with shock-absorbing abilities. If you are planning to visit a trail that needs the most robust shoes, or you are looking for a boot that you can work with, especially in construction sites or the manufacturing industry, then this is the ideal boot that you should have.
Vibram outer sole - the outer sole offers excellent scratch resistance, ensuring that the boot is durable. The outer sole is also slip-resistant; no need to worry about walking on slippery surfaces.
Pros
Durable
Offers superior comfort
Fiberglass shank
Removable shock-resistant insole
Cons

3. Thorogood 804-4440 Men's Gen-flex2 8″ Insulated Waterproof Composite Safety Toe Boot
You are an all-around person looked upon at work, at home, and in play? If you are this kind of person, you need the best shoes that are slip-resistant, comfortable, and light weight wellingtons. These side-zipped boots are what you need.
Features and Benefits
Composite safety toe caps - The Thorogood 804-4440 Men's Gen-flex2 8″ have toe caps that give them the protection that matches that of steel. However, unlike steel, these boots are non-metallic, rust-resistant, and lightweight.
Shock resisting soles - the soles have shock resistance capabilities that can withstand 18,000 volts at 60Hz/minute.
Non-metallic material- the shoe is 100% non-metallic only using the composite toes and other non-metallic features. Unlike metallic safety boots, these boots will not leave any scratches, neither will they activate security screening devices.
Pros
Flexible and lightweight
Shock absorption features
Composite safety toe
Slip resistance
Multi-layer innersole
Waterproof
Cons
It can take some time to break-in

How to Maintain for Thorogood boots
Although Thorogood boots are designed to last, you must take care of these boots to ensure that their long lifespan is guaranteed. The good news is that cleaning these boots is very easy. It is so little you can do to maintain their shape, color, style, and design. With the proper cleaning and maintenance of your boots, your boots will always be the same way they were when you took them out of the box.
Cleaning Thorogood Boots
To clean Thorogood boots, follow these simple steps.
Remove excess dirt
You should remove excess loose dirt like mud before you start using water to clean your boots. The excess dirt will make your water dirty, and it will make the cleaning process harder, so it is better to get rid of it first.
Remove laces
The shoelaces' eyelets usually accumulate too much dirt. Therefore, you should first remove the shoelaces to ensure that the eyelet gets maximum attention when cleaning. Removing the shoelaces also exposes the entire surface of the shoe, ensuring that it is cleaned up.
Clean in water soapy water
Use soapy water to clean the shoe. Soap helps to get rid of the dirt and stubborn stains. Clean your boots using a soft rag. You can use a soft brush to scrub off stains that cannot come off easily. Dry the shoes in a cool, dry place, avoiding direct sunlight.
Condition
Ensure that you condition your shoes and leave the conditioner to dry out before wearing them.
How to care for Thorogood Boots
Clean your boots after using them for some time. You can clean the boots at least once every month.
Ensure that you waterproof your boots after cleaning. Apply a waterproofing spray, wax, or cream every time you clean them.
When storing your boots, keep them in a well-ventilated area. Avoid exposing them to moisture, molds, and mildew.
Avoid wearing your boots very frequently to ensure that they last you for a long time.
Ensure that the inside of the boot is dry at all times. Never wear them when the inside is wet.
Redwing Boots
During World War 1, men had to go to war, and women replaced them in the factories to make boots. The then 1088 Pershing boots gained popularity, and Red Wing Shoe Company continued making these boots until 1965. For years now, Red Wing Shoe Company has been famous for making work and war boots and making boots that could appeal to a broader audience.
Red Wing company later partnered with J.Crew, a top-rated company, launched the Heritage Collection to produce both the standard Red Wing boot and modern aesthetic styles to accommodate people of more varied preferences. Today, Red Wing boots are among the best boots preferred by fashion-forward individuals. Here is a detailed Red Wing boot Review.
3 Best Redwing Boots Reviews
1. Red Wing Men's Iron Ranger 6″ Boot
Talking of a popular boot among iron miners, it is evident that this boot is as tough as the iron miners that used to wear them. Tough is not the only thing that defines this boot; it is also stylish, comfortable, and has an excellent classic look. Its contrast stitches give it a rugged look.
Features and benefits
Lace-up closure - the boot has a lace-up closure with a hook closure that offers comfortable and secure wear.
Leather lining - The leather lining of this boot is moisture-resistant since it is breathable, making your feet remain dry all day long.
Leather Footbed - The footbed is made from pure leather that offers a perfect fit, especially after breaking in after wearing it for some time-no need to worry about the shoe fitting as long as you buy the correct size.
Good year welt construction - the welt construction and the nitrile cork outer sole ensure that the show offers an excellent grip even when walking on slippery surfaces.
Pros
Offers enough grip
Made from durable leather
Created by a reputable company
Breathable inner lining
Offers arch support
Cons
It can be a bit tight before breaking in

2. Red Wing Heritage Men's Classic Moc 6″ Boot
These classic leather moccasins were initially designed as work boots, but they have been enhanced nowadays to offer more style and comfort to be worn by anyone, even to a dinner date. Style it with a lovely matching outfit, and you will be off to dinner, party, or to a journey looking stylish, feeling comfortable, and you will surely turn heads since people will not resist recognizing your best Moc toe boots.
Features and Benefits
Full-grain leather - not all leather materials offer durability, but the full-grain leather will ensure that you will wear your boot for years without any worry for wear and tear.
Leather footbed - this boot has a 100% leather footbed that guarantees comfort and fits the size of your feet perfectly.
Goodyear rubber sole - the rubber sole of this boot is perfectly welted, adding more protection to the boot. The welted rubber sole makes the boot water-resistant.
Pros
Offers long-term service
It has a perfect fit
Water-resistant
Breathable boots
Cons
Quite tight before breaking in

3. Red Wing Heritage Men's Iron Ranger 6″ Vibram Boot
Red Wing Heritage Men's Iron Ranger 6″ boot was initially made for iron miners in the 1930s. The brand had since developed to appeal to different people from all walks of life thanks to its iconic design and durability. This boot's signature feature is the leather toe caps that are unique and durable.
Each pair has a personalized fit that assures the wearer of long-term comfort. The boot has a cork midsole and a leather insole that accommodates the feet of the wearer.
Features and Benefits
Leather toe caps - the boot has leather toe caps that ensure that once the shoe breaks in after wearing it, it will offer a customized fit that is comfortable for your size. Once you pick the right size you can be assured that the boot will offer complete comfort.
Leather insole - the leather insole added to these boot offers complete comfort so you can wear it all day long without feeling any discomfort. The leather footbed also offers additional moisture control since leather absorbs moisture.
Bump toe - The makers of this boot ensured that it offers the best comfort at all costs. The bump toe ensures that you can move your toes freely.
Pros
Customized fit
Durability
Stylish
Breathable
Perfect fit
Cons
It can be a bit tight before breaking in

How to Clean Red Wing Boots
Are you having trouble with cleaning your Redwing Boots? We have your back! You will need to clean your boots, especially when the cold season kicks in since they are the to-go shoes. While Red Wing boots have different types of leather and come in different styles, the basic methods of cleaning Red Wing Boots are the same. You need to clean them, condition them, and give them maximum protection.
Cleaning
To clean your Red Wing Boots, you need to get rid of all the dirt and grime. Then remove the laces and wash them later on their own. Then scrub the boots in warm soapy water or a cleaning agent using a soft bristle brush. When there is a stain, you can clean using Red Wing leather cleaner. Ensure that you clean the entire shoe without forgetting the Red Wing Wedge sole.
For waterproof leather, you should clean using warm soapy water and a scrubbing brush.
For oiled leather and dry-tanned leather, use Red Wing leather cleaner to clean. You can also use saddle soap.
Conditioning
After cleaning, you should condition your Red Wing boots. Use the appropriate boot cream to the leather using a clean, dry piece of cloth. Let the boots dry for about an hour, and buff the boot with a dry brush.
How to Care for your Red Wing Boots
Caring for Red Wing Boots
Cleaning your boots alone is not all you need to ensure that your Red Wing boots will last you for long. It would help if you also cared for your shoes to receive the full service you expect.
Use the Red Wing Leather protector to protect your boots. Hold your hand some distance from your boot and spray a thin layer when they are clean. Let them dry under a shed.
When storing your boots, you need to keep them in a cool, dry place not to get damaged by excessive wetness and molds and mildew.
You can stuff the boots to ensure that they do not lose their shape.
Thorogood VS Red Wing
Comparing Red Wing vs. Thorogood can be quite a daunting task since the two shoes are both from reputable companies, and they share a lot of similarities that include;
Triple stitched
Cork midsole
White-colored wedge sole
They both have a Moc toe
Both are made from long-lasting leather
Have oil-tanned leather
However, when comparing Thorogood vs. Red Wing boots, there are significant differences that you will come across. The differences are summarized in the table below.
| | |
| --- | --- |
| Thorogood | Red Wing Boots |
| Break in easily | Takes time to break in |
| Water proof | Less water proof. |
| Fiber Glass shank | No shank |
| Cushion insole | Leather insole |
Should you buy the Thorogood vs. Redwing
Generally, Thorogood shoes are more of protective shoes, while Red Wings boots are more refined, making them most suitable for wearing them casually.
Both boots have high-quality leather that ensures that they are durable and stylish.
If you are going for style and fashion, you better go for the Red Wings boots, but if you are looking for boots that you can go to work with, Thorogood boots are the most suitable boots since their resistant soles have various safety features.
Also, Thorogood boots are less expensive when compared to Red Wing boots, however, these boots are all fairly priced considering the design, the functionality, and the reputation of the companies that make them.
While this is only our opinion, the ultimate decision about which boot you should purchase solely depend on you; your needs, fashion style, and preferences.