First established in 1960, Dr. Martens is an iconic fashion brand worn by both punks and celebrities alike. Today, I'll be reviewing the Ironbridge Safety Toe.
As a general rule of thumb fashion statements and all day comfort rarely go hand in hand. Because of this the Ironbridge are actually my first purchase from the brand.
I finally decided to give them a try because I've heard some very good things about their air cushioned sole.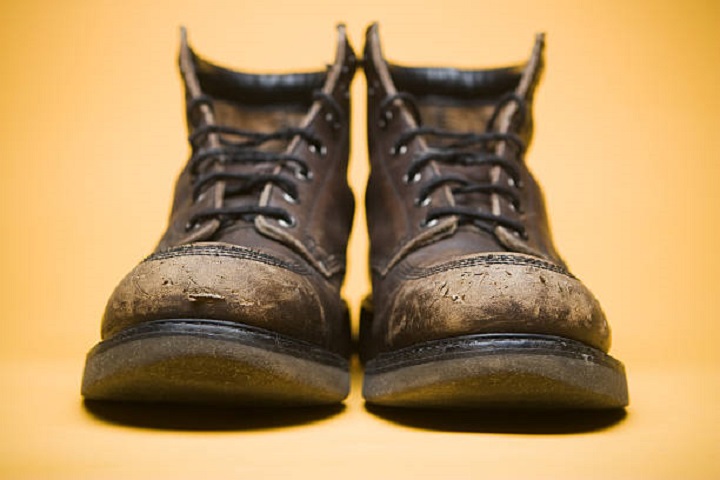 The uppers and shafts of this boot are made with leather whereas the steel toe provides added protection to your toes. These good steel toe work boots are designed in a way that they can be used in very harsh conditions without any hassle. They are designed to be durable and water resistant and are perfect for unforeseen situations. Industry steel toe boots have resistance not only to water but also to alkali, petrol and oil. They come with breathable, shock absorbing, mesh covered EVA insole which lets you to keep cool even during hot days.
Dr. Martens Ironbridge's Top Features
Comfort
The first thing that you should know about the Ironbridge is that even for a steel toed boot, they're significantly heavier than average. My pair clocked in at just over 2.5 pounds a piece.
Given the thickness of both the sole and uppers, I was expecting a lengthy break in period but they were good to go within 3 days of light wear. After that, if you can get past the weight, there's a lot to like.
Like most Dr. Marten boots, there's an air cushioned sole. This refers to a layer of tiny air pockets in the midsole that insulate your feet against the shocks that they take when hitting the ground.
According the to the brand this results in a feeling of walking on air. While I wouldn't go that far, I will say that the shock absorption levels are excellent. I experienced zero foot fatigue even after the twelve hour mark.
If you've worn boots with anti fatigue technology in the form of small rubber cones, then that's pretty much what you can expect from the air cushion with a little added bounce thrown in.
The uppers are also well designed. They probably have the most padding that I've found in a boot. And because it's made from ballistic mesh, it keeps your ankles and upper foot cushioned without hampering air flow.
One potential downside is that the removeable insole isn't the best. If you need a lot of arch support, I recommend replacing it.
Overall, a heavy pair of boots but enough added comfort to justify carrying it.
Safety
The Ironbridge is equipped with a steel toe that meets or exceeds ASTM standards. Some versions include electrical hazard protection. The outsole is slip resistant against both water and oil. Unlike some slip resistant boots, these work, traction levels are excellent.
Waterproofing/Insulation
The Ironbridge are water resistant, not waterproof and there's a big difference between the two. They will keep your feet dry in light rain or a quick step in a puddle. But anything more than that will result in wet feet.
As for insulation, the uppers are made from full grain leather which generally makes for a solid year round boot. So far, I've only worn them in Spring but I think that with the right socks they'll make for a comfortable wear in both Summer and Winter.
Style
Style is obviously a big selling point of these boots. They're available in a choice of three colors. I chose the teak version and that color in the least doesn't disappoint. The brushed leather and heavy duty eyelets give them a much higher end appearance than their price tag would suggest. And the distinctly modern appearance coupled with Dr. Martens famous yellow thread makes them ideal for weekend wear.
Pros
They have a solid style and construction
Made of pure leather that is durable and can last for an extended period
It has a solid steel toe that features additional toe insulation from electric charge
The material is water-resistant and can be used in any difficult situation
The boot also has a breathable and shock absorbing insole that keeps your feet cool
Cons
The sizing of the is a bit larger
The boot tread are prone to rock stuck
They are also somehow heavy
FAQ
What does Dr. Martens Wonder Balsam do?
Wonder Balsam is a Dr. Martens unique blend made of lanolin, beeswax, and coconut oil. The main purpose of these blends is to protect the boot against salt marks, water, and liquid. They are natural materials that can preserve your waxy, oily, and greasy leather.
Are Dr. Marten's work boots any good?
The boots are good, but they score less compared to other work products. The reason for this is because of the material they use, and they are a bit heavy.
Do all Dr. Martens have steel toes?
No, not all the Dr martens have a steel toe. If you check on their official website, you can find which of their boots have a steel toe cap.
Do Doc Martens get ruined in the rain?
Doc Martens are secret rain boots that do not get affected even when they are rained upon. They still retain their cute design, and they can be used on all days. However, you need not waste so much amount on the secret boot as they will only last for at least two years.
Why is Doc Martens so uncomfortable?
Honestly, the boots aren't good in terms of comfort because they are made from materials that are not eco-friendly, and they are heavy. The boots manufacturers have failed to come with a wet reduction material, and that doesn't emit carbon to the environment.
Verdict
The Ironbridge are heavier than I expected and I have no idea how long the sole is going to last. I'll update this review in six months but for now, I'm happy that I finally gave this brand a try.
The air cushioned sole makes a real difference during a long shift. Slip resistance is well above average. And despite costing half the price, they easily rival Red Wing in terms of style. If the sole holds up, they won't be the last pair of Dr. Martens that I try.
You can also take advantage of removable and padded insole that ensures utmost comfort to the wearers even worn for a longer span of time. The manufacturer has utilized heat sealed, welted construction technique to provide good value for your money. They also weight less and so, you will not experience any sort of complication on wearing it. They are made for stability and rugged reliability. With electrical hazard resistance, these pair of boots serves as an outstanding wear for men. Moreover, they are available in different sizes and colors such as black, brown, tan, gaucho and many more. Men's Dr. Martens 10″ Industrial Greasy Steel Toe Wellington Boots, Black are ideal for today's men who adhere to trend and quality.