Vibram is a well-known company for their durability, comfort, quality, and traction. They design both work boots and outdoor boots. Interestingly, they are sold all over the world due to their excellent reputation. The manufacturer makes various boot soles perfect for most applications ranging from indoor use and outdoor use, including logging, hunting, and construction.
Without much ado, let get started to know everything about Vibram Soles
What is a Vibram Soles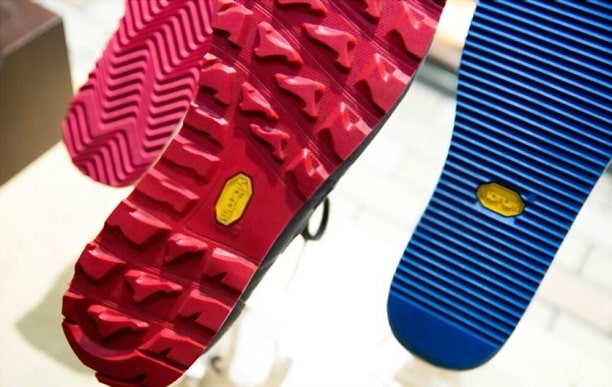 Vibram brand was founded by Vitale Bramani in 1935 after 6 of his friends died while climbing the Italian Alps. He concluded that the cause of their death was the footwear. The boots at that time had little traction and warmth in freezing conditions.
He invented the best shoe sole with great traction, waterproof and good insulation. Leopoldo Pirelli and Bramani made the first rubber boots with a yellow Vibram logo at the center.
The boots were made from vulcanized rubber hence providing great insulation. They also have a lugged tread pattern for better traction. These features made the boots safe for hiking and frostbites. These soles remain the best for over 60 years.
Why Vibram Soles the Best?
You need to protect your feet against sharp objects, water, and other things that may be harmful to you while working out there. That why Vibram sole is the best sole because:
Slip-resistant
Vibram soles are world-famous for their best quality. If you compare the Vibram sole and the regular rubber sole, you will realize that its sole is slip-resistant. Thus, it will give you maximum support since it has a firm grip, whether dry or slippery floor.
Waterproof
Another feature you will love about this sole is it's waterproofness. It prevents water from getting into your feet and sock while working in a wet area. Generally, the Vibram boots are designed with a HydroGuard waterproof system, durable mudguard, and protection around the top of the shoe, making them ideal for outdoor use. Plus, the HydroGuard waterproof membrane reduces condensation inside the shoe while preventing water into the boot.
Durability
In terms of durability, it depends on how often the shoe is used and the condition. Vibram soles tend to last for more than 10 years. It is suitable for a hiker or explorer since you can wear the shoe for a year without replacing the sole. It is worth your money. The blend of foam and rubber makes the sole strike balance between traction and sturdiness.
Comfort
It is also necessary to consider the comfort of the shoes. The sole makes the shoe comfortable. Amazingly, the Vibram sole provides a light and springy outsole. Thanks to the blend of foam and rubber that makes the outsole soft, springy, and tough.
Resoling
The good thing about Vibram sole is that it rarely wears out as they are long-lasting. Also, you don't need to throw good shoes away because the soles are available in the market. You can resole the outer sole making the shoe brand new again.
Different types of Vibram Soles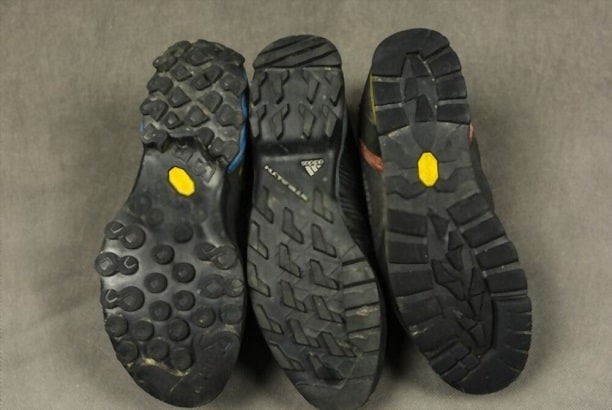 1. Vibram Soles 1253 Lug half-sole for men
It is designed for leather and rubber conversion. Besides, you can use it to repair mini lugs for both men and women. The Lug half-sole provides comfort and traction in its rubber structure. You blend it with perennial workwear boots, including Red Wing Iron Ranger Boot, to provide a high level of grip.
2. Vibram Soles Newporter Replacement
The replacement sole is a lightweight and flat rubber sole, making it perfect for casual walking footwear. Thanks to its slip-resistance feature that makes it ideal for the foodservice industry. You don't have to worry about comfort when working throughout the day since it adds extra lift and cushion. Plus, the sole has great traction and minimum build-up.
3. Vibram Soles Red Rubber
The rubber sole is lightweight and flexible to offer traction and toughness. Although it is 1 mm thick, it is wear-resistant and durable to provide your feet with maximum comfort levels when wearing them. If you want to replace the sole yourself, you can easily trim and stick it in a few seconds.
4. Vibram Soles Large Size Half
You can use this large-size half sole in all types of footwear, from sneakers to boots. It has non-slippery and waterproof features. Despite the rubber sole being thinner, it is long-lasting and has a wide width. It is great for large-sized shoes. Moreover, you can easily trim and patch it up.
5. Vibram Soles 132 Mortagna Block Unit
If you enjoy hiking or exploring, this sole is the best choice. It tends to be durable, rugged, and comfortable. It is known for climbing Mt. Everest as it features thick knobby treads, which provide great traction. Also, it is weather resistant.
6. Vibram Soles Christy Replacement
This sole is made from a blown rubber material which is durable hence long-lasting. With time, the sole softens, maximizing traction and extra cushion on different terrains. Furthermore, it provides extra lift for the whole foot when cut to fit. It is perfect for military and service shoes.
What Boots have Vibram Soles?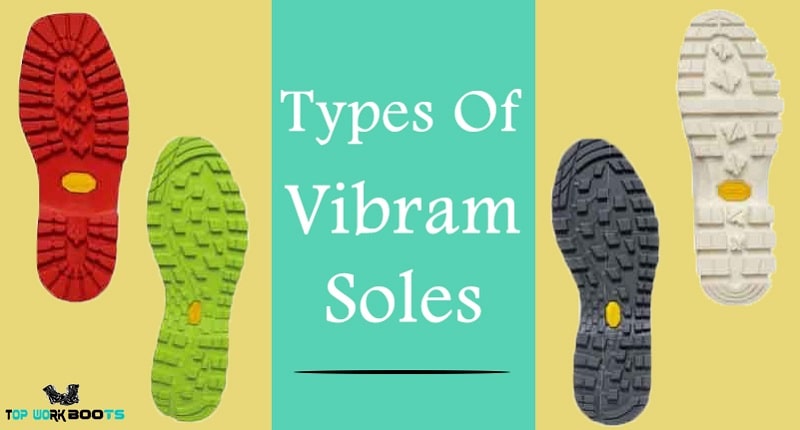 Here are the best boots with Vibram Sole to purchase
1. Georgia Men's GB00098 Mid Calf Boot
The brown work boot comes in multiple sizes for men. To begin with, it is made from full-grain leather upper, and the Vibram outsole provides extra comfort and durability. In terms of comfort, the boot has a patented CC7 Comfort Core Insole. The 3 layers provide support and cushion to your feet without any soreness or pain.
Safety is another feature to consider. The work boot is designed with ergo-fit safety to fit the contours of your toes and feet. Plus, it is waterproof to prevent water from penetrating the shoe hence keeping the feet fresh and dry.
Pros:
Designed with the Vibram sole technology to maximize traction and grip
Waterproof feature making it ideal for any condition
Slip-resistant thus, you are safe and secure on them
It comes with mesh lining making the shoes breathable and reduces overheating.
Cons:
The insole tends to separate quickly

2. Thorogood Men's American Heritage 8" Boot
The Thorogood boot is one of the best work boots with a Vibram sole. It features a single-density wedge outsole hence great traction. Thanks to its superior shock absorption, which ensures you won't be hurt while working on rough surfaces. Additionally, it also cushions your feet when carrying heavy items. With the Vibram sole, you will be at peace as the sole will provide grip and better traction.
Pros:
Wear and tear-resistant
It has a comfortable insole and Vibram outsole
Made with great material
It has superior shock-absorption
It is comfortable as you can wear it for a long time without feeling pain or soreness.
Cons:

3. Hunting Boot with Arctic Grip Outsole
Another excellent work boot is the Muck boots since they are made from synthetic material and patented Vibram outsole. As the name suggests, it is ideal for winter as it can withstand all weather conditions. For comfort and flexibility, the boot is made with 8 mm neoprene material.
It also has other features such as heat-retaining, shock-absorbent, and waterproof making it perfect for your hunting during winter. Thanks to its adjustable capability hence you won't worry about getting blisters. Besides, it is equipped with fleece lining that ensures your feet remain dry and warm even in winter conditions. You don't have to worry about slipping on icy surfaces with this boot since the Vibram outsole features Arctic Grip technology.
Pros:
It is made specifically for winter
It has Vibram Arctic Grip technology that prevents you from slipping or sliding on icy surfaces.
It is a stylish boot.
You don't have to worry about blisters or chaffing when you wear them for the first time.
Waterproof and fleece lined to keep the feet warm and dry
Cons:
Getting the right size can be challenging

4. Muck Boots Men's Rubber Work Boot
If you are looking for the best work boots with a Vibram sole, this boot will best suit you. It is equipped with Xpress Cool lining technology to ensure your feet stay dry and comfortable all day. Additionally, it prevents your feet from sweating even when worn throughout the day. You can wear the boot in any weather.
Interestingly, the outsole is made from Arctic Grip Wet Ice Technology makes the boot suitable for multiple outdoor uses. In addition, this boot is designed to give traction even when walking over ice. For toe support and safety, it features heel reinforcement and triple toe rubber.
Pros:
Vibram sole technology provides safety and maximum traction
Waterproof hence keeping your feet dry and warm
Thanks to the Xpress Cool lining technology, which offer optimum comfort
It provides maximum abrasion resistance
Cons:
Getting the right size can be tricky

5. Original Chippewa Collection Men's 6 Inch Boot
This boot comes with a Vibram sole which ensures maximum grip, durability, and enhanced traction on your work boot. This feature allows you to wear this boot on various surfaces without slip and injuries happening. Moreover, the boot is perfect for both men and women. It is made with Goodyear welt construction and from leather. Thanks to its cushioned insole, which ensures your feet are in place and protect the feet from bruises.
Pros:
It is designed with a Vibram outsole for outstanding grip and traction on any surface.
Made from leather materials
Cushioned insole ensures stability and comfort
Cons:

What are Vibram Soles Shoes Best For?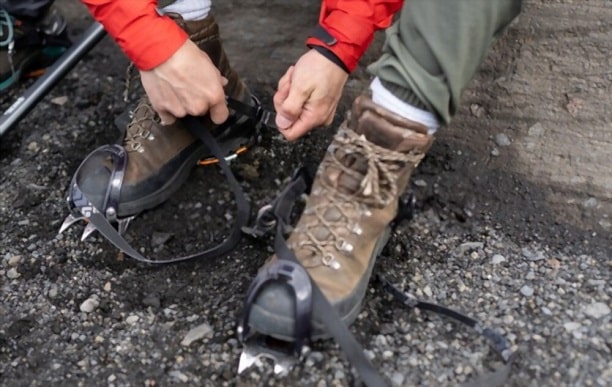 Climbing
Most climbing boots are designed with Vibram soles to allow you to move freely. It helps the shoes to maintain their original shape as well as guaranteeing maximum grip and slip resistance. You can opt for Vibram soles to strengthen your feet. For instance, Vibram FiveFingers is one of the best choices for the climber as it is lightweight and minimalistic.
Walking/hiking
The Vibram walking boots are designed with sturdy soles, thus balancing between grip and comfort. You can wear them all day since they have cushioned soles to ensure comfort while walking. Additionally, they feature softshell fabric, which keeps the boots flexible and lightweight. Thanks to their gusseted tongues and waterproof membrane to keep moisture locked out and breathable in all weather conditions.
Yoga and Pilates
Footwear made for yoga and pilates comes with a thinner Vibram sole to keep the feet protected and offer optimum flexibility. Furthermore, it helps align your body posture while giving your feet a hygienic alternative without affecting your performance. With these Vibram shoes, you don't need a yoga mat as they are great at their traction on various surfaces.
Weightlifting
When you are lifting weights, you should use a flat sole to prevent losing power. The Vibram soles provide maximum traction while ensuring you maintain ground control during movements. For instance, Vibram Five Fingers are more stable for you to channel the muscles' energy into lifting than stabilizing to protect the feet.
Running
The best running shoes are designed with a Vibram rubber sole to maintain grip and stability on rough terrain. They have waterproof and breathable features, thus keeping the feet fresh and dry. Furthermore, it is made from lightweight material to enhance your running without strain.
Final Thought
Before embarking on your hike, run, climb, or any other outdoor use, you need to choose Vibram-soled shoes. You don't need to worry about terrain with this type of sole since they provide traction for your feet. Thanks to its incredible grip and traction, which makes it perfect for both dry and wet surfaces. Lastly, you can wear them every day for different purposes.
I hope this article will help you choose the best Vibram sole footwear for your feet.