Whether you are handling heavy loads, walking in mountainous terrain, or chasing bad guys, you need cushioned work shoes that are strong and durable to have a great day at work. With today's innovations, you can change the look of your work boots while maintaining functionality in all situations. However, you need to choose a type of work boot based on its features.
Why you Need Work Boots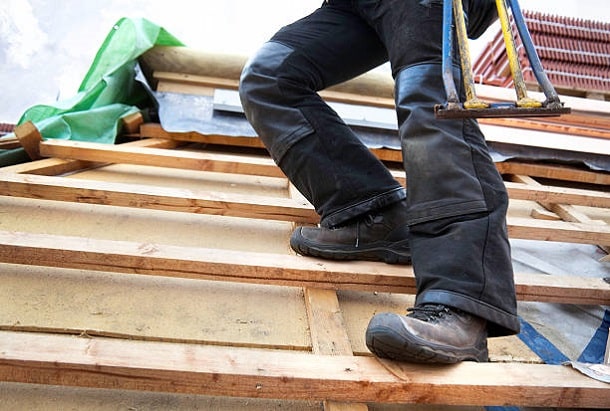 Work boots are fantastic footwear to make you feel comfortable while you are out doing your daily job. They are ideal for people who work in the military, electrical fields, and construction sites, and factors that deal with heavy machines. Here are some reasons why you need a pair of work Boot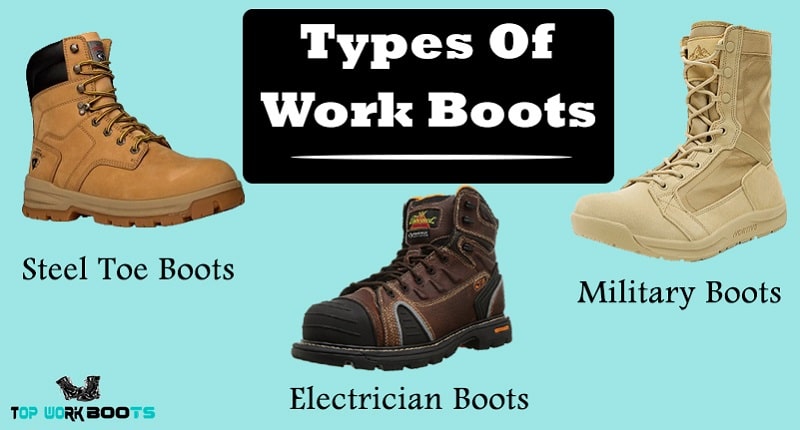 Work boot guarantees feet safety
Safety plays a significant role in how you perform your work. You can't work well if your feet are not safe. That way, you need footwear that is slip-resistant, oil resistant, and waterproof. Some have steel toes to protect your toes from heavy things falling on them. Ensure you choose the best safety boots to feel comfortable while working.
Work Boots are Durable
You need to get boots that will last longer hence saving your money. Most work boots discussed below are made from high-quality material, which makes them long-lasting. You are guaranteed to wear these boots every day and last for years before purchasing a new pair.
Comfort
Work boots are designed with cushioning inner, which ensures comfort. With these work boots, you can wear them all day long without feeling fatigued. Plus, its breathability feature makes your feet stay dry hence feeling comfortable when wearing them. You will feel comfortable running, walking, and standing because of the padding, cushioning, and rubber sole.
Fashionable and stylish
Work boots need to be fashionable and stylish too. You can also wear this pair of work boots while you are out having fun with your friends. This will spare you the energy of carrying another pair of shoes with you to wear after work.
Steel Toe Work Boots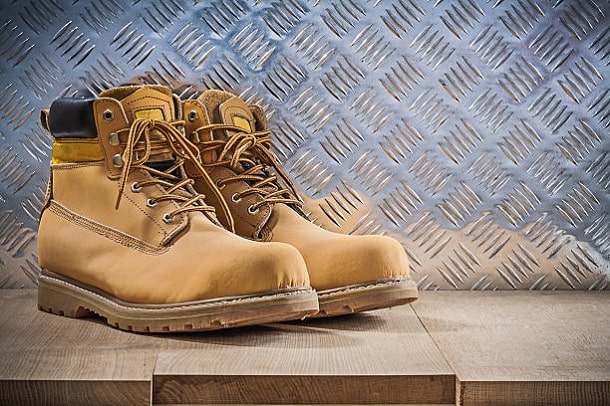 Also known as safety boots, they ensure your feet are safe from injury caused by falling objects. If you work in construction sites or factories with heavy machinery, something may have fallen on your toe one time; how did you feel? You don't want to imagine the experience; yes, that is why you need to wear steel toe work boots while doing your work to avoid something hurting your feet.
You feel safe and at peace when on these work shoes as you know even when something falls on, you won't be hurt. Here are some of the best steel toe boots with special protective features and structural support.
1. Timberland PRO Men's Pitboss 6″ Steel-Toe Boot
On top of our list is this safety work boot designed with a steel toe to offer maximum protection from falling objects while the rubber sole protects the bottom of your feet safe from harm. To add more, the interior is made from comfortable fabric, making it perfect for you to wear all day long. Thanks to the abrasion-resistant outsole, this prevents slip and fall while you are working in extreme conditions.
You can use this steel toe boot for indoor and outdoor use as they are flexible in their design, waterproof, and significant level of protection. Most people prefer these boots because of their outer fabric and soft interior, which gives them maximum protection and support to do their work.
2. Keen Utility Steel Toe Work Boots
Due to its flexibility and strength, it helps you stay safe and comfortable while handling medium-duty work such as landscaping, masonry, and construction. With these boots, you won't have foot fatigue when worn for long as they come with a rubber outsole. Plus, they have built-in lugs that make it easy for you to walk on both wet and soft terrain.
For your outdoor hobbies and work, you can opt for this steel toe boot as it comes with insulation that makes your feet comfortable. Besides, you can adjust the lace-up closure without having to take them off.
3. Caterpillar Men's Steel Toe Work Boots
These men's shoes are made from durable leather. You need to replace these boots when you get tired of them and not wear them out. Additionally, the boots are waterproof, making them perfect for outdoor use. Thanks to the inner lining, this allows the feet to stay dry and fresh.
Moreover, it comes with a slip-resistant rubber sole and allows you to wear it for long hours of standing and walking. The steel work boot has rugged leather with a plush collar and tongue with caterpillar logos in terms of style.
4. Thorogood Men's American Heritage Steel-Toe Work Boots
This boot will suit you if you work in greasy grounds, sharp objects, and terrain. The Thorogood American steel toe boot comes with a 6.5 inches shaft and a dual shock absorption footbed, making it comfortable and slip-resistant. You are assured of great walking on different terrains.
If you are looking for affordable boots with a composite shank and rubber midsole, then this model is great for you. You will be able to work for many hours without any form of strain on your feet. Lastly, you can bend while wearing this boot since they are designed with a rubber midsole.
Military Work Boots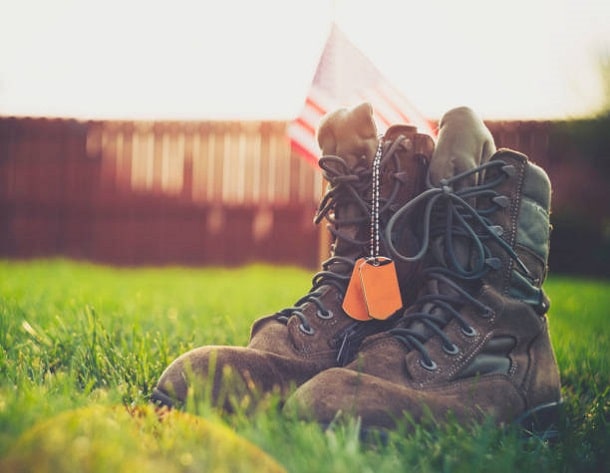 If you are a military officer, you don't complain that your footwear doesn't fit as many do. You can purchase a pair that won't harm when worn all day. We have also covered some of the best tactical bootsthat will make you feel at peace and comfortable.
1. Ryno Gear Combat Boots
What makes this type of work boot outstanding is its comfort and durability when wearing. Amazingly, this 8-inch combat boot is made from a combination of leather and nylon, making it durable as well as lightweight.
Besides, the boot features CoolMax lining, which keeps the feet dry and fresh throughout the day. Thanks to its water-resistant inner lining, which makes it perfect for both the warm and rainy season. Also, the insoles are shock absorbent for better comfort. Since they are easy to remove, you can customize the boots to suit your needs.
2. Reebok Work Duty Men's Rapid Response 8" Boot
This type of boot is perfect footwear as it is lightweight and comfortable. It is made from a polyurethane cushioning insert and shock absorbent. The boot is made from leather and nylon, making it perfect for any terrain. Plus, it is 7 ½ inch hence offering maximum support to the ankle.
The EVA midsole is shock absorbent and has a Foot Force F2A footbed to ensure comfort all day long. Its outsole is made from slip-resistant rubber, which can withstand heat chemicals, and it is abrasion-resistant. Moreover, they are wide to ensure they fit well.
3. Ryno Gear Tactical Combat Boots
Anyone in the military can consider these boots due to its durability; it is made from leather and nylon. The boot features CoolMax lining, which keeps the feet dry and fresh all through the day. Additionally, it is designed from material that makes them easy to break in.
Thanks to its waterproof lining, which makes it ideal for both warm and rainy seasons. Plus, the insoles are shock absorbent hence providing maximum comfort. With this military boot, you can customize it to fit your needs. For stability, the boots feature a rubber outsole to provide grip hence slip-resistant. With these boots, you won't feel discomfort during summer since they are designed with mesh lining to ensure ventilation.
4. Rocky Men's 8-inch Combat Boots
If you are looking for a pair of the boots to offer ankle support, this boot is 8″ high. Also, it ensures no mud, groundwater, or other conditions make you uncomfortable while wearing these boots. They have lightly padded, making them shock-absorbent. Thanks to its dry-wicking technology, which ensures the feet remain dry and fresh throughout the day.
The military boot guarantees you durability since it is constructed from leather and textile. Besides, the boots have a high wall sole to protect them from wear and wetness.
5. Oakley Men's Light Assault Boots
The boots are lightweight and breathable upper to help keep the feet fresh and dry. They feature an EVA midsole which ensures the shore is shock absorbent. Thanks to its lace locking system, you don't need to stop while you are on the battlefield to tie your boots. Moreover, the rubber sole helps prevent slipping and ensure stability while you are working.
Electrician Work Boots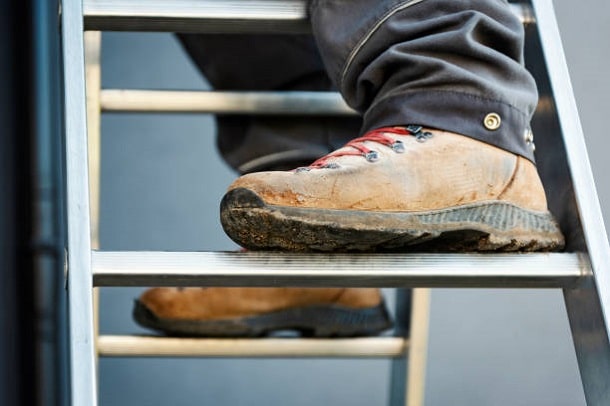 If you are an electrician, you know the challenges you go through, including an accident and electrical shock that can cause health issues. Here are some of the best electrician work boots to consider.
1. Red Wing SuperSole 2.0, 8-inch Work Boots
To begin our list with is this Red Wing Supersole boot which is made from premium leather, guaranteeing you durability. Also, it is made from 2 layers of soles; the outer sole is abrasion resistance and oil, gas, and chemical resistant. On the other hand, the inner sole provides cushioning support.
Most electricians prefer these shoes because it is designed with 400 grams of Thinsulate 3M insulation. If you work in cold areas, then you can opt for this insulated one. When wearing these shoes, you are assured that they are the best for electrical hazards. This means that it is non-conducive and protects you from the electrical circuit to the ground.
2. Carhartt CMF 6366 Composite Toe Work Boots
The Carhartt brand has been around for a long and is popular due to its durability and high-quality boots. Thanks to its padded tongue and collar, which will make you comfortable to maneuver through crawl spaces, down ladders, and lug heavy tools. It has an Ortholite insole which provides layers of cushioning hence fighting odors and fatigue.
Another great feature is the light EVA midsole with steel shank resists offering support to the boots and the arches. With the rubber sole, the shoes are oil, chemical, and slip-resistant. Furthermore, the gripping lugs and ladder lock channels ensure safety. Additionally, it meets electrical hazard requirements hence safe if you are handling electricity.
3. KEEN Utility Braddock
If you are an electrician, this work boot has every feature you need. To begin with, the boots are designed with steel toes hence giving the shoes great shape. Plus, the patented toe protection wraps on the sole up and over the toe area.
For comfort, the boots have an asymmetrical shape to enhance comfort and a roomy fit. A breathable waterproof fabric will keep the feet dry and fresh all day long while offering convenience. Moreover, the boots are oil and slip-resistant. The outer sole meets electrical hazard requirements.
4. Danner Vicious 8″ NMT Work Boots
The work boots are designed with Gore-tex waterproof material, which keeps the feet dry and fresh while wearing these boots. Amazingly, these boots are designed with toe boxes to accommodate heavy loads. It is also made to cup your heel and keep the feet comfortable.
Moreover, these boots keep the Vicious boot requirements and Electrical Hazard (HZ) protection. Additionally, the Vibram outsole makes it oil and slip resistance with a 90-degree heel for extra safety.
5. Timberland Pro Boondock Work Boots
To keep your feet dry, the Timberland Pro boots are made from waterproof material. You will only focus on the job at hand since it is insulated at 400 grams to ensure the toes are warm all through. Most workers compliment these boots on comfort. It features anti-fatigue technology to absorb shock; hence the feet are comfortable while on them.
Furthermore, the safety toe boot doesn't conduct heat or cold hence meeting ASTM safety standards. It also meets electrical hazard protection standards. Lastly, it has a slip and oil-resistant soles.
Best Brand of Work Boots
You may have come across different work boot brands online, and you are wondering which one will suit your needs best. Don't spend a thousand buying different boots to try which one will work for you best. Here are some brands that we consider the best.
1. Timberland Pro
Timberland boots were invented in Boston and have been famous since then as they are made from high-quality material. You will realize most celebrities wear them because they are comfortable and stylish. Although the market is flooded with counterfeits, the Timberland brand remains one of the world's best work boots. Amazingly, these leather shoes aren't only stylish and durable, and comfortable, making them perfect for wearing for long hours while working.
2. Caterpillar
The second one on our list is Caterpillar. Don't be surprised if this company makes boots as they make incredibly durable ones. The brand makes comfortable, all-weather protection boots and meets all safety requirement standards. For example, one of the famous work boots is the Caterpillar Men's 2nd Shift 6-inch Steel Toe Boot, made from a combination of leather and synthetic material. Finally, it also features an oil-resistant outsole.
3. KEEN
It is one of the newest brands on the market which makes a variety of boots. The footwear is made of high quality and stylish making it ideal not only for work but also for hiking and everyday use. It is also known for its electric resistant rubber feature hence great for an electrician. Despite its quality, it is not much durable as compared to other brands. If you are looking for affordable boots, then purchase one from this brand.
4. Danner
No one wants to invest in footwear that won't last long; the Danner brand is the best in durability. The brand is known for making the most durable boots in the market. The footwear manufactured from this brand is ideal for hiking, on-site work, long-distance as they are durable enough for everyday use.
5. Wolverine
Wolverine boots tend to be the most comfortable. You can consider boots from Wolverine if you want classic and affordable shoes that ensure maximum protection. They are easy to break in, and the midsole is made from EVA technology to shape your feet.
6. Thorogood
This brand makes high-quality boots with Goodyear welt construction and leather upper. It is known for manufacturing military boots. However, the boots tend to be a bit pricey than other brands. Most people still prefer them because they can last for years. The shoes feature synthetic sole and slip and oil resistant outsole. In addition, it has a rugged metal eyelet and an excellent lacing system. With these boots, you're guaranteed all features you may need as a worker.
Bottom Line
If you own a great pair of work boots, then you can feel better and work better. You will be able to focus on your work and work harder only if you wear comfortable boots. Having discussed the best type of work boots, you will choose one that will suit your working condition best.
I hope you will be at ease and have peace of mind while working since your feet are protected from any harm.