Boots represent a rugged piece of footwear that protects the feet of the wearer in rough climates, against moisture, and various prickly plant life as well as dangerous animals lurking beneath the leaves on the ground.
Indeed, if you've ever tried to trek through a landscape where you'd normally need boots but you didn't have a pair on at the time, chances are - you know exactly what we're talking about. Of course, other than the protective properties of this piece of footwear, modern-day boots are also well-known as a fashion statement and come in all shapes and sizes.
Now, if you're going to wear a pair of boots for outdoor purposes, so to speak, what you may need to take into consideration would be the type of socks you wear underneath the boots themselves. The thing is, if you use just regular socks, they may get destroyed by moisture, fail to provide you warmth and support and wrinkle inside the boot causing nasty callouses.
So, in order to be fully prepared for an outdoor expedition, what you want to do is get a pair of socks together with the boots, so you can rest assured your feet ( and you're entire body, for that matter ), will have the protection and support you need in rough outdoor conditions.
In this article, we're going to talk about boot socks. As you will see, these come in all shapes and sizes, and there is a myriad of different manufacturers out there. Also, different boot socks are made for various purposes ranging from mountaineering to outdoor manual labor, so whatever your planned activity of choice involving booths, you're certainly able to find something that suits your needs in the entries below.
As an addition, we've ventured to answer some of the most frequently asked questions in this department, so even if you're a complete newbie when it comes to boot socks, you'll certainly be able to find something to your liking here.
Here's the deal.
Our Favorite Work Boot Socks
Types of Boot Socks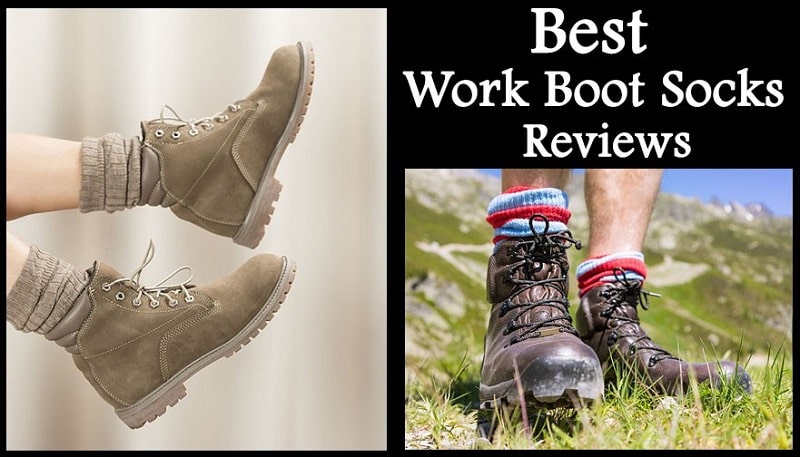 Ankle-High Socks
When it comes to the length of boot socks, there are a couple of distinctions related to how large the socks are.
The first category would be the ankle-deep or ankle-high boot socks, and as their name suggests - these only get as high as one's ankle. As such, they may not be the best option for outdoor excursions or mountaineering.
What they can be useful for, however, would come down to wearing smaller boots for fashion-related reasons, so to speak. So, if you want to wear some pretty boots and need some footwear to go with it to prevent blisters and to support your heel, for example, getting these ankle-high socks may be the best solution.
Mid-Calf Socks
If you need socks to support your feet while wearing cowboy boots or some sort of specialized work boots, getting a pair of mid-calf socks may be the optimal solution.
The thing is, these will give you more support than the aforementioned ankle-high socks, but won't be too restricting as the knee-high socks. ( The knee-high ones are better used for mountaineering and other tough outdoors ventures. )
So, if you need a pair of durable socks for manual labor or horse-riding during the winter, getting some mid-calf-high boot socks would be the way to go.
Knee-High Socks
As we hinted at above, knee-high socks are best paired up with tough, mountaineering kind of boots, as you will get excellent warmth and support from the tip of your toes all the way up to your knees.
The idea behind such a design is to cover half of your leg and to prevent moisture from contacting your skin underneath them. Also, they ensure that your body's warmth is not lost in the gaps between the boots and the undergarments. So, while you're wearing these knee-high socks, you can rest assured you won't feel cold or underprepared for working in cold and otherwise inhospitable environments.
Overall, these are recommended for mountaineers, the military, and anyone who faces rough outdoor conditions on a daily basis.
Breathable Socks
One of the most important properties of any socks would certainly be their breathability.
The thing is, the more breathable boot socks are, the more comfortable you are going to feel wearing them. Generally speaking, the level of comfort you feel when you wear any socks depends on the softness of the material they're made of, how much support there is for your heel, as well as on the breathability of the fabric at hand.
So, when choosing boot socks, read the product description carefully and make sure to look for the breathability of the sock. The more breathable the material the sock is made out of, the more comfortable it will be to wear and the fewer odors there will be emanating from the socks and your feet after a long day of physical activity.
Moisture-Wicking Socks
Another important property of socks that plays a major role in how well they can protect your feet in outdoor conditions would be their moisture-wicking properties.
The thing is, it goes without saying that your feet are going to get wet while you're out there in the outdoors. That said, it's important to ensure that the socks you wear will be able to successfully wick the excess moisture from your feet and boots.
This is important because having dry feet means you will be able to withstand long working hours as well as cover more terrain outdoors, which is integral for many outdoor activities from mountaineering to military actions.
Best Work Boot Socks - A List of Products
1. Carhartt - Men's Force Multitask Performance Work Crew Socks
Made out of 98% Polyester and 2% Spandex
Comes with a pull-on closure
Machine-washable
Lightweight design
Fast-drying
Arch support
Reinforced heel and toe area
Odor control
If you're looking for a tough sort of sock that you will be able to wear for work and in other situations where you require protection and support from your socks, getting a pair of these Carhartt work crew socks can be an excellent solution.
Made out of 98% Polyester and 2% Spandex, these socks come with a pull-on closure, so you can rest assured these won't be slipping off your feet every time while you're wearing your boots. Although they're fairly stretchable as they are, these also come in different sizes so you can get a precise and snug fit depending on your foot size.
Also, these socks are machine washable, so you won't have to do much to clean them up once you've worn them through thick and thin, so to speak. Once you've washed these in your washing machine, they will dry off fairly fast, too, so you won't have to think about this too much either. Plus, it can come in handy while you're out there in the outdoors, too.
2. Dickies - Women's Dritech Advanced Moisture-Wicking Crew Sock
Made out of Polyester, Spandex, and Rubber
Well-ventilated
Machine-washable
Great moisture control
Made out of 98% Polyester, 2% Spandex, and 2% Rubber, these Dickies moisture-wicking socks colorful and tough pieces of footwear that will support and protect your foot in any sort of boot. Similarly to the socks from above, these socks provide heel and toe support, so they will fit snugly on your feet and won't wrinkle inside the boots you're wearing.
The great thing about these is that they're completely machine-washable, so you won't have to worry about the maintenance. After a hard day of work, all you have to do is chuck these into the washing machine and you'll get properly washed socks out of it every time.
As far as the experience of wearing these is concerned, the folks at Dickies made sure that these socks 'breathe' well, so your feet won't be smelly after you take off your boots. Also, there's the question of moisture-wicking, which these socks do excellently well.
3. Hanes - Men's Over-The-Calf Tube Socks
Made out of 95% Polyester and 5% Spandex
Made in the USA
Additional toe and heel support
Elastic ribbon for a snug fit
Anti-odor technology
For those of you looking for an inexpensive pair of socks to wear with your boots, a pair of these Hanes over-the-calf socks can be just the thing for you. Made out of a mixture of mostly Polyester and then some Spandex, these socks can truly do wonders when it comes to foot support and they also perform well in the department of durability, too.
One of the biggest problems with bulky boot socks would certainly be the unpleasant odors that tend to build up in the boots over a workday, so the folks at Hanes decided to tackle this by means of bringing in special anti-odor technology, which prevents these foul smell-causing bacteria to spread. Thanks to this innovation, you can wear these socks all day without worrying your feet will smell terrible at the end of the day.
At the top of these socks, there's a special elastic ribbon that prevents them from falling to your ankles, so if you like a snug fit for your socks, wearing these would be a warm recommendation.
4. Zando - Women's Merino Wool Socks
Made out of high-quality wool
Comes with colorful visual details
Fairly stretchy and easy to put on
Perfect for the autumn-winter season
Boasting a beautiful appearance and made out of high-quality Merino wool, these socks be a perfect choice for women looking for socks that will both look good on their feet and support them while wearing boots.
One of the best things about these socks is their interesting color scheme, so you can get all sorts of interesting combinations if you really wish to get a pair of boot socks that can act as both a fashion accessory that can also be warm. Since these socks have different colors printed on them, you can easily combine them with a wide variety of clothing items, and you won't have to worry about these sticking out.
Also, it's not just boots that you can wear these with. Thanks to their design that is not either too thin or too thick, you can combine these with boots, sneakers, sports shoes, you name it.
5. Carhartt - Men's Arctic Heavyweight Wool Boot Socks
These come with a special pull-on closure
Machine-washable
Anti-odor technology
Made out of 68% Wool, 23% Nylon, 1% Spandex, and 8% other fibers
Sweat-wicking technology
If you're about to embark on an expedition to the North Pole or northern Russia, having a pair of these socks on your feet would be a major plus when it comes to the degree of comfort and supports you will feel in tough weather and unforgiving terrain.
These come with a pull-on closure, so once you put these on, you can rest assured they won't fall down to your ankles as you progress through the area you're scouting. Also, another important aspect of these socks is their excellent sweat-wicking technology, which will keep your feet dry even if you're exerting yourself physically more than usual.
Another interesting addition to these socks would be the use of special anti-odor technology, so you won't have to worry about your feet smelling horribly after a hard day of work while wearing these socks inside boots.
6. Darn Tough - Merino Wool Boot Socks
Aesthetically-pleasing design
Made out of high-quality Merino wool
Durable
Made in the USA
Seamless design for comfort and support
Representing a tough 'breed' of boot-friendly footwear, as its name suggests, these Darn Tough Merino wool socks can be a great solution for a person looking for a reliable brand of socks they can wear on any occasion. ( This is especially true so when it comes to for mountaineering, hunting, and other outdoor ventures. )
As far as the materials are concerned that were used for making of these socks, you can count in Lycra, the aforementioned Merino wool, nylon, and Spandex. While the wool gives these socks their warmth and comfortable wear, nylon and Spandex are there to strengthen the overall build of the sock as well as prevent the accumulation of moisture.
In order to ensure that these socks will feel comfortable on your feet, the manufacturers connected to these socks have made sure these are made to be seamless. So, you can forget about discomfort, bunching, or painful blister while wearing these.
7. Wrangler - Women's Ladies Western Boot Socks
Made out of 80%, 17% nylon, and 3% Spandex
Machine-washable
Smooth toe seam for comfort and support
Excellent moisture-wicking properties
Made in the USA
Made out of 70% Polyester and the rest out of nylon and spandex, these socks represent the best of the best when it comes to women's boot socks. These socks come in an arrangement 2 + 1, where the third sock is there as a replacement in case you lose one or it gets damaged on an outdoor excursion, for example.
If you don't have time to wash all of your socks by hand, getting these Wrangler boot socks can be a good idea because these are completely machine-washable. All you need to do after a long day of mountaineering, camping, or some other activity would be to chuck them into your washing machine and then get them out clean and ready to go, so to speak.
As far as these socks' relationship with moisture is concerned, you can rest assured that your feet won't become too wet too soon if you're somewhere outdoors where it's damp, because the folks at Wrangler made sure to use special moisture-wicking technology in putting these together.
8. Carhartt - Men's 2-Pack Full Cushion Steel-Toe Cotton Work Boot Socks
Cushioned for extra support
Abrasion-resistant
Holds nasty odors largely at bay
Comes with a pull-on closure
Made mostly out of cotton
Made in the USA
In order to ensure these socks are both comfortable and sufficiently tough to support you through the toughest and most challenging outdoor adventures, the folks at Carharrt made these socks out of a number of different materials - each playing an important role to ensure its toughness.
70% of this 'mixture' is cotton, which is there for the warmth and the comfort of the wearer. The other 30% consists of a range of materials including nylon, polyester, Spandex, and even acrylic. A part of the reason why these materials have been used would be the pull-on closure, which is there to ensure these socks fall down when you put them on.
These also come with arch support, are completely machine-washable, and possess certain odor-resistant properties, for good measure. ( While out there in the wild, it's fairly important the degree to which your socks can resist odors, because chances are - if you're tenting, for example, at the end of the day you'll have to take them off. )
9. FoxRiver - Wick Dry Maximum Mid-Calf Boot Socks
Machine-washable
Made out of high-quality Polypropylene, Spandex, and nylon
Excellent fit ( prevents blisters and bunching in the boots )
These come in four sizes and four different colors
Comfortable and durable
Moisture-wicking and comes with cushioning
If you're looking for a tough kind of sock that can cover most of your leg up to your knees and that will provide warmth and support to your feet and shins in a variety of challenging outdoor conditions, these FoxRiver boot socks might be the thing for you.
Designed for the military, these socks are made out of 70% Polypropylene, as well as Spandex and nylon. This gives them the necessary strength to come out in one piece after being worn in tough conditions. Also, the cushioning that comes with these is there to provide you with the support and padding so you don't get injured too easily while jumping or running.
Washing these socks would also be a breeze thanks to the quick-drying fibers they are made out of. The smooth fit helps prevent blisters and crumpling or bunching in the boots if there's room for it. Because of this, you can rest assured that these socks will feel comfortable on your feet at all times.
10. Carharrt - Men's 6-Pack All-Terrain Boot Socks
Made out of Polyester, Nylon, Spandex, acrylic, and wool
Machine-washable
These can be worn on all terrains and during all seasons
Odor-resistance
These come with special arch support
Made from beginning to the end in the USA, these Carharrt boot socks are all about durability, foot support, and ease of maintenance. As far as the materials are concerned that these are made out of, you can count in Polyester, acrylic, wool, nylon, and Spandex.
Thanks to this mixture of different materials, the folks at Carharrt have made it possible for these socks to both be comfortable and stay firmly on your feet no matter what sort of outdoor situation you're dealing with when you're outdoors working or having fun.
In the department of maintenance, so to speak, these socks also score highly because they're machine-washable. So, if you've been in these for an entire day, or a couple of days in a row, for good measure, all it takes to make these clean again comes down to simply chucking these in your washing machine and giving them a thorough cleaning.
11. Timberland women's 3-pack Ribbed Marled Boot Socks
Do you need 3-pack socks that are fashionable and stylish? Then go for Timberland women's 3-pack Ribbed Marled Boot Socks. We realized that these high knee socks are ideal for keeping your feet warm in style all day. They come in 3 different colors from which you can choose. If you are looking for women's socks that will cover your lower leg, this is the best option.
Features
These knee-high socks come with three-pack pairs with assortment colors of 1 pair of Light Grey, 1 pair of Dark Grey, and 1 pair of Cranberry socks.
They have full cushioned casual boot socks that feature marl detailing and also with a large ribbed welt. This makes them comfortable in wearing the pair at home or work areas.
The boot's durable material includes 82% Polyester, cotton, which is 15 percent, Spandex, and other fiber.
The socks feature a pull-on closure that makes them easy to wear and are easily machine washable. They are the best socks that you need not miss if you need comfort in your work.
What we like
They have a great stylish design.
They are made of decently thick material that is warm
They have a perfect fit for various boots
They are machine washable
Its cotton and wool provide comfort without itches
What we don't like
The cost of it is somehow high

12. Wrangler Women's Western Boot Socks 3 Pair Pack
Wrangler Socks are one of my favorite women's western boot socks. They are half cushion foot, that feature an arch support which makes the socks have an excellent fit and comfort that is ideal all day. The feet will always stay cool and dry as its ultra-spun Polyester is suitable for absorbing moisture or sweat. These USA-made women's socks are perfect for those who care about their feet.
Features
The socks come with 3 pairs of the same color made from Polyester, which holds 80 percent, Spandex, and nylon.
The pair also experience half cushion comfort that provides the ultimate support and comfort in these socks. The feature also provides additional comfort and protection when wearing them.
The moisture-wicking technology is also another great feature that allows you to dry quickly and keep your feet dry, cool and comfortable when using them.
There is also a seamless smooth toe that helps to reduce the sock bulk and irritation around the toe, which creates an invisible feel to your feet.
The socks are knit with high-quality yarns, which are more stitches per inch, making them last longer and retain their original shape.
What we like
It has a perfect fit that stays up the log all the day
It is a machine washable
Made of smooth but durable material
The ultra-spun Polyester keeps your feet and leg dry and more fantastic all day.
The socks have a higher comfort and support level
It has an excellent cushion
What we don't like
It comes in only one color

13. UGG Women's Shaye Tall Rain Boot Sock
These unique design UGG Women's Shaye Tall Rain Boot Socks are ideal for your attitude and legs. This quality construction helps you to experience comfort from these cushioned foot socks. Made from nylon and wool, they are stylish and functional. The design of the socks is ideal for support and a perfect fit on your legs.
Features
These socks are acrylic blend boot socks that are made of wool and nylon. The material is made in a way that they fit your leg, just like a boot sock.
There is a cable knit with a ribbed top cuff and a soft twill tape logo. The faux fur pom poms fold perfectly on the boot's top to make it more fit and comfortable.
The socks are 14 inches high with sizes of 9-11. This makes them ideal for the boot of sizes 5-10. The dimensions and height make it suitable for excellently protecting your leg.
The wool and nylon material help keep your feet cool and dry as the material absorbs sweat or moisture and dries quickly.
The socks also feature a pull-on closure hence making them easy to wear with any boot.
What we like
They are excellently cute
Have a perfect fit with the Shaye boots
They are machine washable
Durable material
What we don't like
They are a bit expensive
They have holes that might not be ideal for some people.

14. HUE women's Super-Soft Roll Top Boot Sock 2 Pair Pack
These HUE Women's socks are a great addition to any wardrobe. They are designed to form the best supportive and fitting answer to your tired and all day. These socks are easy to wear and provide you with excellent durability, be it in your office or home. You can wear the socks with your low-cut boots or jeans and still look appealing.
Features
The HUE socks are made of super-soft materials of Polyester and Spandex. The 2 pairs come with two colors that you can choose from.
The socks feature a Pull-On Closure and a roll-top, which makes them easy to wear. The features also make them have a super fit at the top.
They also have a seamed toe that has snug. They are also comfortable in stretching and fit. They make them look fashionable and fun when used.
The boot material has a super hold up, and it can stay in your legs for an extended period without falling. The incredibly soft material is durable, and you can use it for an extended period.
The socks can wick away sweat or any water material from the feet, keeping them dry and healthy.
What we like
They are machine washable
Easy to wear and take off
They keep your feet warm in the cold season
Made of super soft material that is comfortable
What we don't like

15. Under Armour Adult Hitch ColdGear Boot Socks
Do you need a top all-weather sock that will keep your feet comfortable all day? Then worry not, you have landed on that kind of socks. Under Armour Adult Hitch ColdGear Boot Socks are full cushioned socks that provide your whole feet with maximum comfort required.
Features
The socks feature a complete cushion system that ensures maximum comfort to your leg in all the sock parts.
The perfectly designed socks are made from various durable materials like Polyester, wool, nylon, and Spandex. The percentage of material used is different to ensure that it is perfect when used.
The material is thicker constructed, making it wicks, sweat, and dry quickly. The materials are also flexible and breathable, making them ideal for cold conditions.
Under Armour Adult Hitch socks come with an anti-odor technology system that helps prevent the formation of odor smell in the sock. It also helps the socks to dry faster when water touches them.
With women, they come in a variety of sizes ranging from 6-9. It also comes in two pairs with different ideal colors that you can choose.
What we like
It is machine washable.
It has a construction design that provides maximum comfort
It prevents the formation of odors on your socks
It is perfect in cold seasons
They have embedded arch support that reduces fatigue.
What we don't like
The quality isn't that good
They are costly

16. MUK LUKS Women's 3 Pair Pack Boot Socks
If you need socks with super warmth, look good, and comfortable, MUK LUKS Women's socks are the best option. With the ultra-warm microfiber materials that have been blended, you get a fashionable and stylish sock that is perfect for you. With the 3 pair pack, you can choose the variety and fashionable modern colors for you.
Features
This machine-washable comes with a variety of color options available. The three-pair pack is fashionable and stylish, and the various colors give you an opportunity to choose one that suits you.
The socks are made from Ultra warm microfiber materials, a blend of Polyester, nylon, and Spandex. The material makes the socks to be stylish and have a super fit on your leg.
It also features a Pull-On Closure around the top. This makes it easy to wear the socks and have a stronghold on the leg when using them.
What we like
It is stylish
It comes with a variety of colors to choose from
Easy to wear
It can hold up on the leg comfortably all the day
They keep your feet warm and comfortable all the day
What we don't like
They lack reviews on Amazon

17. UGG Women's Sienna Short Rain Boot Sock
No products found.
UGG Women's socks are well-known classic socks that are available in the market. Since it came out to the market, it has been an outstanding and fashionable sock that gives you what you need. UGG Women's Sienna Short Rain Boot Sock is an acrylic blend rain boot socks designed to fit nicely on your feet.
Features
These unique and little thick socks are made from various materials like acrylic, nylon, wool, and Spandex. The material makes it look fashionable and has a comfortable hold-up on the legs.
They have a height of 11.25 inches high and a pull-on closure at the top to make it easy to wear and protect your legs above the knee when used.
It features a cable knit with a ribbed top cuff with faux fur that is perfectly made to have a stronghold that can last all day.
The material is soft and bold constructed to ensure that they quickly absorb sweat and any moisture exposed to your feet hence keeping them dry and cool.
What we like
They have a perfect fit with the sienna boots.
They are comfortable to wear as they can hold up all day.
They look cute and fashionable
What we don't like
No products found.
18. Dickies women's Dri-tech Advanced Moisture Wicking Crew Sock
Dickies Dri-tech is a top-notch women's boot socks that combine mesh ventilation and moisture-wicking fiber technologies to develop a super sock. With the various high-tech features, the socks provide you with the superior performance of quickly wearing and taking them off and excellent comfort.
Features
The socks are made of top-quality materials of Polyester, Rubber, and Spandex. They also come in 12 pairs with a variety of colors to choose from. This makes you have the best sock type for various outfits.
They also feature an advanced moisture-wicking fiber that helps absorb moisture and sweat from your legs and feet. This combines with ventilation channels engineered to ensure proper air circulation and control of moisture keeping your feet cool and dry.
There is an arch compression on these socks that ensures that you are getting the necessary support and stability within your feet.
The sock's reciprocated heel and toe are also ideal in providing superior fit and comfort to your feet. This makes them be used all day as they can hold up. The entire cushion also offers an added durability.
What we like
It is a machine washable
Allows good moisture control and air circulation
They are durable
Has a superior comfort hold up
It comes in a variety of colors
What we don't like

19. Floral Find Women's Cable Knit Knee-High Winter Boot Socks
Are you looking for winter boot socks that are extra-long? If yes, then Floral find women socks are the answer for you. They are extra-long and can be used for all seasons, be it soft spring, winter, or autumn, as they are beautiful cable knit socks. The extra-long length makes them suit perfectly with tunics, dresses, and skirts. The features of these socks are of an extraordinary level.
Features
They are extra-long socks that can ideally be used with various clothes like skirts, tunics, and dresses. They can be used as thigh-leg warmers more significantly in the winter season.
Floral find women's socks are made of lightweight knit but durable materials. These materials make the socks remain suitable to wear with any type of boots.
There is also a breathable and low-lying seams material which makes the socks remain comfortable to be used and not irritating.
The socks are well designed in that their shape and size are not too thin or thick and therefore fit nicely on your feet. They are perfect for the purpose you need them to do for you.
What we like
They are long and perfect for keeping the thighs warm
They are machine washable
They are soft and cozy
What we don't like
They are not ideal for those with large calves and thighs
Their cost is high when compared to others

20. STYLEGAGA Winter Slouch Top Over The Knee High Knit Boot Socks
STYLEGAGA Winter Slouch socks are the answer to those who need ultimate comfort on their feet and are tired of wearing warning brands. The unique materials used to make these socks have the perfect fitting are acrylic, Polyester, Spandex, wool, and nylon. The materials are not only excellent but also durable.
Features
The slough top is well designed to roll it down to your knees to create the perfect style you need depending on your outfits. You can match them with ankle or long boots.
The socks come in various sizes ranging from 5-9 inches with a height length of up to 15 inches, depending on the metric system used in the measurement.
They have a color that is slightly different from their origin. The 3 pair pack has black, ivory, and gray colors. They allow you to choose the color that is perfect for your outfit.
There is a Slough Comfortable knit system that makes them look sexy and lovely. They are designed in Korea, and they are hand washed.
What we like
They are cheap and look stylish
The pattern colors are ideal for various tasks
They are really soft and hence comfortable
They have an excellent quality
I love the great design of the socks
What we don't like
They do not prevent the odor
Have a poor control quality
The price and quality don't match

Best Boot Sucks - A Buyer's Guide
Material
The first thing you should look into when buying socks would be what material they're made out of.
Generally speaking, wool and especially Merino wool represent two of the most sought after materials when it comes to socks and wool socks, particularly. The reason behind this is that wool offers excellent breathability, durability, and can be washed relatively easily.
Other common materials include nylon, spandex, polyester, and acrylic. Also, you can often see combinations of these materials where wool is the dominant one and the others serve to strengthen the sock or make it more flexible.
Maintenance
Optimally, you should wash your socks every day in order to prevent mold accumulation and foul smells emanating from them.
Now, there are two ways of achieving this - either washing your socks by hand or using a washing machine to do the job. The better option here would be the latter one if you don't have the time or the willingness to wash the socks yourself.
So, make sure to read the description of the socks you're buying to check if they're machine-washable. Buying machine-washable socks can be a great solution in case you're bored of washing them by hand all the time.
Anti-Odor Design
As we stated above, socks can be made in such a way that the odor coming from them after a long day of work is minimalized. That said, this doesn't mean that these socks will be 100% free of odors, but even a moderate decrease in odors would be noteworthy in this case.
Socks that sport excellent breathability properties and that are 'good at' moisture-wicking typically perform better when odors are in question, compared to their non-moisture wicking counterparts.
Appearance
Although the visual design of the boot socks does not necessarily represent the most important parameter to judge the socks on if you're interested in fashion or you care about the camouflage aspect of your socks, paying attention to the looks of your socks should be on your checklist when boot socks are in question.
Luckily for the folks who like to browse these socks based on their appearance, there is a multitude of different models, brands, and designs out there on the market. So, if you're looking for something special in socks such as colorful patterns or unicolor sort of arrangement, chances are - you won't have that much trouble finding it online.
Seamlessness
Socks need to be stitched together to form the shape of the foot.
This is achieved in several different ways. One thing is sure - stitches have to exist in one shape or another, it's just the question of how well they're hidden.
If you're looking for a smooth feel that doesn't bunch in your boots, the so-called 'seamless design' where you can't see the stitches on the socks can be a great idea. On the other hand, those sock models that do have visible stitches can be just as good, but then you have to know exactly the size you're buying to ensure a perfect fit every time.
Benefits of Wearing Boot Socks
Comfort
First things first, socks, in general, serve to cushion the contact your foot makes with the shoe, sneaker, or boot you're wearing, so comfort is an important parameter when it comes to judging how good a pair of socks is.
Generally speaking, materials such as wool and cotton are good choices for socks when comfort is in question, although certain synthetic materials such as polyester can be just as comfortable. That said, wool is typically the material of choice for many sock manufacturers as it's comfortable, lets the foot 'breathe', and it's easy to clean.
Now, for boot socks, comfort is even more important than with regular footwear, because boots tend to be rougher than shoes, for example. This is why it's a good idea to buy high-quality boot socks that you will feel comfortable in with your boots on.
Protection
Other than feeling comfortable in your boot socks, another important parameter would be the level of protection you get from them.
To ensure the socks you're wearing are as tough as they are comfortable, many manufacturers of boot socks combine wool and polyester with other materials such as Spandex or nylon to make them more durable.
On the other side, cushioning would be another important thing to take into consideration, as it provides both comforts and increases the protection you will get from a sock. This cushioning can be a lifesaver as it provides padding when you're jumping or running in your boots.
Warmth
Socks are worn both with footwear such as shoes and boots and on their own indoors, for example, because they provide warmth.
As far as boot socks are concerned, the material they're made out of as well as the addition of cushioning plays an important role in how much warmth the socks will provide. Of course, the general parameter you may want to look for here would certainly be the thickness of the sock. The thicker the sock, the more warmth it will exert, so to speak.
Moisture-Protection
Although most socks aren't waterproof, many manufacturers of boot socks go out of their way to make their socks as resilient to moisture as possible.
The thing is, out there in the wild, you'll likely experience all sorts of moisture-related issues such as profuse sweating or damp environments with puddles or rainfall. If you're going hiking or mountaineering, chances are - no matter how well your feet are protected against moisture, some of it is going to make it past your boots and socks.
Therefore, it is the goal of these footwear manufacturers to improve the moisture-wicking properties of their boots as strong as possible.
After all, moisture protection is mostly the job of the boots themselves, but it's always useful to have an additional layer of protection in terms of moisture-wicking socks.
Hygiene
Last but not least, hygiene plays an important role in the design of boot socks.
One of the things socks, in general, are notorious for is their smell after a long day of wearing them. This happens because the bacteria on your feet grow well and let out their foul smell in a damp and hot environment - which is in your shoes and boots.
This is why the sort of sock that reduces this phenomenon to a minimum would be the kind of sock that has excellent moisture-wicking properties. Material breathability also plays a role here, as the more ventilation the socks have, the less of these foul odor-causing bacteria can grow inside your boots.
How to Wear Boot Socks?
The best way of developing an ideal method of wearing boot socks requires a few practices and confidence. The rule of fashion can't be ignored, but you do not need to stick to it so much when you want to use your style. The boot is best worn with business or casual outfits.
There are a few considerations you need to understand. However, follow the following tips if you want to wear boot socks perfectly.
Choose the best sock color that perfectly fits your outfit. Short boots can't be matched with bright and knee-high boots, for example.
Check on the thickness of the socks. This will be essential because the different thickness is used for various purposes and at different weather areas.
With bunches, use a long pair of socks to pull them over the jeans or bunch them down. You can wear gray socks on your black or blue jeans.
With skirts and dresses, using a given socks type is not easy. If you use all-black socks can make them look elegant with black booties. Let the socks be at least 3 inches high.
Easy tips for choosing the best women socks
a. Material- which material have they used, are they durable or strong, always for socks made from either nylon, Polyester, Wool, Spandex, or those with a blend of some of these materials.
b. Socks padding and cushioning- understand the amount of cushioning you need. The best boot is that it provides you with the best cushion of your feet no matter the environment they are exposed to.
c. Comfort- comfort is an overall thing you need to look at your sock choice. Some materials like wool are much more comfortable as opposed to synthetic. So, choose that material that you are satisfied with.
d. Compression capabilities- various socks offer compression abilities in a variety of styles and colors. The best one is those that allow you to have the best air circulation within your legs.
e. Warranties- the best socks will provide a perfect guarantee or warranties to their customers. Check on the sock type that has the best warrant, and that doesn't compromise quality.
f. Ventilation- This is another thing to check more, especially if you are going to use them in hot areas. Check on the mesh lining and good airflow that will keep your feet cool and dry.
Frequently Asked Questions:
1. What kind of socks do you wear with boots?
To ensure warmth, protection, and support, you should wear special boot socks with your boots.
These socks are tougher than the regular socks, they're typically larger and more robust, so you can rest assured that they won't tear easily or otherwise leave your feet and legs exposed to cold conditions outside.
2. Should you wear socks with boots?
Yes, you should.
Although there are certain fashion trends where it looks cool or interesting to wear boots on your bare feet, if you mean to go outside and do any sort of work with your boots or engage in strenuous physical activity, the word of advice is to always wear boots with socks.
3. Can I wear boots without socks?
You can, but it's not recommended.
Generally speaking, wearing boots is often a better solution than just going barefoot, especially in the wild. That said, if you have access to socks, it is a better solution to wear socks and then boots, because you will preserve the inner layer of the boots and you will certainly feel more comfortable.
4. Can I wear ankle boots without socks?
Again - you can but it's not a very good idea.
The thing is, after a while, the inside of your socks will start to smell pretty bad from the accumulated sweat and bacteria that rub off your feet. So, if you have some sort of socks, wearing those and then boots on top of them is always a better choice.
5. Do you wear socks with high-heel boots?
Wearing socks with any sort of boot is a good idea.
Regardless of the boots in question are high-heel or just regular plain sole boots, socks are going to protect both your foot and the inside of the boot you're wearing. So, yes, it is smart to wear socks with high-heel boots.
All in all, if you like wearing boots or if you need them for work or a mountaineering expedition, finding durable boot socks might be the best course of action. As long as the socks you picked are durable, warm, and support your feet, you can rest assured that your stay in nature or at work will be much easier to handle.
Final Verdict
Having a good pair of socks is one of the best decisions you need to look at. Using a top-notch boot sock will offer support, warmth, comfort, and protection to your feet. The best work socks will help you continue working hard as your feet are kept comfortable all day.
Working women require the best work boot socks that will provide them with cushion and support as they keep on working. With so many work socks in the market, it is difficult to find good socks that meet your expectations.
To answer this, We decided to go to the market and find quality socks in the market based on comfort, protection, and durability.
The idea of getting the best women's socks is purely based on individual needs. The individual must check on the socks' comfortability, warmness and keeping the feet dry or cool on their areas. Women who spend more time in their outdoor or cold environment will need boot socks that can regulate the temperature to the normal and comfortable one.
Each of the top 10 lists of the boots socks we have discussed has something substantial that it offers, be it in terms of support, warmth, or comfort. They give you a variety of benefits and support that you may need when working. It may hope that you will get one pair that will serve you diligently.