When most people think Caterpillar shoes, they think big black boots. Some Caterpillar products however completely buck this trend. Case in point, the Men's Brode.
Instead of Caterpillar boots, they look like Converse sneakers. Unlike Converse products however, these come with both a safety toe and a non slip sole.
Caterpillar boots are specifically designed for today's hardest working individual by featuring an excellent waterproof leather foot, lace-up leather shaft. The presence of padded collar ensures additional comfort and support. The feature of nylon mesh effectively deals with the moisture.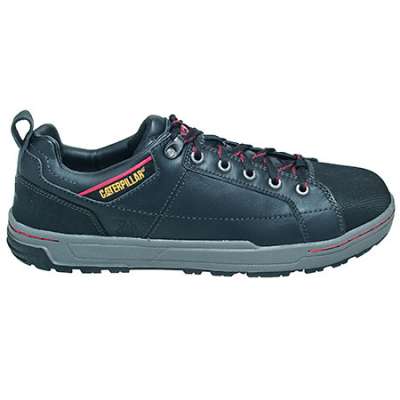 Caterpillar Men's Brode Steel-Toe Work Shoe Review

Packed with lots of heavy-duty features, including extreme slip-resistant outsole and steel toe for hardest industrial gigs, this work boot will greatly offer protection from electrical hazards. The removable sock liner, nylon mesh lining, steel shank and PU mold midsole will further keep you comfortable and safe. Flexion offers lightweight comfort in the footwear that is designed completely around the natural movements and contours of the foot offering day-long anti-fatigue advantages. This work boot is known for dual forged built. It combines stitch and cement construction, providing an ultra-touch built that renders extreme durability, yet enabling great flexibility.
The low cut means that they were obviously designed for those who work indoors. But are they fit for that purpose? Unfortunately, the answer is no.
Comfort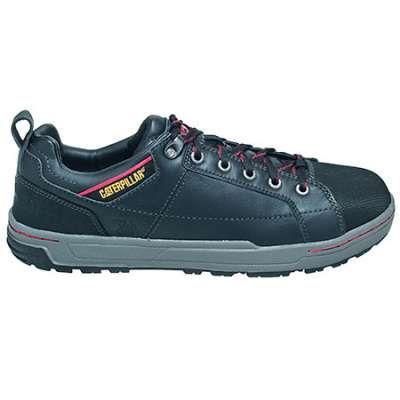 I'll start with the positive. There's no break in period. For steel toe shoes, they are incredibly light. And the upper material is both soft and comfortable against the ankle.
Unfortunately as the day wore on, problems began to emerge. The sole has almost no impact protection and this means that after a few hours on my feet, my heels began to hurt.
The biggest problem however isn't the sole but the steel toe. While it isn't immediately apparent, after a couple hours, I couldn't help but notice it constantly scratching against the top of my big toe.
For occasional wear, perhaps these shoes are ok. But for every day work wear, they're simply not comfortable enough.
Protection
The Men's Brode are advertised as having two safety features, a steel toe and a non slip sole. The steel toe, while uncomfortable, will indeed protect your toes. The non slip sole however appears to be a figment of Caterpillars imagination.
Any contact with liquid, of any kind, even just water, makes these shoes potentially more dangerous than walking around barefoot. Despite not wearing these shoes long, I nearly slipped twice.
Durability
Because of the aforementioned discomfort, I didn't wear these shoes long enough to judge their durability. Like most Caterpillar products however, they do appear to be well made. A quick glance at customer reviews also appears to support this theory.
Waterproofing
As you can probably tell just from looking at them, the Men's Brode are not designed for working in wet conditions. Anything more than a very small puddle will lead to very wet feet.
Style
The Men's Brode is available in a choice of five different colours. Each one is stylish and yet more than formal enough to be worn in a work setting. The black suede version is particularly low key, on which, even the Caterpillar logo is barely visible.
Verdict
In conclusion, I can't really recommend these shoes. The comfort issue is perhaps debateable. Many people do seem to like them. The non slip sole problem, however, isn't up for debate. It simply doesn't exist. And for a pair of shoes designed to be used in the workplace, that's kind of a deal breaker.
If you want a light pair of Caterpillar safety shoes, I therefore recommend the Caterpillar Streamline instead. They're comfortable and are far less likely to cause a work place accident when wet.
This caterpillar waterproof work boots is what that you have been waiting for. Guaranteed with all day comfort, this work boot will definitely feel as good and comfort on your feet after a daylong shift as they do while you put on them. Its waterproof tumbled full grain leather, nylon mesh lining, steel shank and mold midsole are some of the extraordinary features of this work boots that makes it worth buying. It is a steel-toe boot featuring dual-texture waterproof leather with antiqued lacing hardware and breathable, plush collar. It has slip-resistant outsole, flexion anti-fatigue engineering and thinsulate insulation. It is a must have work boot for those who are working in heavy water-based terrain.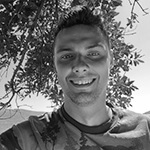 About James Miller
James Miller is a dedicated individual based in the vibrant city of San Francisco, CA, USA. His unwavering passion lies in the realm of construction, where he finds fulfillment in exploring and documenting various facets of construction equipment and processes. A graduate of the University of California Merced, James holds a dual degree in mechanical and electrical engineering, which has equipped him with a solid foundation in technical knowledge.
With a keen eye for detail and a knack for articulation, James has channeled his enthusiasm into writing about the intricacies of construction gear and methodologies. His insightful writings offer valuable insights to both industry professionals and curious enthusiasts, shedding light on the machinery and techniques that shape the built environment.
James Miller's educational background in mechanical and electrical engineering lends credibility to his work, allowing him to delve into the technical nuances of construction with precision. His passion for sharing knowledge and fostering understanding in the construction field is evident in his contributions, making him a respected voice in the industry.